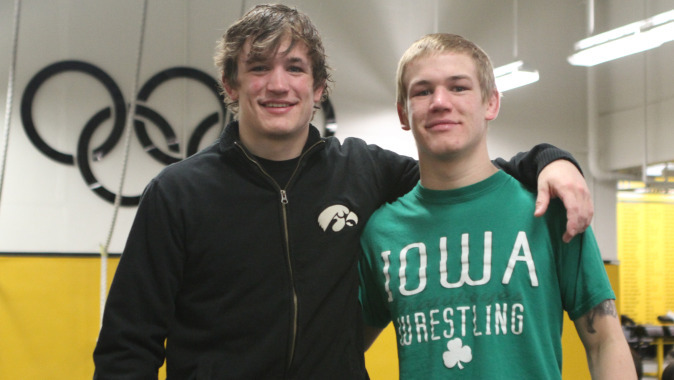 Dec. 26, 2014
Editor's Note: The following first appeared in the University of Iowa's Hawk Talk Daily, an e-newsletter that offers a daily look at the Iowa Hawkeyes, delivered free each morning to thousands of fans of the Hawkeyes worldwide.
By CHRIS BREWER
hawkeyesports.com
IOWA CITY, Iowa — What do you give an older brother who continually pounds you into the mat throughout the year? A Christmas present pulled from your own wish list, of course.
As Connor Ryan remembers it, his younger brother Logan gave him an Xbox game "just so he could play it."
"He was playing it every day," said Connor. "I was never into video games and never played it once."
You'd think Logan would respond to such allegations with a plea of misunderstood intentions. But you would be wrong.
"I would sometimes get him fishing gear or random stuff like shoes and slippers," said Logan, "but I got him a video game because I liked it. He didn't like video games, and I played it all the time."
Chalk that up as a win for little brother — a rarity back in those days. Connor is almost exactly two years older than Logan — the elder turns 21 on Dec. 29, the younger turned 19 on Dec. 16 — and when you grow up in a wrestling household (their father Shawn wrested at Northwest Missouri State) that two-year difference means a lot of time in the bottom position.
"When we were younger we would compete in a lot things and it didn't always go well for me," said Logan. "I was scared to get in the pool with him. He would try to wrestle me, dunk me, kill me. I would come out of the pool crying."
"I had the older brother syndrome growing up," said Connor, "but it's starting to be less and less every year. Now I'm just trying to keep my edge. It's a lot closer than it used to be."
There was evidently no love lost for Logan, because after winning a pair of state championships at Bettendorf High School, the same place Connor was a four-time state finalist, he followed big brother to the University of Iowa.
"I am really close with my brother, so it's nice having him here," said Logan. "I can go to him for advice or ask him for anything. He has a car, so if I need a ride, I have a ride. Besides that, it's always nice seeing family."
Connor said it meant a lot that his brother followed him to Iowa City, but he suspects Logan was determined to be a Hawkeye whether he was here or not.
"(Logan) being here means we are able to continue our careers together like we did when we were growing up," said Connor, "but I think he always knew that he was going to come here. I know he would be kicking himself if he didn't."
Connor continually supports his brother, and by all accounts thus far, Logan has no regrets. He survived his first semester of college and posted a team-high 18 wins wrestling unattached at 141 pounds. Connor has split a pair of matches in limited action this season. He will return from winter break with a 26-8 career record, and said he has intentions of throwing his hat into Iowa's 149-pound carousel.
"It makes you feel good to see Logan have success. I want the best for him in his career," he said. "But I have my own goals I have to focus on. I want to crack the lineup and win a national title for the University of Iowa before I leave. I have two and a half more years to do it."
Until then, the brothers plan to enjoy the holiday season with family (including their new niece, Savannah), travel to Midlands to support their teammates, and celebrate a birthday.
Connor's wish list isn't very long. A self-described simple person, he says he could use a pair of boots and a larger freezer.
"I don't need much," he said. "We have a freezer, but it's pretty small. I killed a deer with my bow and that pretty much filled it completely."
A freezer… sounds like the perfect gift to give his little brother.