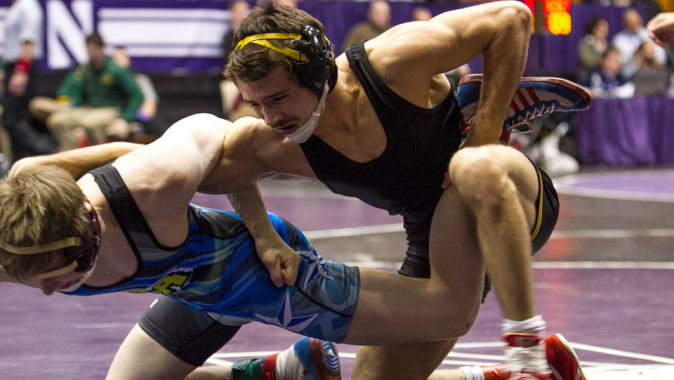 Dec. 29, 2014
2014 Midlands Brackets Day 1

EVANSTON, Ill. — The University of Iowa wrestling team posted a 10-1 record in the quarterfinals of the Midlands Championships on Monday night. The Hawkeyes have individual title hopes at nine weights, including a pair of semifinalists at 149 pounds, and hold the lead with 110.5-points in the team race.
Iowa sits in first place with 110.5 points. Illinois is a distant second with 89.5 points, followed by Northwestern (85.0), Edinboro (59.5), and Virginia Tech (54.5).
The Hawkeyes won nine matches where they were favored, with an upset from number five seed Mike Kelly at 157 over the number five-seed Chad Walsh of Rider, 7-4. Steven Rodrigues (Illinois) upset Iowa's Josh Dziewa, 3-1 in the quarterfinals. Dziewa is the No. 3 seed at 141.
This is the second year in a row the Hawkeyes advanced 10 wrestlers from quarterfinals onto the semifinal matches. Of the 10 to advance, eight were the first to score in their quarterfinal match-ups. Of those 10 winners, there were only four takedowns recorded against the Hawkeyes.
Defending champions Thomas Gilman (125) and Mike Evans (174) move on to the semifinals, Gilman in his third appearance at the Midlands and Evans in his fourth. Gilman advanced over Ethan Lizak of Minnesota, wrestling unattached, with an 11-4 decision. Evans solidified another trip to the semifinals with a major decision, 9-0, win over the eight-seed Chad Welch from Purdue.
No. 3 seed Cory Clark (133) and No. 2 seed Bobby Telford (285) both recorded falls in their quarterfinal matches. Clark pinned No.6 Danny Sabatello (Purdue) at 2:11 and Telford put No. 10 Garrett Ryan (Columbia) on his back at 2:51. Clark and Telford have placed at the Midlands in their previous two appearances. Clark took fourth in 2012 and sixth in 2013, while Telford placed second in both 2011 and 2013.
Junior Brody Grothus advanced to the semifinal match at 149 after a 5-2 decision over the No. 5 seed from Penn, C.J. Cobb. Grothus placed fourth at the 51st Midlands Championships last season.
Second-seeded Nick Moore was taken down by the No.7 seed Adam Fierro at the beginning of the match, but quickly recovered with an escape and a takedown in the second period to take the victory in a 4-3 decision.
Michael Kelly (157) recorded a 7-4 decision over #4 Chad Walsh (Rider) and Sammy Brooks (184) used 12-3 major decision against #6 Ophir Bernstein (Brown) to continue into the semifinal matches.
Nathan Burak, wrestling unattached and seeded number one at 197, went into the second period with no score, but collected an escape and subsequent takedown to tally three points. The match ended in a 3-1 decision in Burak's favor, advancing the junior to the semifinals.
Session III of the Midlands Championships is set to begin at 12 p.m. (CT) Tuesday. Updated team standings and complete tournament brackets are available throughout the tournament at nusports.com and on trackwrestling.com.
QUARTERFINAL RESULTS
125 – #1 Thomas Gilman (IA) dec. Ethan Lizak (Minnesota-unat.), 11-4
133 – #3 Cory Clark (IA) pinned #6 Danny Sabatello (Purdue), 2:11
141 – #6 Steven Rodrigues (Illinois) dec. #3 Josh Dziewa (IA), 3-1
149 – #6 Brandon Sorenson (IA) dec. Seth Lange (Minnesota-unat.), 9-6
149 – #4 Brody Grothus (IA) dec. #5 C.J. Cobb (Penn), 5-2
157 – #5 Mike Kelly (IA) dec. #4 Chad Walsh (Rider), 7-4
165 – #2 Nick Moore (IA) dec. #7 Adam Fierro (Cal-State, Bakersfield), 4-3
174 – #1 Mike Evans (IA) major dec. #8 Chad Welch (Purdue), 9-0
184 – #3 Sammy Brooks (IA) major dec. #6 Ophir Bernstein (Brown), 12-3
197 – #1 Nathan Burak (IA-unat.) dec. #8 Jared Haught (Virginia Tech), 3-1
285 – #2 Bobby Telford (IA) pinned #10 Garrett Ryan (Columbia), 2:51
SEMIFINAL MATCHUPS
125 – #1 Thomas Gilman (IA) vs. #4 Stevan Micic (Northwestern-unattached)
133 – #3 Cory Clark (IA) vs. #2 Jarrod Garnett (Lehigh Valley)
149 – #6 Brandon Sorenson (IA) vs. #2 David Habat (Edinboro)
149 – #4 Brody Grothus (IA) vs. #1 Jason Tsirtsis (Northwestern)
157 – #5 Mike Kelly (IA) vs. #1 Isaiah Martinez (Illinois)
165 – #2 Nick Moore (IA) vs. #3 Pierce Harger (Northwestern)
174 – #1 Mike Evans (IA) vs. #4 Brock Gutches (Southern Oregon)
184 – #3 Sammy Brooks (IA) vs. #2 Jack Dechow (Old Dominion)
197 – #1 Nathan Burak (IA-unat.) vs. #12 James Fox (Harvard)
285 – #2 Bobby Telford (IA) vs. #3 Connor Medbery (Wisconsin)
CONSOLATION RESULTS
141 – Topher Carton (IA) dec. #11 Jeff Canfora (Penn), 9-7
141 – #14 Brandon Wright (Grand View) pinned Topher Carton (IA), 1:44
174 – #10 Alex Meyer (IA) dec. Patrick Jennings (Edinboro), 11-6
197 – #2 Alex Polizzi (Northwestern) pinned Kris Klapprodt (IA), 1:38
285 – #7 Jake Henderson (Old Dominion) dec. Sam Stoll (IA-unat.), 5-3