Dec. 30, 2014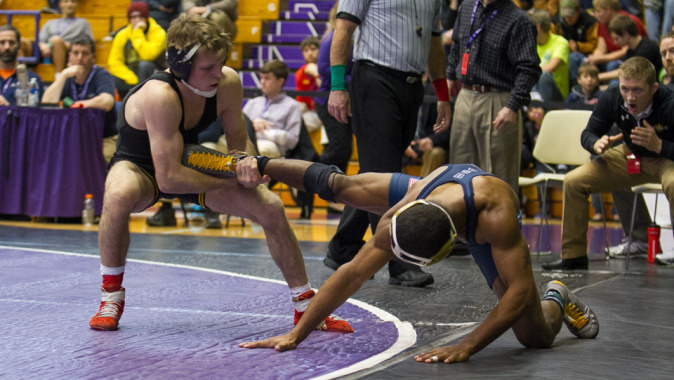 Dec. 30, 2014
EVANSTON, Ill. — Defending champions Thomas Gilman (125) and Mike Evans (174) look to once again collect first place victories at the Midlands Championships. Gilman battled the No. 4 seed Stevan Micic (Northwestern-unattached) to come out on top with a 4-3 decision. The win advanced Gilman's all-time Midlands record to 10-2 overall. Evans also collected a decision, beating Southern Oregon's No. 4 seed Brock Gutches, 4-0.
Iowa continues to pull out in front of the team points race, collecting 173 total points, followed by Illinois (125.5), Northwestern (102.0), Edinboro (96.0), Virginia Tech (94.5), and Wisconsin (74).
Gilman and Evans are two of five Hawkeyes to advance beyond the semifinals. In addition, Iowa will have five wrestlers competing for third place finishes. Last year, the Hawkeyes advanced seven competitors to the finals, ultimately crowning three champions.
No. 1 seeded Nathan Burak looks to collect a first place finish as he advances to the championships after a 3-1 decision over the 12-seed James Fox of Harvard. Burak is making his second Midlands appearance after a third place finish in 2013.
Wrestling Insert
285-pounder Bobby Telford will be facing the No. 1 seeded Mike McMullan of Northwestern in the final match after a 3-1 decision over the third-seed Connor Medbery (Wisconsin). Telford will be appearing in the championships for the second-straight year, also placing second during his 2011 Midlands bout.
Third-seed Cory Clark will make his first championship appearance at the Midlands after placing fourth in 2012 and sixth in 2013. Clark took on Lehigh Valley's No. 2 seed Jarrod Garnett, coming up with a favorable decision, 7-6.
Semifinals for 149 proved to be a battle for No. 4 seed Brody Grothus and No. 6 seed Brandon Sorenson, taking on the No. 1 seed, Jason Tsirtsis (Northwestern) and the No. 2 seed David Habat (Edinboro), respectively. Grothus forced a sudden victory period after tying the match at one to finish regulation time. After no score, the pair headed into the first of two 30 second tiebreaker periods. Tsirtsis scored first with an escape and Grothus answered, but ultimately fell to riding time after nine periods of wrestling. Grothus medically forfeited his consolation match to the No. 10 seed Sal Mastriani (Virginia Tech). Sorenson fell 3-2 to Habat, but went on to defeat the No. 3 seed Rick Durso (Frankin and Marshall-unat.) with a 19-7 major decision.
Michael Kelly (157) and Moore (165) also fell to their opponents in the semifinal competition. Kelly was up against the No. 1 seed at 157, Isaiah Martinez (Illinois) and was overcome in a 16-5 major decision. Martinez has advanced through the Midlands with a 4-0 record, scoring bonus points in all four matches. Kelly will be wrestling for third place after a 14-13 win over Louis Mascola (Maryland). Moore will also be competing for a third-place finish after falling to third-seeded Pierce Harger (Northwestern) and defeating Ty Prazma (Missouri) 6-4 in a sudden victory.
Sammy Brooks battled the No. 2 seed Jack Dechow (Old Dominion) to the final seconds. Brooks tied the match at five with a last minute escape and takedown, but ultimately fell to Dechow 6-5 with an escape. Brooks went on to battle six periods with eighth-seeded Vic Avery (Edinboro), but clinched the win with a 7-6 decision.
Session IV of the Midlands Championships is set to begin at 7 p.m. (CT) tonight. Updated team standings and complete tournament brackets are available throughout the tournament at nusports.com and on trackwrestling.com
SEMIFINAL RESULTS (# indicates tournament seed)
125 – #1 Thomas Gilman (IA) dec. #4 Stevan Micic (Northwestern-unat.), 4-3
133 – #3 Cory Clark (IA) dec. #2 Jarrod Garnett (Lehigh Valley), 7-6
149 – #1 Jason Tsirtsis (Northwestern) double OT, #4 Brody Grothus (IA), 3-2
149 – #2 David Habat (Edinboro) dec. #6 Brandon Sorenson (IA), 3-2
157 – #1 Isaiah Martinez (Illinois) major dec. #5 Mike Kelly (IA), 16-5
165 – #3 Pierce Harger (Northwestern) dec. #2 Nick Moore (IA), 8-5
174 – #1 Mike Evans (Iowa) dec. #4 Brock Gutches (Southern Oregon), 4-0
184 – #2 Jack Dechow (Old Dominion) dec. #3 Sammy Brooks (IA), 6-5
197 – #1 Nathan Burak (IA-unat.) dec. #12 James Fox (Harvard), 3-1
285 – #2 Bobby Telford (IA) dec. #3 Connor Medbery (Wisconsin), 3-1
CONSOLATION RESULTS
141 – #3 Josh Dziewa (IA) major dec. Brock Ervin (Illinois-unat.), 9-1
141 – #3 Josh Dziewa (IA) dec. #7 Shyhiem Brown (Maryland), 4-2
141 – #3 Josh Dziewa (IA) dec. #5 Chris Mecate (Old Dominion), 7-1
149 – #10 Sal Mastriani (Virginia Tech) medical forfeit #4 Brody Grothus (IA)
149 – #6 Brandon Sorenson (IA) major dec. #3 Rick Durso (F&M-unat.), 19-7
157 – #5 Mike Kelly (IA) dec. Louis Mascola (Maryland), 14-13
165 – #2 Nick Moore (IA) sudden victory Ty Prazma (Missouri), 6-4
174 – #10 Alex Meyer (IA) dec. #8 Chad Welch (Purdue), 3-1
174 – #10 Alex Meyer (IA) pinned #6 Johnny Sebastian (Northwestern-unat.), 2:59
184 – #3 Sammy Brooks (IA) double OT #8 Vic Avery (Edinboro), 7-6
FINALS MATCHUPS
125 – #1 Thomas Gilman (IA) vs. Joey Dance (Virginia Tech)
133 – #3 Cory Clark (IA) vs. #4 Zane Richards (Illinois)
174 – #1 Mike Evans (IA) vs. #2 Zac Brunson (Illinois)
197 – #1 Nathan Burak (IA-unat.) vs. #6 Timmy McCall (Wisconsin)
285 – #2 Bobby Telford (IA) vs. #1 Michael McMullan (Northwestern)