Box Score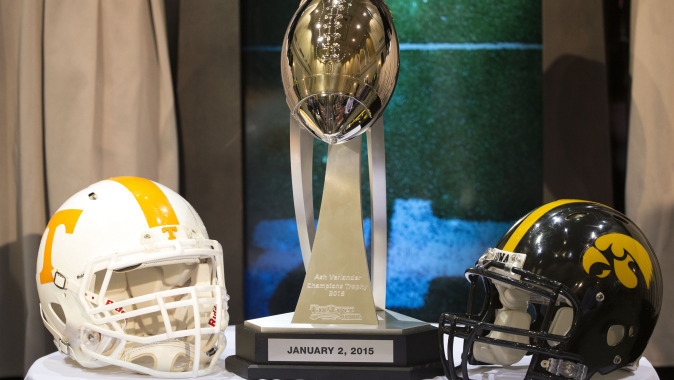 Jan. 2, 2015
By JAMES ALLAN
hawkeyesports.com
JACKSONVILLE, Fla. — Tennessee jumped out to a 28-0 lead before handing the University of Iowa football team a 45-28 loss in the TaxSlayer Bowl on Friday at EverBank Field.
The Volunteers jumped on Iowa early, scoring touchdowns on 5-of-6 first half possessions. Tennessee led 21-0 after the first quarter and 28-0 early in the second quarter before the Hawkeyes broke through with a score. The Volunteers, which had 321 yards of total offense in the first half, led 35-7 at the break.
Tennessee finished the game with 461 yards of total offense, including 283 yards on the ground. Quarterback Joshua Dobbs accounted for 205 yards, completing 16-of-21 attempts for 129 yards and a touchdown and running for 76 yards on 13 attempts and two scores. Freshman running back Jalen Hurd finished with 122 yards and two touchdowns on 16 attempts.
The Hawkeyes finished with 421 yards, 244 yards on the ground and 177 through the air. Iowa employed a two-quarterback system with C.J. Beathard and Jake Rudock sharing the quarterbacking duties. Beathard finished 13-of-23 for 145 yards with two touchdowns to one interception; Rudock was 2-for-8 for 32 yards.
1st
2nd
3rd
4th
Final
0
7
0
21
28
21
14
7
3
45
Stat Comparisons
First Downs
23
26
Rushing Att.-Yds
35-244
51-284
Passing Yds
177
178
Passing (C-A-I)
15-31-1
17-22-1
Total Offense
66-421
73-462
Punts-Avg.
6-35.8
4-37.3
Fumbles-Lost
1-1
0-0
Penalties-Yds
4-37
4-55
Time of Possession
27:19
32:28
3rd-Down Conversions
3-of-11
6-of-12
4th-Down Conversions
0-of-1
0-of-1
Tennessee Statistical Leaders
Passing
CMP
ATT
YDs
TD
Joshua Dobbs
16
21
129
1
Rushing
CAR
YDs
AVG
TD
Jalen Hurd
16
122
7.6
2
Receiving
REC
YDs
AVG
TD
Von Pearson
7
75
10.7
1
Defense
S-A
TOTAL
SACKS
INT
Jalen Reeves-Maybin
5-8
13
0
0
Junior Jordan Canzeriposted his second career 100-yard game, gaining 120 yards on 12 carries, becoming the 45th 1,000-yard rusher in UI history. Beathard ran for 82 yards on eight attempts. Senior Ray Hamilton caught three passes for 51 yards and one touchdown, and senior Kevonte Martin-Manley had three catches for 23 yards, including a fourth-quarter grab that made him Iowa's all-time receptions leader.
Iowa's defense had three players record double-digit tackle totals. Redshirt freshman Josey Jewell made a career-high 14 tackles, including seven solo stops, senior Quinton Alston had 11 tackles and 1/2 a sack, and sophomore Desmond King made 10 tackles and had his second career interception.
Tennessee set the tone on its first two drives with its rushing attack; piling up 128 yards on 11 carries to jump out to a 14-0 lead. Hurd rushed for 49 yards on the Volunteers' first possession, including a 25-yarder on his first carry of the game, and he scored from 3 yards out, giving Tennessee a 7-0 lead 5 1/2 minutes into the game.
With Beathard under center, Iowa drove 51 yards over nine plays into Vol territory on its second drive before turning the ball over on downs. Beathard connected with Canzeri for 12 yards on third-and-8 to the UT 42, but the drive stalled four rushes later. After consecutive 4-yard runs by Beathard and senior Mark Weisman, fullback Macon Plewa was stopped for a 1-yard gain on third down, and Tennessee bottled up Weisman on fourth down to take over on downs.
The Volunteers needed just five plays to cover 67 yards to push their lead to 14-0. Hurd ran for 15 yards on first down and capped off the series with a 29-yard touchdown run — his second of the game.
After forcing a three-and-out and taking over in Iowa territory following a 25-yard Dillon Kidd punt, Tennessee delved into its playbook for a quick-scoring strike. On first-and-10 from the 49, Dobbs swung a pass to Marlin Lane, who connected with a wide-open Vic Wharton for a 49-yard touchdown strike, pushing the Volunteer lead to 21-0 with 1:31 remaining in the first quarter.
Tennessee's defense forced a second-straight three-and-out before the Vols used an eight-play, 62-yard drive to stretch its advantage to four touchdowns. Dobbs led Tennessee down the field with his arm and legs, completing four passes for 27 yards and running for 12 yards, including an 8-yard touchdown run with 12:02 left in the half.
After the Iowa defense forced its first punt of the game, the Hawkeye offense responded with its first score — a nine-play, 71-yard drive with Beathard under center. The sophomore's found Martin-Manley for two receptions to start the drive before a Volunteer penalty moved Iowa into UT territory.
On first-and-10, Beathard connected with Matt VandeBerg for 16 yards to the 28 before Canzeri burst through for a 25-yard gain on the next play to the 3. On third-and-3, Weisman bulldozed his way into the end zone for the touchdown, cutting the deficit to 28-7 with 3:43 left in the half.
The Volunteers responded with a nine-play, 75-yard touchdown drive to take a 35-7 lead into the locker room. After methodically moving to midfield, Dobbs ran for 19 yards to the Iowa 35 before connecting with Von Pearson on consecutive attempts — an 11-yarder on a tipped pass to the 19 and a 19-yard touchdown strike with 21 seconds left.
Tennessee found the end zone for its sixth touchdown on its second drive of the second half. Dobbs began the series with a 16-yard completion to Pearson to the UT 41. On third-and-1 from midfield, Dobbs scrambled for 20 yards to the Iowa 30. He pushed the lead to 42-7, scoring from 11-yards out.
Iowa and Tennessee traded turnovers on its next three possessions. Beathard fumbled on first down from midfield before a Dobbs' pass was tipped and intercepted by King, who returned it 37 yards to the UT 31 yard line.
Beathard's run for 23 yards on third-and-8 moved the Hawkeyes to the 6, but on third-and-goal, Tennessee safety LaDarrell McNeil picked off Beathard in the end zone, who returned the pick seven yards. Iowa's defense forced a three-and-out, allowing the offense to take over in Tennessee territory following a Volunteer punt.
Canzeri got drive off to a strong start with a 32-yard gain on first down, moving the ball 32 yards to the UT 14. Rudock scrambled for 10 yards to the 1 on second down before Weisman scored from 1-yard out, cutting the deficit to 42-14 with 14:29 remaining.
Following an Iowa on-side kick attempt, Tennessee stretched its lead to 45-14 with an 11-play, 34-yard scoring drive that ended with a field goal. The Vols used eight-straight rushing attempts to move down to the Iowa 6 before a pair of Dobbs rushes resulted in a loss of five yards. Aaron Medley connected on a 28-yard field goal with 8:31 remaining in the game.
Iowa scored a pair of touchdowns in the final six minutes with Beathard under center.
The first drive covered 89 yards over seven plays. Beathard connected with junior Jacob Hillyer for 8 yards before a personal foul penalty moved the Hawkeyes into Tennessee territory. Beathard found Martin-Manley for 8 yards to the 31 — a catch that gave Martin-Manley the school record — before zipping a 31-yard touchdown strike to Hamilton to make the score 45-21.
The Hawkeyes need just five plays to move 85 yards for their final touchdown. Beathard began the drive with consecutive completions to Hamilton and Andrew Stone for nine and 15 yards, respectively, before scrambling for 33 yards to the UT 18. On the next play, Beathard found VandeBerg in the back of the end zone, making the final margin, 45-28.
Iowa finishes the 2014 season with a 7-6 overall record.