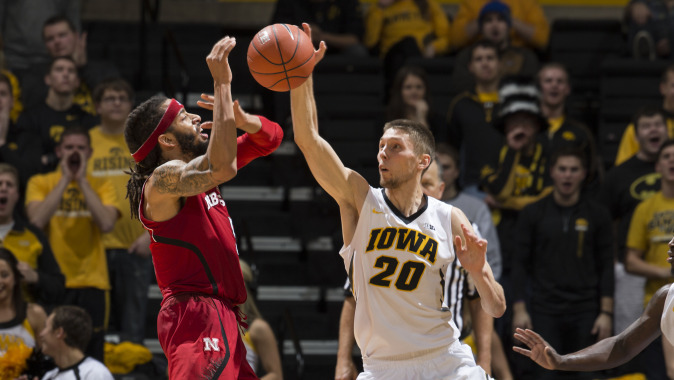 Jan. 6, 2015
ROSEMONT, Ill. — University of Iowa junior Jarrod Uthoff was named Big Ten Player of the Week. The announcement was made Tuesday by the Big Ten Conference office.
The honor is the first of Uthoff's career and the first for a Hawkeye since Roy Devyn Marble earned the weekly accolade on Jan. 13, 2014.
Uthoff (6-9, 210) helped lead Iowa to its first 2-0 start in league play since the 2002-03 season with wins at No. 18 Ohio State (71-65) and vs. Nebraska (70-59). The native of Cedar Rapids, Iowa, shot at a 50 percent clip from the field (11-of-22), including (7-of-14) from 3-point territory, averaging 16.5 points, 7.0 rebounds, 3.5 assists, and 1.0 block in Iowa's two victories.
Uthoff tallied 18 points, including sinking a 3-pointer and a 17-foot jumper on back-to-back possessions in the final 2:19 of the game, to preserve Iowa's victory at Ohio State. He also matched career highs in assists (five) and 3-point field goals (four).
The small forward contributed 15 points, seven rebounds, two assists, one block and a steal in Monday's 11-point triumph over Nebraska.
Iowa (11-4, 2-0) returns to action Thursday when it entertains Michigan State (10-5, 1-1). Tip-off is scheduled for 6:05 p.m. (CT) on Mediacom Court at Carver-Hawkeye Arena. Approximately 400 tickets remain for Thursday's contest. Tickets can be purchased by calling 1-800-IA-HAWKS, online at hawkeyesports.com, or at the UI Ticket Office at Carver-Hawkeye Arena.