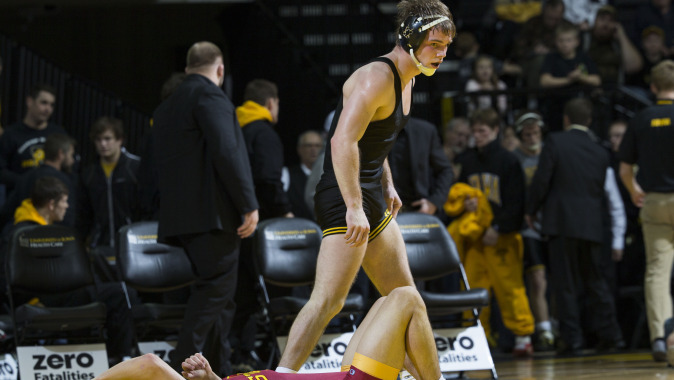 Jan. 13, 2015
IOWA CITY, Iowa — University of Iowa redshirt freshman Brandon Sorensen was named co-Big Ten Wrestler of the Week by the conference office Tuesday.
Sorensen, a native of Cedar Falls, Iowa, scored a pair of takedowns and added 1:58 of riding time to defeat second-ranked Josh Kindig of Oklahoma State, 6-1, on Sunday.
The win helped top-ranked Iowa roll to a 30-7 win at No. 8 Oklahoma State, and vaulted Sorensen to No. 3 in the national rankings at 149 pounds, the highest ranking of his career.
Sorensen leads Iowa with 22 wins, including six major decisions, five pins, and two technical falls. He is 22-2 overall, and his last three wins have been against ranked opponents, including two in the top five.
The weekly honor is the first of his career and the second for Iowa this season. Bobby Telford was honored Dec. 31. Sorensen shares the weekly honor with Ohio State's Kyle Snyder.
Iowa (8-0, 3-0) returns to action Friday, Jan. 16 hosting No. 13 Illinois (8-1, 2-0) on Mediacom Mat inside Carver-Hawkeye Arena. Admission is $12 for adults and $8 for youth 18 years and younger. UI students and children 5 years old and younger are free. The dual will be televised by Mediacom at 7:07 p.m. (CT).