Jan. 14, 2015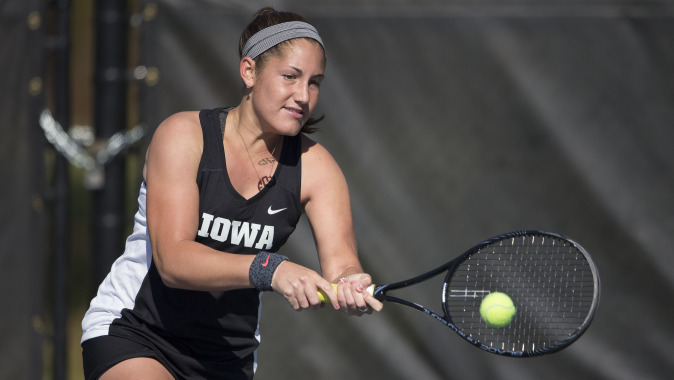 Jan. 14, 2014
IOWA CITY, Iowa — The University of Iowa women's tennis team travels to Orlando, Florida, to compete at the UCF Quad Tournament this weekend. The three-day tournament begins Saturday and is the Hawkeyes' first competition of the 2015 spring schedule.
"We're fortunate to get an opportunity to compete in the tournament format again before we go into the dual match season," said UI head coach Katie Dougherty. "We're going to get match play against good competition before we take on Northern Iowa in two weeks."
In addition to Iowa, the four-team field includes Illinois, Central Florida, and Florida International University.
Iowa newcomer Zoe Douglas will make her Hawkeye debut this weekend. Douglas was ranked No. 8 in U18 in England and held to the No. 1 rank in Cambridgeshire before she joined the Iowa roster.
"So far so good," Dougherty said. "She's in orientation so she's been in and out of practices, but she's athletic, she's fast, and she has some good weapons."
For seniors Ellen Silver, Shelby Talcott, Morven McCulloch, and Katie Zordani, this weekend marks the beginning of the end to their Hawkeye career.
"Silver is really coming on, she had a good fall, probably her best fall ever and she's finally healthy," Dougherty noted. "She's done a really good job in practice and in the gym. Look for her to make an impact this year, I'm really pleased to see her healthy."
The Hawkeyes' first dual meet of the season will be Saturday, Jan. 31 at noon (CT) at the Hawkeye Tennis and Recreation Complex.