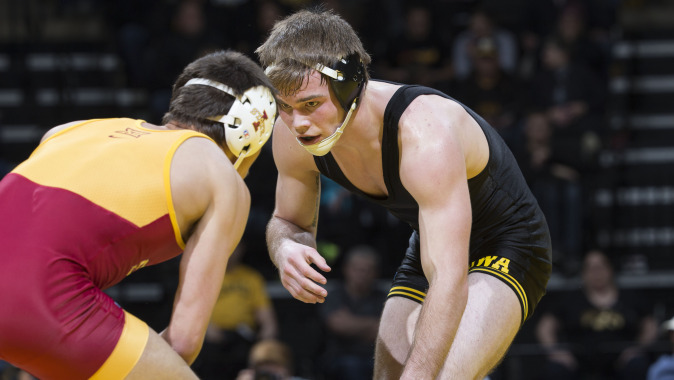 Jan. 15, 2015
Editor's Note: The following first appeared in the University of Iowa's Hawk Talk Daily, an e-newsletter that offers a daily look at the Iowa Hawkeyes, delivered free each morning to thousands of fans of the Hawkeyes worldwide. To receive daily news from the Iowa Hawkeyes, sign up HERE.
By JAMES ALLAN
hawkeyesports.com
IOWA CITY, Iowa — University of Iowa redshirt freshman Brandon Sorensen entered the 2014-15 season in a three-way tussle for a lineup spot at 149 pounds. Now he's ranked top-five in all three national wrestling polls.
"Sorensen has made the most of an opportunity, and he has put an asterisk and exclamation mark there along the way, and that's what you want to see," said UI head coach Tom Brands. "If you get an opportunity, seize it."
Sorensen has posted a team-high 22 victories, compiling a 22-2 record during the season's first two months. After wrestling in open tournaments early in the year, he was in Iowa's dual lineup for the first time Nov. 29 against Iowa State where he defeated Gabe Moreno, 7-6.
He followed up his performance with a first-place finish at the Maryville Kaufman Brand Open before going 5-1 en route to a third-place finish at the Midlands Championships. He has won his last three dual matches, defeating three ranked opponents in the process.
| | |
| --- | --- |
| | "My goal is to win (the national title). I don't want anything short of that, and I believe I can." |
"He is so steady, so it's not like he is having success and has lost eight matches before and gets hot," said Brands. "He has the most wins on the team, and has been steady.
"(His success) isn't a surprise to him or us, we know what's under the hood. Now we have to keep it going."
Sorensen won a major decision over 17th-ranked Ken Theobold of Rutgers, 18-5, before posting back-to-back victories over top-five foes. He beat 2013 All-American and fifth-ranked Hunter Steiber of Ohio State, 9-7, before defeating second-ranked Josh Kindig of Oklahoma State, 6-1, on Jan. 11 in Stillwater, Oklahoma.
Sorenson says the win over Kindig — a 2014 NCAA finalist — is a confidence booster, but he is focusing on the things he didn't do in the match that can widen the gap.
"I felt I could have pushed it more," said Sorensen, who was named the Co-Big Ten Wrestler of the Week on Jan. 13. "I need to get the score in the first period. I need to get to the legs and get more done in the first period. That will open it up even more, and the score will be even bigger."
That's the mindset of an underclassman that has big aspirations in his first season in the Iowa lineup.
"My goal is to win (the national title)," he said. "I don't want anything short of that, and I believe I can."
Sorensen is locked in 100 percent on Friday's match against unranked Kyle Langenderfer of Illinois, but he knows there is a big match on the horizon Jan. 24 when Northwestern's defending national champion Jason Tsirtsis comes to Carver-Hawkeye Arena.
"I haven't thought of it too much," said Sorensen. "But it will be another great opportunity."
Friday's dual will begin at 7 p.m. (CT) on Mediacom Mat. It will be televised on Mediacom-22 with Rob Brooks and Mike Duroe on the call. Tickets are available at hawkeyesports.com or by calling (800) IA-HAWKS.