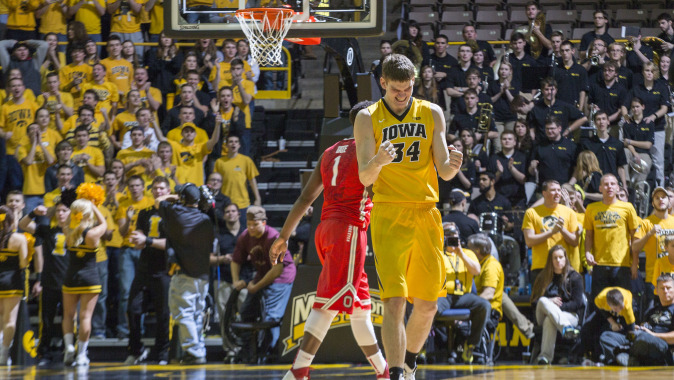 Jan. 17, 2015
PDF Transcript

Q. Can you talk about how Adam impacted this game on both ends?
Fran McCaffery: He was spectacular. I mean, seemed like in the one stretch we were struggling a little bit offensively and he got offensive rebounds, and then when we really needed a stop he got some big defensive rebounds. Did a great job on Williams. I was worried because he got in a little bit of early foul trouble and I knew we were going to need him, but boy, was he great. He was great.
Q. Talk about Mike's missed shot, offensive rebound there, they had the smarts to call a time out there with a fresh shot clock.
Fran McCaffery: Yeah, he had a couple buckets right at the end of the shot clock. I'm tell you what, he played like an experienced guy should, a guy that understands how to play, and I've told you all along, this guy has got unbelievable understanding of the game. He's one of the most cerebral guys I've ever had, and he impacts the game that way. It's nice to see him get a double double and be recognized a little bit more than he is sometimes, and I just make sure that I continue to recognize him because I know the value that he has on our team. But boy, he was a monster today.
Q. In a game that's physical, and it seemed to be as physical a game as you've played all year, how important is he to that?
Fran McCaffery: He's going to be physical no matter how the game is. That's him. So I mean, if anybody wants to get physical, he'll be right there with you. You don't have to worry about him. You just have to worry about him not getting in foul trouble sometimes because he's going to bang you.
Q. How have you dealt with this team in terms of there's been so much made over the second half dropoff?
Fran McCaffery: You work on it. Like for example, you'll do situations, end of the half, start of the half, we're going to run a set, we're going to run motion, what are we going to be in defensively. And that's going to change a lot of times based on who we're playing. You know, I thought we had some crazy turnovers there at the beginning of the second half that was very uncharacteristic. I mean, we handled the ball extremely well in the first half, we handled the ball extremely well the last 15 minutes of the game. That one five minute stretch we got a little sideways, and then we got a lineup on the floor that really settled everybody down.
Q. Aaron seemed to show a can't lose attitude there in that stretch. He was virtually unstoppable.
Fran McCaffery: Well, you know what was, I think, interesting, he got his third foul, I think the first possession on the second half, and I took him out. He didn't want to come out. He was angry. He wanted to stay in. He was angry at the call, he was angry at me taking him out. I said, just sit tight, and what ended up happening was he ended up watching the same thing you were watching, and sometimes that perspective is a little bit different than if you're out there. And so when it got to the point where I had to start doing something, I said, get in there, take over. Boy, did he take over.
Q. I guess we haven't really seen that for that long a stretch of time, a guy putting a team on his shoulder like that.
Fran McCaffery: Well, he played with great energy at both ends. He was disappointed in himself in the last game defensively, not offensively. He's got tremendous pride, and he's a winner, and he wants his teammates to be able to rely on him, and you knew that today was going to be different, and boy, was it ever.
Q. On six consecutive trips up the floor he was attacking, hit a shot late in the clock.
Fran McCaffery: Well, it's exactly what you have to do when a team is playing defense the way they were playing. That was a decision they made. They were going to be up in our space, the Xs on the O. You've got to drive the ball. You've got to put it on the deck and drive it. You can't make a pass because the guy is in the passing lane. You can't feed the post because the guy is in the passing lane. You've got to go. That's what he did.
Q. Did Pete hurt his hand on that play?
Fran McCaffery: Yes. I don't think it's real serious, but we'll check him out.
Q. Is it his shooting hand?
Fran McCaffery: I don't remember. Sorry.
Q. What does this do for you confidence wise knowing you guys have given up leads in the second half, to give up a little bit of a lead but still finish the game strong especially going into the Kohl Center on Tuesday?
Fran McCaffery: Keep in mind, we gave up some leads in the second half and we still won, like we did the other night. It's great confidence. I don't look at it like that. I look at it like this: We beat Ohio State twice. That's pretty good.
Q. Coming out of the UNI game, looking ahead to the Big Ten, maybe 4 1 would have been a pretty optimistic approach. How has this team kind of started over and found itself in this stretch of the season?
Fran McCaffery: You know, I don't know if it was that. I just think that they're very businesslike in their approach. We're very businesslike in our approach, and it's just on to the next game. We're 4 1, we're not sitting here patting ourselves on the back. We've got to go to Wisconsin and Purdue, the next two games. The league is brutal. So you can never get too full of yourself. You never can get too down on yourself. Like I said the other day, Minnesota is 0 5. If you woke up two weeks from now and they were 5 5, who would be surprised? I mean, every team has got good players, every team has got a good coach, and you've just got to stay healthy, stay humble, move the ball, share the ball, be unselfish. Our team is a little bit different. Uthoff and Olaseni weren't as impactful today as they have been. Well, they've got to be just absolutely thrilled for the guys that came in and played in their place, and they are. And that's, I think, what makes our team special. They're not looking and saying Coach didn't play me as much, I should have got more shots, I should have got more touches. When Gabe is killing, Woody is happy for him; when Woody is killing, Gabe is happy for him.
Q. Have you ever had a player who's been misunderstood as much as Woodbury as far as contribution to his game?
Fran McCaffery: No, never. Never seen anything like it in my life.
Q. Irritate you, upset you?
Fran McCaffery: Yes, in a big way, because it's unfair. All that kid does is work his tail off every facet of everything he does, and he's got unbelievable character, represents the institution, his family, and he gets criticized unfairly. You know, he is who he is. And I'll tell you what, I'll take him on my team any day.
Q. It seems like he talks a lot out there, and even on the sideline he doesn't sit down.
Fran McCaffery: You know what's important about that is a lot of guys talk, okay. What are you saying? You know, you hear the guy bah, bah, bah, bah, b b b b; we talk none of that. If you're going to say something, say something that's meaningful, all right, and if you're going to be in the back of a defense, whether it's a zone or it's a man and you're talking and you're telling this guy to do this and that guy to do that, you'd better be right because I don't need you telling the wrong thing to the wrong guy, and that's the beauty of him. When he's talking, he's right. And they do what he says, and they listen to him. The way that that impacts your team defensive concept is immeasurable because they can't hear me but they can hear him.
Q. When you put White back in the game in the second half when they started their run, I'm sure you didn't expect you were going to get 12 in a row out of him.
Fran McCaffery: I hoped we would.
Q. Why did you decide to make that move?
Fran McCaffery: I knew he would come in and be aggressive. We needed aggressiveness at that point, and like I said, he had a chance to watch it, and we weren't aggressive. They were the aggressor. So he went in and he became the aggressor.
Q. Uhl came off the bench and gave you some real key minutes, especially late in the first half
Fran McCaffery: Yeah, I felt bad. I should have played him more in the second half. He deserved to play more.
Q. He has seemed to grow and become more of a contributor on almost game by game basis.
Fran McCaffery: Well, he's really smart and he's skilled, and I think what you're seeing is a guy that is figuring out the complexity of the game in this league in terms of physicality. And so he's playing a little differently now. He was always kind of a finesse guy, move it on, drive and kick, but he's playing a little more smashmouth, which is what he's going to have to do, and he's good enough to do that, and he's only going to get better because he's going to get stronger.
Q. It certainly helped to get a 9 0 lead right out of the gate.
Fran McCaffery: That's always a good thing, absolutely. I thought our defense the first three possessions, I mean, they couldn't get into anything, and then we wanted to run, and we've got a run out three by Uthoff. 9 0 start, you're absolutely right, it changes everything. It just changes the whole complexion of the game. It was great to see, and the crowd was unbelievable.