Jan. 22, 2015
THE SETTING
No. 25 Iowa (13-6, 4-2), winners of five of its last seven games, travels to play Purdue (11-8, 3-3) Saturday. Tipoff is slated for 11:06 a.m. (CT) at Mackey Arena in West Lafayette, Indiana.
ON THE AIR
Radio: Iowa games are broadcast on the Hawkeye Radio Network. Gary Dolphin handles the play-by-play, along with color commentator Bob Hansen. The network includes more than 40 stations that blanket the state of Iowa and include portions of Illinois, Nebraska, Minnesota, Missouri and Wisconsin. The Hawkeye Radio Network coverage includes a 60-minute pregame show.
TV: Saturday's game will be televised nationally on BTN (BTN2GO). Kevin Kugler and Shon Morris will call the action.
GAME #20 OPENING TIP
? Iowa is 3-1 this season in true road games, winning at No. 12 North Carolina (60-55), No. 18 Ohio State (71-65) and Minnesota (77-75). Iowa fell at No. 5 Wisconsin (82-50) Tuesday night.
? Saturday will be the only regular season meeting between Iowa and Purdue.
? Both Iowa and Purdue coaching staffs will be wearing sneakers Saturday during the game to help raise cancer awareness.
? Iowa seeks its first win in West Lafayette in nine years on Saturday. The Hawkeyes beat the Boilermakers (77-68) on Feb. 1, 2006.
? Jarrod Uthoff is the only Division I player to have 30+ 3-pointers, 25+ blocks, and 20+ steals.
? Iowa became the first team in the country to post road wins over ranked opponents: No. 12 North Carolina (60-55) on Dec. 3 and No. 18 Ohio State (71-65) on Dec. 30.
? The Hawkeyes are 7-1 when Gabriel Olaseni scores in double figures this season.
? Iowa is 6-0 this season when sinking eight or more 3-pointers.
? Aaron White is 14 points from surpassing Jess Settles for eighth on Iowa's all-time scoring list.
? Iowa is averaging nearly a double-double out of its center position of Adam Woodbury and Gabriel Olaseni. The duo combine to average 9.9 points and 10.6 rebounds.
HAWKEYES FALL AT WISCONSIN
? No. 5 Wisconsin handed No. 25 Iowa its first true road loss of the season Tuesday night in Madison, 82-50.
? Junior Jarrod Uthoff led the Hawkeyes in scoring with 12 points, including making a half-court shot at halftime.
? Iowa shot 40 percent from 3-point range, sinking six of its 15 attempts.
? Four Badgers scored in double figures: Sam Dekker (17), Nigel Hayes (16), Bronson Koenig (13), and Frank Kaminsky (13).
? Sophomore guard Trey Dickerson played in his first Big Ten game Tuesday on his 21st birthday and netted eight points on 3-of-5 shooting from the field, including 2-of-2 from 3-point range.
? Iowa and Wisconsin will meet for the rematch a week from Saturday on Jan. 31 in Iowa City.
ALL-TIME SERIES RECORDS
Purdue holds an 86-73 advantage in the series. Iowa has won the last two meetings, while the Boilermakers have won 11 of the last 14 meetings. Iowa and Purdue met only once a year ago, with the Hawkeyes winning 83-76 in Iowa City. The Boilermakers hold a 57-21 advantage in games played in West Lafayette. Purdue has won the last six meetings in Mackey Arena. The Hawkeyes' last victory at Mackey Arena came on Feb. 1, 2006 (77-68). Iowa dropped a 65-62 decision in overtime on its last visit to West Lafayette on Jan. 27, 2013.
SCOUTING PURDUE
? Purdue has lost three of its last four games, with the one victory coming in overtime at Penn State (84-77).
? The Boilermakers are 8-3 in home games this season, including 2-1 in home conference games. Purdue beat Minnesota (72-68) and Michigan (64-51), but fell to nationally-ranked Maryland (69-60).
? Three Boilermakers average double figures in scoring: Kendall Stephens (10.9), A.J. Hammons (10.6), and Vince Edwards (10.1).
? A.J. Hammons ranks 30th nationally in blocked shots (2.6).
? Kendall Stephens is Purdue's main 3-point weapon, draining a team-best 48 triples on 114 attempts (42 percent). He ranks third in the league in 3-pointers made per game (2.5). Vince Edwards and Dakota Mathias each have made 18 treys.
? Purdue is ranked first in the league in blocked shots (5.3), third in rebounding margin (+6.0), and fourth in assists (15.6).
? Isaac Haas ranks second in the Big Ten in field goal percentage (.609, 67-of-110).
? Purdue has played two overtime games this season, winning both: BYU (87-75) and Penn State (84-77).
? Both Purdue and Iowa played North Florida during the nonconference portion of the schedule. Iowa won 80-70, while Purdue lost 73-70.
? Purdue head coach Matt Painter was on the World University Games committee for Team USA the summer of 2013 and nominated Aaron White for the tryouts. White ultimately made the squad and competed in Russia.
LAST SEASON AGAINST PURDUE
? Iowa registered an 83-76 win over Purdue in Iowa City on March 2, 2014.
? Iowa had four players score in double figures: Devyn Marble (21), Aaron White (15), Mike Gesell (15, and Josh Oglesby (11).
? Aaron White recorded a double-double (15 points and 10 boards).
? Iowa closed the first half on a 7-0 run to grab its largest lead of the game 50-37.
? The Hawkeyes committed a season-low only five turnovers.
? Iowa collected 12 steals; the most by the Hawkeyes against Big Ten competition last season.
? The Hawkeyes were 26-36 (.722) from the foul line, while Purdue was 14-of-21 (.667). Iowa made 8-of-10 from the charity stripe the last two minutes to seal the victory.
? Five Boilermakers scored in double figures. Center A.J. Hammons notched a double-double (16 points and 14 rebounds).
FINDING WAYS TO SCORE
Aaron White ranks first in the country in highest percentage of points scored from free throws (minimum 275 total points). The Hawkeye senior has scored 122 of his 297 points (41 percent) from the charity stripe. White went 10-of-12 (.833) from the foul line, all in the second half, in Iowa's win over Ohio State on Saturday. On Jan. 5 against Nebraska, he surpassed Roy Marble as Iowa's all-time leader in free throws. He currently ranks sixth in Big Ten annals and is 18 makes from surpassing Northwestern's Evan Eschmeyer (563) for fifth in conference history.
WHITE HOT
Aaron White ranks first among active Big Ten players in rebounding (783) and is third in scoring (1,598). He is two rebounds from surpassing Don Nelson for No. 10 on Iowa's all-time rebounding chart. White ranks first on the team in rebounding (6.8), steals (1.6), and scoring (15.6), and is fourth in assists (1.6) this season. His rebounding and scoring averages rank eighth and ninth, respectively in the Big Ten this year. White is seeking to become the first Hawkeye to lead the team in scoring and rebounding since Greg Brunner in 2006 (14.1 points and 9.2 rebounds per game). White was the only Big Ten player to average 13+ points and 7+ rebounds during league play in 2014. White became the first Hawkeye ever to register 1,300+ points, 650+ rebounds, 100+ steals, and 100+ assists by his junior season. White was the only player in the country to shoot better than 55 percent from the field and 80 percent from the foul line in 2014. He shot 58 percent from the field and 81 percent from the charity stripe. Again, White is the only player in the country to shoot better than 50 percent from the field (52 percent) and 80 percent from the charity stripe (82 percent). White became the fifth player, since 1960, to lead the Hawkeyes in rebounding three consecutive seasons. White joins Don Nelson (1960-62); Kevin Kunnert (1971-73); Bruce King (1975-77); and Greg Brunner (2004-06). He is seeking to become the first player all-time to lead the Hawkeyes in rebounding all four seasons. White became the 41st Hawkeye to surpass 1,000 career points with his 19th point scored with one second remaining at the free throw line versus Notre Dame (Dec. 3). He reached the 1,000-point milestone in his 82nd career game. White currently ranks ninth in Iowa scoring; he is 14 points from surpassing Jess Settles (1,611) for eighth all-time.
ROAD WARRIORS
Iowa has three true road wins (No. 12 North Carolina; No. 18 Ohio State; Minnesota) by Jan. 13, which is the fastest a Hawkeye team has posted three true road wins since the 1998-99 season (Drake, Dec. 1; Kansas, Dec. 8; Northwestern, Jan. 3). That 1998-99 Iowa team advanced to the NCAA Sweet Sixteen.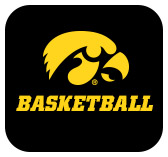 UTHOFF PRODUCING ON THE WING
Jarrod Uthoff ranks second in team scoring (11.8 ppg) and steals (1.1), and first in 3-point shooting (32-of-82, .390). He is the only Division I player to have 30+ 3-pointers, 25+ blocks and 20+ steals. Uthoff was named Big Ten Player of the Week on Jan. 6 by the Big Ten Conference office after his performance in Iowa's at No. 18 Ohio State (Dec. 30) and vs. Nebraska (Jan. 5). Uthoff averaged 16.5 points, seven rebounds, and 3.5 blocks in those two games. The redshirt junior drained a personal-best four triples in Iowa's victory over Hampton (Nov. 14) and at No. 18 Ohio State (Dec. 30). He has reached double figures in 13 of Iowa's 19 contests, including pouring in a career-high 22 points at Minnesota (Jan. 13). Uthoff has made 24 of his team-leading 32 3-pointers in Iowa's 13 victories. He is averaging 14.3 points and shooting 48 percent (31-of-65) in Big Ten play, while averaging 10.6 points and shooting 39.8 percent (51-of-128) in nonconference action. In Iowa's four true road games (North Carolina, Ohio State, and Minnesota) Uthoff is averaging 15 points and 6.3 rebounds. Uthoff tallied eight points and equaled career bests in rebounding (11) and blocked shots (five) in Iowa's five-point victory at No. 12 North Carolina. He had 18 points, seven rebounds, and a career-high five assists in Iowa's road win against the Buckeyes, while totaling 22 points, five rebounds, four assists, and four blocks at Minnesota. Uthoff became the first player to amass 22+ points, 5+ rebounds, 4+ assists, and 4+ blocks in a Big Ten contest since Minnesota's Joel Przybilla versus Iowa on Jan. 12, 2000. The native of Cedar Rapids, Iowa, has two double-doubles this season (North Florida and Michigan State). He had 10 points and a personal-best 12 boards against North Florida (Dec. 22), and 12 points and a team-best 10 rebounds versus Michigan State (Jan. 8).
SELECT COMPANY
Aaron White is one of only two active Division I players (Oklahoma's TaShawn Thomas) to have 1,500+ points, 750+ rebounds, 150+ assists, and 125+ steals. He is the only Hawkeye ever to post those numbers in the program's history. Also, his 13 career double-doubles ranks second among active Big Ten players; Michigan State's Branden Dawson ranks first (16).
HAPPY BIRTHDAY!
Junior Adam Woodbury played two spectacular games last week during his birthday week. Woodbury, who turned 21 last Tuesday, scored nine points and snagged a game-high eight rebounds in Iowa's win at Minnesota (Jan. 13). The junior kept the momentum going Saturday against Ohio State posting his second career double-double (13 points and a team-best 10 rebounds). Woodbury nearly averaged a double-double last week (11.0 ppg and 9.0 rpg).
HAWKEYE FAST BREAKS
? Iowa is ranked No. 25 in this week's Associated Press poll. Iowa State is ranked ninth and Northern Iowa is 20th, marking the first time in history that the state of Iowa has had three ranked teams at once.
? Iowa is 10-1 this season when scoring 70+ points and 11-0 when shooting at a higher percentage than its opponents.
? Iowa has made (324) more free throws than its opponents have attempted (295).
? Iowa started Big Ten play 2-0 for the first time since the 2002-03 season.
? Gabriel Olaseni scored 18 points in consecutive games against Nebraska (Jan. 5) and Michigan State (Jan. 8). The London native became just the fifth Big Ten player since 2006 to record back-to-back 18-point games off the bench (Indiana's Will Sheehey in 2012; Michigan's DeShawn Sims in 2008; Minnesota's Lawrence McKenzie in 2007; and Ohio State's Deaquan Cook in 2006).
? Josh Oglesby has made 135 career 3-pointers. He is two treys from surpassing B.J. Armstrong for 10th on Iowa's all-time 3-point list.
? Iowa has had three players post double-doubles this year (Adam Woodbury, Gabriel Olaseni, and Aaron White). Only Michigan State has had more (four).
? Iowa is 36-6 when scoring 80 points or more, the last five seasons. The Hawkeyes are 48-2 when holding opponents to fewer than 61 points, the last five years.
? Jarrod Uthoff is averaging 14.3 points and shooting 48 percent (31-of-65) in Big Ten play, after averaging 10.6 points and shooting 39.8 percent (51-of-128) in nonconference action.
? Iowa's 26-of-28 (.929) performance at the free throw line vs. North Florida is the best percentage by an Iowa team (min. 25 attempts).
? Iowa ranks 15th in the country in free throw percentage (75.0); 28th in blocked shots (5.2); 34th in fewest fouls per game (16.0); 51st in offensive rebounding (12.7); 59th in field goal percentage defense (39.5); and 74th in assists (14.4).
? Aaron White has attempted 10+ free throws in six games this season and 12 times in his career. Only two active players in the country have accomplished that feat more than White. The Hawkeye senior has made the fourth-most free throws (122) in the country. Hoftsra's Juan `Ya Green is first with 134.
? The Hawkeyes have had fewer than 10 turnovers in four games this season (Iowa State, Longwood, Nebraska, and Michigan State).
ACADEMIC EXCELLENCE
In recognition of Mike Gesell's outstanding academic record in the Tippie College of Business at The University of Iowa, the junior has been invited to become a member of Beta Gamma Sigma, the National Scholastic Honor Society for business students. This honor is reserved for students who have earned GPAs that place them in the top 10 percent of their class. The UI chapter, established in 1920, is one of the 10 oldest in the nation.
FRESH START
Sophomore Peter Jok made his first start of his career on Dec. 22 vs. North Florida. The native of West Des Moines, Iowa, has started the last seven games, beginning with that North Florida contest. Jok is averaging 6.2 points per game for the season and 7.7 points since being inserted into the starting lineup. He has made at least one triple in eight of the last 11 games, including a personal-best four in Iowa's win over UMBC (Dec. 6). Jok tallied 13 points on 5-of-8 shooting from the field, including 3-of-5 from 3-point range, in Iowa's win at Minnesota (Jan. 13). He had seven points and equaled a personal best with three steals in the Hawkeyes' triumph over No. 25 Ohio State last Saturday in Iowa City.
BLOCK PARTY
Senior Gabriel Olaseni denied a game-high four shots in Iowa wins over Hampton (Nov. 14), Northern Illinois (Nov. 26) and North Florida (Dec. 22). He denied a career-high five shots in Iowa's win over Northern Illinois. Olaseni ranks third in the Big Ten and 63rd nationally, averaging 1.9 rejections per game. He also ranks sixth in Iowa career blocks (123). He is two blocks from surpassing Ryan Bowen for fifth. Uthoff ranks ninth in the league in blocks (1.5), rejecting at least one shot in 15-of-19 games. As a team, Iowa ranks 28th in the country in rejections (5.2).
IOWA HISTORY
Iowa has played 2,659 games since beginning basketball in 1902. Iowa's overall record is 1,563-1,096 (.588). That includes a 999-351 (.740) record in home games, a 560-742 (.430) record in contests away from Iowa City, a 733-747 (.495) mark in Big Ten games and a 403-125 (.763) record in Carver-Hawkeye Arena.
WHITE NOMINATED FOR GOOD WORKS TEAM
The National Association of Basketball Coaches (NABC) and Allstate Insurance Company announced the nominees for the 2015 Allstate NABC Good Works Team. Among the nominees is University of Iowa basketball student-athlete Aaron White. This prestigious community service award recognizes a distinguished group of student-athletes who have demonstrated a commitment to enriching the lives of others and contributing to the greater good in their communities. College sports information directors and basketball coaches across the country nominated players who exhibit exceptional leadership skills and an unwavering commitment to volunteerism. From the 158 NABC nominees, distinguished voting panels will select two 10-member teams comprised of five student-athletes from the NCAA Division I level. The final roster of 20 award recipients will be unveiled in February.
HAWKEYEBASKETBALL.COM
Check out the Iowa basketball team's website, HawkeyeBasketball.com, devoted to everything on-and-off-the-court surrounding the program. HawkeyeBasketball.com, allows fans a chance to go behind the scenes with the Hawkeye basketball program on and off the court. The site is complete with exclusive videos, photo galleries and content featuring the basketball program.
COACHING EXPERIENCE
Fran McCaffery has the most experienced coaching staffs in the country. The Iowa men's basketball staff has 66 years of combined collegiate head coaching experience and more than 130 years of collegiate coaching under their belts. Iowa ranks first, followed by Indiana and Tulsa.
ALL-SESSION BIG TEN TOURNAMENT TICKETS ON SALE
All-session tickets for the 2015 Big Ten Men's Basketball Tournament are on sale. The Big Ten Men's Basketball Tournament will return to the United Center in Chicago, March 11-15. The event will feature a five-day format for the first time in conference history. Lower level tickets may be purchased through the UI Ticket Office. Upper level tickets may be purchased at Ticketmaster outlets, ticketmaster.com, by calling Ticketmaster at (800) 745-3000 or going to unitedcenter.com. All-session tickets for the 100 and 200 levels at the United Center are available for $375 through the Big Ten university ticket offices only. All-session tickets for the 300 level are available for $275 or $200 (depending on seat location) through Ticketmaster or the United Center box office only. Orders will be limited to four all-session tickets. The tournament will continue to feature a discounted student ticket program. Students of Big Ten universities will be able to purchase tickets for $20, good for only the session or sessions featuring their school. All students must have a valid student ID for entry. Student section seating will be available in balcony sections and orders will be limited to one ticket per student.
MCCAFFERY IN COACHES CHARITY CHALLENGE
Infiniti, ESPN, NABC and the NCAA have teamed up again to produce a one-of-a-kind charity competition — the Infiniti Coaches' Charity Challenge. For 10 weeks, 48 coaches compete in a round robin bracket tournament for the chance to win $100,000 for charity. Iowa's Fran McCaffery is one of 48 collegiate coaches taking part in this challenge. Fan participation will determine the ultimate winner over an eight-week period by registering and voting on a custom microsite on ESPN.com/Infiniti. The tournament is divided into four rounds. The coaches with the most votes will advance to the next round and earn more money for their charity. Visit ESPN.com/Infiniti each day and vote for McCaffery, using multiple email addresses, and his charity — Coaches vs. Cancer.
ON THE HORIZON
Iowa will be idle during the week before hosting nationally-ranked Wisconsin a week from Saturday (Jan. 31). Tipoff is scheduled for 11 a.m. on Mediacom Court at Carver-Hawkeye Arena. That game is sold out.