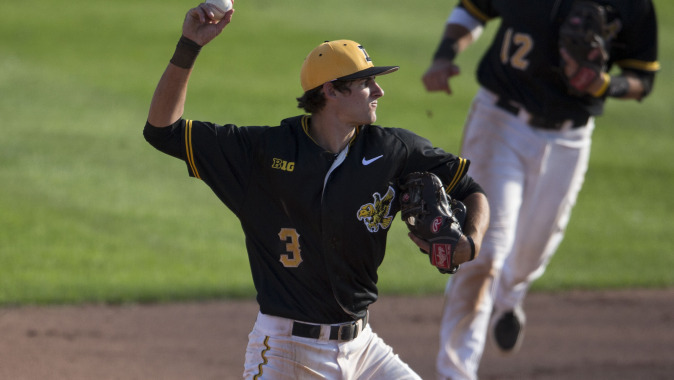 Jan. 23, 2015
Editor's Note: The following first appeared in the University of Iowa's Hawk Talk Daily, an e-newsletter that offers a daily look at the Iowa Hawkeyes, delivered free each morning to thousands of fans of the Hawkeyes worldwide. To receive daily news from the Iowa Hawkeyes, sign up HERE.
By JAMES ALLAN
hawkeyesports.com
IOWA CITY, Iowa — The University of Iowa baseball team has big shoes to fill in the middle of its infield and junior Nick Roscetti is a player ready to step up.
"This is an awesome opportunity, coming in after (Jake) Yacinich and taking over at shortstop," said Roscetti. "I need to step up for this team to help us get to where we want to go."
Roscetti replaces Yacinich, who earned first-team All-Big Ten and first-team all-region honors during his breakout 2014 season. Yacinich ended his Hawkeye career after being an eighth-round selection in the 2014 Major League Baseball Draft by the Los Angeles Angels of Anaheim.
After signing a professional contract, Yacinich reached out to Roscetti to offer encouragement.
"Jake called me during the offseason and said, 'This is your job now… I have total confidence in you. It's your spot and you will flourish,'" said Roscetti. "I took that to heart and it made me want to work harder to show people that I can thrive in this position."
| | |
| --- | --- |
| | "This is an awesome opportunity, coming in after (Jake) Yacinich and taking over at shortstop. I need to step up for this team to help us get to where we want to go." |
Roscetti was in and out of the lineup as a sophomore, primarily as a defensive replacement. He played 33 games with 16 starts at first, second, and third base. Roscetti has collegiate experience at shortstop, making 15 starts as a freshman, and he was an all-state selection at the position at Williamsville (Illinois) High School.
"Having collegiate experience at shortstop will help," said Roscetti. "Playing as a freshman helped build my confidence to show I can play at the Division I level."
UI head coach Rick Heller sees Roscetti as a confident, consistent player — one that has the tools to make the most of his opportunity.
"He's a bigger shortstop and is a plus runner, which gives him good range, and his arm strength is as good as anybody on our team," said Heller. "Offensively, he has made some adjustments with his swing, where I think you'll see him driving the ball a lot more. I am confident Nick will do great at shortstop."
Extra-base power has been one of Roscetti's focuses since the end of the 2014 season. In his first two seasons, Roscetti posted a .263 career average with 10 RBIs and 20 runs, but just seven of his 42 career hits went for extra bases.
"I have been working with (hitting) coach (Marty) Sutherland on the mechanics of my swing to get through the ball more," said Roscetti. "Rather than being just a contact guy, I want to drive more balls into the gap and get more extra-base hits."
After not knowing where or if he would be in the lineup, Roscetti says it's nice knowing he will a regular this season, but he doesn't want it to let him affect his demeanor.
"In some cases it helps (knowing I'll be in the lineup), but in other ways, it can make you relax a little bit," he said. "I don't want to relax. In games, you have to be ready at all times and performing every single game. I want to have the same drive."
The Hawkeyes hold their first official team practice Friday in the Indoor Practice Facility before taking the field Feb. 13 at the Snowbird Classic in Port Charlotte, Florida.
"We have work to do before the first game, but we've already made some great progress (in individual workouts)," said Roscetti. "We're excited to get after it full go and get into warmer weather and play ball."