Jan. 28, 2015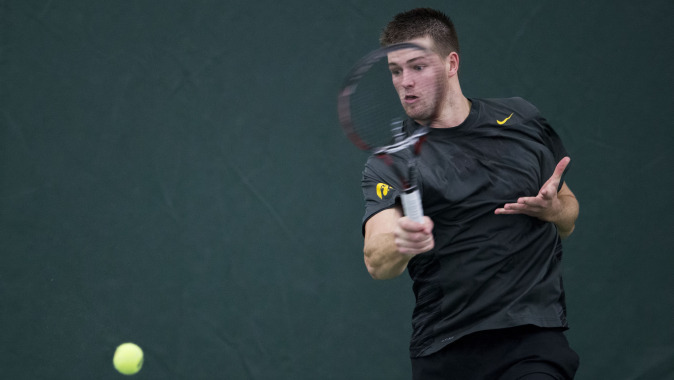 Weekly Release

THIS WEEK:
The University of Iowa men's tennis team travels to Ithaca, New York, to compete against 65th-ranked Cornell (1-3) Friday at Reis Tennis Center. The two teams split their previous two meetings. The Hawkeyes will then have a quick turn around before they head to New Haven, Connecticut, on Sunday for a match with the Yale University Bulldogs (3-0) at the Cullman-Heyman Tennis Center. Iowa is 2-6 in its history against Yale.
HAWKEYES RANKED:
Iowa's doubles team of Matt Hagan and Dominic Patrick are ranked 31st in the initial spring ITA national rankings. Hagan and Patrick are the fourth-highest ranked pair in the Big Ten. Hagan and Patrick posted a 4-1 record in the fall, including winning four straight matches at the Big Ten Indoor Championships to become the conference's doubles champions. The Hawkeye tandem became only the third pair in school history to accomplish the feat and first since David Nairn/John Nadig in 1960 (third flight); James Andrews/Robert Potthast were the first team to win a Big Ten Doubles Championship in 1958 (first flight). Hagan and Patrick become Iowa's first doubles team to start the spring season ranked since 2012, when Marc Bruche and Will Vasos were ranked 59th. Last weekend the duo defeated Western Michigans No.1 doubles team of Maik Steiner and Ruben Greiner (6-4). Hagan is also among the ITA singles rankings, coming in at 116th. The native of Omaha, Nebraska, becomes the first Hawkeye to be ranked in the initial spring season rankings since Marc Bruche was ranked 93rd in 2012. In his only singles match last weekend Hagan earned the victory over Western Michigans Jefta Kecic in three sets (7-5, 1-6, 6-3).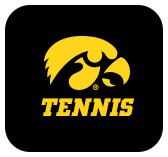 LAST TIME ON THE COURT:
Iowa hosted Western Michigan and Western Illinois at the Hawkeye Tennis and Recreation Complex. Against Western Michgan, the Hawkeyes swept all three doubles matches to take the doubles point. The team then went 5-1 in singles, freshman Jake Jacoby was able to seal the deal for Iowa in a come from behind effort. After falling in the first set (6-1) in his singles match he then realed off two straight set victories (6-3, 6-2) to take the fourth team point and wrap up the win. Iowa then made quick work of Western Illinois tallying nine total wins, going (3-0) in doubles to take the doubles point and (6-0) in singles to take all six singles points. The freshman from Belgium, Stieg Martens, impressed in his first competition ever as a Hawkeye registering two victories in singles and two victories in doubles.
INTERIM HEAD COACH Ross Wilson:
Ross Wilson, a former two-time NCAA All-American and three-time ITA national doubles champion at Ohio State, is the interim head men's tennis coach after the announcement of Steve Houghton's retirement on Sept. 8. Wilson served as the team's assistant coach last season. Wilson, the 2012 ITA National Assistant Coach of the Year and ITA Central Region Assistant Coach of the Year, came to Iowa after serving as assistant coach at nationally-ranked San Diego during the 2012-13 season. Wilson was a standout at national power Ohio State from 2002-06. He was a two-time NCAA All-American and three-time ITA national doubles champion. He broke the Buckeyes' overall career wins record, career doubles wins record and single season doubles wins record in 2006.
WILSON ON SPRING OPENER:
"Cornell will be a very tough match against a nationally ranked opponent. We will get to see where we are as a team in a tough enviorment."