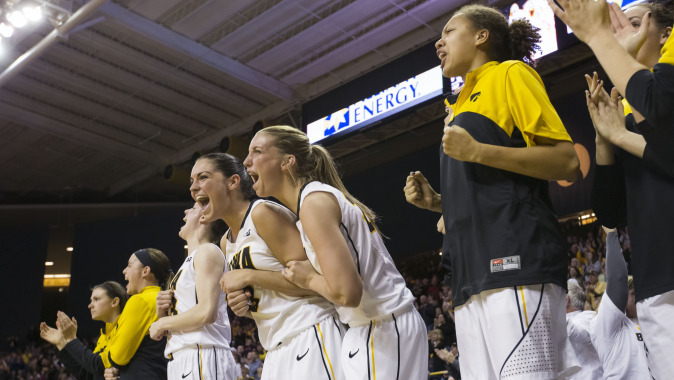 Jan. 28, 2015
Game Notes: at Northwestern

THE SETTING:
The 17th-ranked University of Iowa women's basketball team (16-3, 7-1) travels to Northwestern (14-5, 4-4) on Thursday night. Tipoff is set for 7 p.m. (CT) at Welsh-Ryan Arena in Evanston, Illinois.
QUICK HITS:
? Iowa is ranked No. 20 in the Associated Press Top-25 poll and No. 17 in the USA Today Coaches poll.
? Iowa's NCAA RPI (Jan. 28) is No. 10, while Northwestern is at No. 52.
? The Hawkeyes have won 10-of-11 games overall, and five straight.
? Iowa, 12-0 at home this season, plays six of its next eight games on the road.
? The Hawkeyes defeated Northwestern in Iowa City on Jan. 14 in the last meeting, 83-70.
? Iowa is in second place in the Big Ten at 7-1, one game behind Maryland (8-0).
? The Hawkeyes last started 7-1 or better in Big Ten play during the 1995-96 season.
? Iowa is off to its best start through 19 games (16-3) since the 1995-96 season (18-1).
? The Hawkeyes are 16-1 this season when three or more players score in double figures.
? Iowa set the school record for scoring offense (78.2) last season, leading the league in scoring while notching the second-most points in a season in Big Ten history (2,814). The Hawkeyes rank 14th nationally this season (78.1).
? Ally Disterhoft has scored in double figures in 33 of her 36 career starts. Iowa is 29-7 when Disterhoft starts.
? Iowa senior Samantha Logic, the NCAA's active career assists leader (756), ranks sixth in assists in Big Ten history. Penn State's Jess Strom is fifth with 776 career assists.
? Iowa is the only Big Ten team, and one of only 14 teams in the country, to appear in the last seven NCAA Tournaments. There are 349 Division I teams.
? Iowa is 43-12 overall since the start of last season.
WATCH THE ACTION:
Thursday's contest can be seen live on BTN Plus.
AUDIO COVERAGE:
Brent Balbinot and Kristi Faulkner will call the game for the Hawkeye Radio Network. Hawkeye fans can listen to the contest on AM-800 KXIC in Iowa City, AM-600 WMT in Cedar Rapids, AM-1040 WHO in Des Moines (and other Hawkeye Radio Network stations), or on the Hawkeye All-Access page of hawkeyesports.com. Balbinot is in his 11th season as Iowa's play-by-play voice.
FOLLOW THE ACTION:
Hawkeye fans can also follow the game via live stats (Gametracker). The link can be accessed on the women's basketball schedule page of hawkeyesports.com. Follow @iowawbb on Twitter for live game updates.
BEST START SINCE 1996:
? The Hawkeyes are 7-1 in Big Ten play for the first time since starting 11-0 during the 1995-96 season.
? Iowa is off to its best start (16-3) through 19 games since the 1995-96 season when it opened 18-1, and eventually 20-1. The Hawkeyes finished 27-4 overall and 15-1 in Big Ten action that year while advancing to the Sweet Sixteen.
SCOUTING NORTHWESTERN:
? Northwestern is 14-5 overall and 4-4 in league play following a 76-75 loss at Penn State on Jan. 25.
? The Wildcats are 7-1 at home this season.
? Four Wildcats are averaging double figures: Nia Coffey (14.5), Maggie Lyon (13.8), Christen Inman (11.1), and Lauren Douglas (10.2).
? Northwestern is coached by Joe McKeown. He is in his seventh season.
SERIES HISTORY:
? Iowa leads the all-time series, 50-14.
? The Hawkeyes have won 24 of the last 26 meetings against the Wildcats dating back to Lisa Bluder's first season in Iowa City (2000-01).
? The Hawkeyes defeated Northwestern in Iowa City on Jan. 14 in the last meeting, 83-70.
? Iowa has won the last three meetings in Evanston, and 11 of the last 12 games at Northwestern overall.
LOGIC NAMED TO WOODEN AWARD MIDSEASON TOP 20:
Senior Samantha Logic has been named to the John R. Wooden Award Women's Midseason Top 20 list, comprised of the front-runners for college basketball's most prestigious individual honor. The list is chosen by a poll of national women's college basketball media members. Logic is the only player from the Big Ten on the midseason list.
LOGIC NAMED SENIOR CLASS AWARD CANDIDATE:
Senior point guard Samantha Logic is one of 30 NCAA Division I women's basketball players to be named a candidate for the 2015 Senior CLASS Award®. To be eligible for the award, a student-athlete must be classified as an NCAA Division I senior and have notable achievements in four areas of excellence: community, classroom, character and competition. Logic is one of two candidates from the Big Ten, joining Nicole Elmblad of Michigan.
An acronym for Celebrating Loyalty and Achievement for Staying in School®, the Senior CLASS Award focuses on the total student-athlete and encourages students to use their platform in athletics to make a positive impact as leaders in their communities.
The two-time Academic All-Big Ten honoree, Big Ten Distinguished Scholar, and Dean's List member is active in the eastern Iowa community, volunteering with numerous charities, organizations, and local elementary schools.
FUN FACTS:
? Iowa is 43-12 overall since the start of last season (27-9 last year; 16-3 this year).
? The Hawkeyes enter Thursday's action ranked No. 10 in the NCAA RPI. Iowa is the second-highest ranked Big Ten team in the RPI; Maryland is No. 4.
? Iowa is 15-0 this season when scoring 70 or more points, and 1-3 when failing to reach the 70-point plateau.
? The Hawkeyes are 12-0 when registering more steals than their opponent this year, and 12-1 when recording fewer turnovers.
? Iowa ranks 22nd nationally in assists per game. The Hawkeyes are 11-1 when notching more assists than their opponent.
? The Hawkeyes are eighth nationally in 3-point field goal percentage (38.3%), 14th in scoring offense (78.1), 17th in field goal percentage (45.4%), 21st in assist to turnover ratio (1.18), and 24th in 3-pointers per game (7.7).
BEYOND THE ARC:
? Iowa senior Melissa Dixon, the national leader for the majority of the season, ranks second nationlly in 3-pointers per game (3.68). Ohio State's Kelsey Mitchell is first (3.75).
? Dixon is first in the Big Ten and ninth nationally in 3-point percentage (45.2%).
? Dixon made six 3-pointers (6-of-10) in the win at Rutgers on Jan. 4, surpassing Lindsey Meder (261) for the most in Iowa history.
? Dixon ranks fifth in Big Ten history with 280 career 3-pointers.
? She scored 31 points in Iowa's win at Drake on Dec. 21, making 10 3-pointers (10-of-14), setting a new school record. The previous school record was seven, accomplished five times in program history, twice by Dixon; the NCAA and Big Ten record for 3-pointers in a single game is 12.
1,000-POINT CLUB:
? Four members of this year's team have reached, or have the potential to reach 1,000 career points this season.
? Senior Samantha Logic (1,308 points) ranks 16th on Iowa's all-time scoring list. Amy Herrig is 15th (1,319).
? Senior Melissa Dixon (1,271 points) is 18th. Necole Tunsil is 17th (1,283).
? Senior Bethany Doolittle became the 33rd member of Iowa's 1,000-point club in the Hawkeyes' win over Penn State on Dec. 28. She has 1,096 career points.
? Sophomore Ally Disterhoft has 760 career points. She tallied 474 in 36 games as a freshman last year (13.2 per game), and is averaging 15.1 points per game this season.
MOVING UP CAREER CHARTS:
? Samantha Logic (756 career assists) surpassed Cara Consuegra (1997-2001; 576) as Iowa's all-time assists leader during Iowa's win at Illinois on March 2, 2014, during the 2013-14 regular season finale. She ranks sixth in Big Ten history. Jess Strom of Penn State (776) is fifth, while Helen Darling of Penn State is fourth (791).
? Melissa Dixon is Iowa's career record holder for 3-pointers (280). She ranks fifth in Big Ten history. Amber Moore of Illinois is fourth (293), and Lindsay Bowen of Michigan State is third (294). Kelly Mazzante of Penn State is second (357), while Maggie Lucas of Penn State is the Big Ten record holder (365).
? Bethany Doolittle is third all-time in program history with 228 career blocks. Tangela Smith is second with 235.
IOWA RANKED FOR THE 12TH-STRAIGHT WEEK THIS SEASON:
Iowa is No. 20 in this week's Associated Press Top-25 poll and No. 17 in the USA Today Coaches poll. Iowa has been ranked in each of the first 12 weeks this year: preseason (19/19), week 2 (18/18), week 3 (17/16), week 4 (22/19), week 5 (24/24), week 6 (23/24), week 7 (23/20), week 8 (20/20), week 9 (17/17), week 10 (22/21), week 11 (20/18), and week 12 (20/17).
In the Coaches Poll, Maryland is No. 5, followed by Iowa (No. 17), Nebraska (No. 19), and Rutgers (No. 23).
The Hawkeyes finished the 2013-14 season ranked 19th in the AP Top-25 poll, and 26th (receiving votes) in the USA Today Coaches poll. Iowa was ranked for eight weeks last season in the AP poll, and received votes in nine additional weeks.
HAWKEYES IN BIG TEN PLAY:
Iowa head coach Lisa Bluder is a three-time Big Ten Coach of the Year (2001, 2008 and 2010). She has guided Iowa to 10 upper-division finishes in the Big Ten in 14 seasons. Iowa won a share of the Big Ten regular season championship in 2008 and finished in a three-way tie for second in 2009. The Hawkeyes clinched a share of the title in 2008 with a win at Wisconsin in the regular season finale (March 2, 2008).
Since the 2008 season, Iowa has finished first once, second twice, third twice, fourth once, and seventh once.
MOST B1G VICTORIES:
Head coach Lisa Bluder has 144 career Big Ten victories (145-93), surpassing former Ohio State head coach Jim Foster (136) for the fourth-most in league history. Rene Portland of Penn State has the most in conference history (176). Former Hawkeye head coach and current Rutgers coach C. Vivian Stringer is second with 174 wins, and Karen Langeland of Michigan State has the third most (156).
UP NEXT:
Iowa plays at No. 5 Maryland on Sunday, Feb. 1, at 3 p.m. (CT). The contest will be broadcast live on ESPN2.