Feb. 3, 2015
Match Notes

ON THE MAT
The top-ranked University of Iowa wrestling team travels to Maryland and Penn State this weekend to compete in its final road duals of the season. Iowa faces Maryland on Friday at 6 p.m. (CT), and No. 5 Penn State on Sunday at 12 p.m. (CT). The Penn State dual is televised on BTN.
THE SERIES — MARYLAND
Iowa has won the only two meeting against the Terrapins. The Hawkeyes won 25-6 at Maryland in 1973 and 34-6 at a neutral site in 2009.
THE SERIES — PENN STATE
Iowa leads the all-time series 26-8-2. The Hawkeyes have won five of the last seven meetings, but Penn State won the most recent meeting, 24-12, last year in Iowa City. The Hawkeyes are 11-4-1 all-time at University Park. Iowa's last win on Penn State's campus was a 22-13 victory on Jan. 30, 2011.
BRANDS VS. SANDERSON
Iowa head coach Tom Brands owns a 6-2 all-time record against Penn State head coach Cael Sanderson. Brands and Sanderson met three times from 2006-08, when Sanderson was head coach at Iowa State. Brands won all three meetings. The coaches have met five times since Sanderson was named head coach at Penn State in 2009. Brands won in 2010, 2011 and 2013. Sanderson won 22-12 at University Park in 2012 and 24-12 in Iowa City in 2013.
ON THE TUBE
Sunday's dual at Penn State is televised by BTN. Tim Johnson and Jim Gibbons will call the dual, and Shane Sparks will report matside live from Bryce Jordan Center.
HAWKEYES ON THE ROAD
The Hawkeyes are 4-0 on the road this year with four wins against ranked opponents and three wins against top 10 opponents. Individually, Iowa is 27-13 in wins at #23 Rutgers (27-9), #7 Ohio State (18-14), #8 Oklahoma State (30-7), and #2 Minnesota (23-12).
HAWKEYES IN THE RANKINGS
Iowa has nine wrestlers ranked in the top 10 of the latest Intermat rankings (Feb. 3), more than any other school. Seven of Iowa's wrestlers are ranked in the top five, including Thomas Gilman (5), Cory Clark (3), Brandon Sorensen (2), Mike Evans (2), and Bobby Telford (2). Four more Hawkeyes are projected in the top eight, including Josh Dziewa (6), Nick Moore (7), Sammy Brooks (8), Nathan Burak (6) . Michael Kelly is ranked No. 14 at 157.
9 DUAL B1G SCHEDULE
For the first time in conference history the Big Ten Conference is competing with a nine-dual regular season schedule. Iowa is 6-0 with two road duals and one home dual remaining on its schedule. A sweep of this weekend's dual would guarantee Iowa at least a share of the Big Ten regular season crown. The Hawkeyes have won six of the last seven Big Ten dual championships, and have won or shared the regular season title eight times since the conference started recognizing a dual meet champion in 1999. Iowa won the title outright in 2000, 2008, 2009, 2010, 2011, and 2013, and shared the title in 2003 and 2014.
WIRE TO WIRE
Iowa debuted at the top spot on Nov. 11 when the USA Today/NWCA preseason poll was released 13 weeks ago. The Hawkeyes have maintained the top spot all season and enter the weekend as the unanimous No. 1, claiming all 12 first-place votes.
SORENSEN IS 1 OF A KIND
Redshirt freshman Brandon Sorensen is the only Division I wrestler in the country with wins over two reigning NCAA finalists. Sorensen defeated NCAA 149-pound runner-up Josh Kindig, 6-1, on Jan. 11, and 12 days later he handed defending NCAA champion Jason Tsirtsis is first loss of the season, 3-2, in double overtime. His 25 wins lead the team, and his only losses have been to teammate Brody Grothus (3-2) at the Luther Open, and current No. 1 David Habat (3-2) at the Midlands Championships.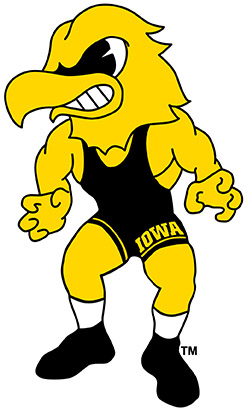 UNDEFEATED EVANS
Senior Mike Evans enters the weekend with a 19-0 record. The 19-match win streak is a career long. In the history of Iowa wrestling, 15 wrestlers have finished the season with a perfect record (minimum 20 matches). Four of those wrestlers were able to perform the feat twice. They include Mark Ironside, Lincoln McIlravy, T.J. Williams and Jim Zalesky. Iowa coaches Tom Brands and Terry Brands are among the 15 wrestlers. Tom went 45-0 in 1990-91 and Terry went 35-0 in 1991-92.
ALL-AMERICANS BEING ALL-AMERICANS
Iowa's four All-Americans — Cory Clark (133), Mike Evans (174), Nathan Burak (197), and Bobby Telford (285) — are a combined 67-5. Evans is 19-0 with 11 wins by bonus points. Burak is 13-1 with two pins, one major decision, and one technical fall. He has claimed two tournament titles wrestling unattached at the Luther Open and Midlands Championships. He wrestled attached for the first time Jan. 4 at Ohio State and earned a 2-1 win over No. 7 Kyle Snyder. Cory Clark, an All-American at 125 last year, is 16-3 overall with eight falls, one technical fall, and one major decision. Bobby Telford is 19-1 with nine pins, one major decision, and one win via medical forfeit. All four returning All-Americans won Midlands individual titles on Dec. 30. The Hawkeyes have crowned at least one All-American every year since 1972, a span of 43 seasons. Iowa has totaled 261 All-America honors during that stretch. The Hawkeyes crowned six All-Americans in 2014, including four-time All-American Derek St. John (157) and first-timers Clark (125) and Burak (197). Tony Ramos earned his third career All-America honor, winning the 133-pound bracket, and Evans (174) and Telford (285) were both named All-Americans for the second time in their careers.
EVANS LEADS ACTIVE HAWKEYES
Senior Mike Evans has opened the season with 19 consecutive wins. The streak is a career-long and seven better than his previous streak of 11 set in 2013-14. Evans has 96 career wins, more than any other active Hawkeye, and his 63 career dual starts are most on the team. He is 53-10 all-time in duals. Evans is 3-3 all-time against Penn State's Matt Brown. The wrestlers split four meetings last season. Brown defeated Evans, 4-1, in a dual meeting, and Evans defeated Brown, 3-2, in the semifinals of the Big Ten Championships. They met twice at the NCAA tournament, with Evans defeating Brown, 5-4, in overtime in the quarterfinals. Brown later defeated Evans, 6-3, in the fifth place bout.
CHASING MILESTONES
Seniors Mike Evans and Bobby Telford are within striking distance of career win No. 100. Evans leads all active Hawkeyes with 96 career wins, Telford has 94. Forty wrestlers in the program history have accumulated 100 career wins, including coaches Tom Brands (158), Terry Brands (137), and Ryan Morningstar (110). Tom Brands is three wins shy of his 160th dual victory at Iowa, which would tie Dave McCuskey for No. 2 in program history.
B1G WEEKLY HONORS
The Hawkeyes have received three Big Ten weekly honors this season. Redshirt freshman Brandon Sorensen has earned the honor on two occasions, earned Big Ten Wrestler of the Week for the second time this season on Jan. 27. Sorensen, a native of Cedar Falls, Iowa, defeated defending NCAA champion and previously undefeated Jason Tsirtsis of Northwestern, 3-2, in double overtime on Jan. 23. Sorensen, then ranked No. 3, rode top-ranked Tsirtsis for all 30 seconds in the second tiebreaker to win, 3-2. He leads Iowa with 25 wins, including six major decisions and five falls, and his only losses of the year have been 3-2 setbacks to teammate Brody Grothus and current No. 1 Dave Habat of Edinboro. Sorensen climbed to No. 2 in the national rankings. He is the only Division I wrestler in the country with wins over two reigning NCAA finalists. Two weeks before his 3-2 overtime win over Tsirtsis, he defeated NCAA runner-up Josh Kindig, 6-1, on Oklahoma State's home mat. The weekly honor is the second of his career and the third for Iowa this season. Sorensen shared the conference honor Jan. 13 after defeating Kindig. Bobby Telford earned league recognition Dec. 31.
BRANDS GETS WIN NO. 150
The Hawkeyes' 11th straight win over Iowa State on Nov. 29 was Tom Brands' 150th career win at Iowa. He is 157-15-1 (.910) in eight-plus seasons as Iowa's head coach. Only Dave McCuskey (160) and Dan Gable (355) have more dual wins at Iowa.
HAWKEYE WRESTLING HISTORY
Iowa's overall dual meet record is 952-224-31 (.802) in 105 seasons. The Hawkeyes have won 23 national titles and 34 Big Ten titles. Iowa's 53 NCAA Champions have won a total of 81 NCAA individual titles, crowning six three-time and 16 two-time champions. The Hawkeyes' 110 Big Ten champions have combined for 191 conference titles. There have been seven four-time, 18 three-time, and 29 two-time Iowa winners. Iowa's 150 All-Americans have earned All-America status 307 times, including 18 four-time, 32 three-time and 39 two-time honorees.
40 YEARS SINCE NO. 1
Iowa celebrated the 40th anniversary of its first national championship on Jan. 23. Gary Kurdelmeier led Iowa to its first NCAA Championship in 1975, and in the 40 years since, the Hawkeyes have accumulated 23 team titles, more than any other school — Oklahoma State (7), Penn State (4), Minnesota (3), Iowa State (2), and Arizona State (1).
NCAA EXPERIENCE
The Hawkeyes have seven wrestlers with NCAA Championships experience. Seniors Mike Evans (174) and Bobby Telford (285) are three-time NCAA qualifiers. Telford earned All-America honors in 2012 and 2014, while Evans earned All-America honors in 2013 and 2014. Junior Nathan Burak (197) and sophomore Cory Clark (125) also advanced to the All-America stand in 2014. Burak was making his second NCAA tournament appearance, while Clark was making his first. Senior Nick Moore (165) has competed in two NCAA Championships (2013, 2014), and last year senior Josh Dziewa (141) and junior Brody Grothus (149) made their first career appearances.