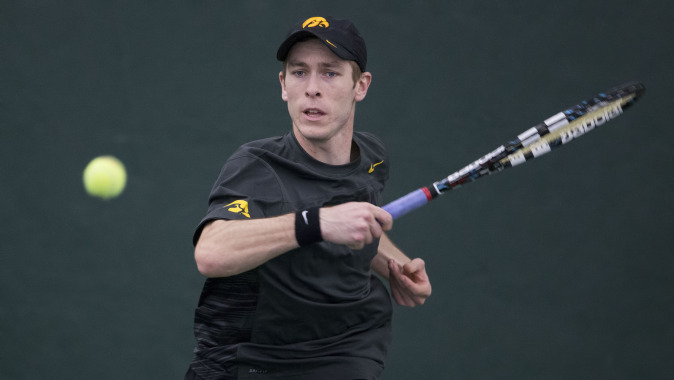 Feb. 4, 2015
Weekly Release

THIS WEEK:
The University of Iowa men's tennis team will host Marquette (1-3) on Friday at 6 p.m. (CT) at the Hawkeye Tennis and Recreation Complex. Admission is free to the public. Iowa earned a win its last time on the court defeating Yale on Sunday (5-2), improving its record to 3-1.
JACOBY REMAINS UNDEFEATED:
Jake Jacoby defeated Yale's Stefan Doehler, 6-4, 7-5, and Cornell's Dylan Brown, 6-4, 7-6 (3), to stay unbeaten in singles this spring. The freshman is 4-0 heading into the match with Marquette.
HAWKEYES RANKED:
Iowa's doubles team of Matt Hagan and Dominic Patrick are ranked 31st in the initial spring ITA national rankings. Hagan and Patrick are the fourth-highest ranked pair in the Big Ten. Hagan and Patrick posted a 4-1 record in the fall, including winning four straight matches at the Big Ten Indoor Championships to become the conference's doubles champions. The Hawkeye tandem became only the third pair in school history to accomplish the feat and first since David Nairn/John Nadig in 1960 (third flight); James Andrews/Robert Potthast were the first team to win a Big Ten Doubles Championship in 1958 (first flight). Hagan and Patrick become Iowa's first doubles team to start the spring season ranked since 2012, when Marc Bruche and Will Vasos were ranked 59th. The duo registered two victories last weekend, winning 6-3 at Cornell and 6-4 at Yale. Hagan is also among the ITA singles rankings, coming in at 116th. The native of Omaha, Nebraska, becomes the first Hawkeye to be ranked in the initial spring season rankings since Marc Bruche was ranked 93rd in 2012. The senior split his two matches last weekend, winning at Cornell, 7-5, 7-5, but falling in three sets at Yale, 6-3, 7-5 (1).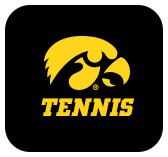 LAST TIME ON THE COURT:
The Hawkeyes traveled to Ithaca, New York to take on the 65th-ranked Cornell Big Red. Iowa suffered its first loss of the season in a close contest (4-2). In singles, it was Hagan and Jake Jacoby earning victories. Hagan defeated Cornell No. 1Stefan Vinti in straight sets (7-5, 7-5) while the freshman tallied a win over Dylan Brown (6-4, 7-6(3)). Hagan/Patrick picked up the lone win for Iowa on the doubles court with a victory over Casares/Vrabel (6-3). In its second match of the weekend the Hawkeyes traveled to New Haven, Connecticut for a match with Yale University. Iowa bounced back earning the win (5-2). Four Hawkeyes found a win on the singles court, of those four were Lefteris Theodorou, Josh Silverstein, Patrick and Jacoby. Hagan/Patrick defeated Svenning/Wang (6-4) and Theodorou/Martens defeated Faierman/Lu (7-5) to lead Iowa to the doubles point.
INTERIM HEAD COACH Ross Wilson:
Ross Wilson, a former two-time NCAA All-American and three-time ITA national doubles champion at Ohio State, is the interim head men's tennis coach after the announcement of Steve Houghton's retirement on Sept. 8. Wilson served as the team's assistant coach last season. Wilson, the 2012 ITA National Assistant Coach of the Year and ITA Central Region Assistant Coach of the Year, came to Iowa after serving as assistant coach at nationally-ranked San Diego during the 2012-13 season. Wilson was a standout at national power Ohio State from 2002-06. He was a two-time NCAA All-American and three-time ITA national doubles champion. He broke the Buckeyes' overall career wins record, career doubles wins record and single season doubles wins record in 2006.
WILSON ON SPRING OPENER:
"Coming off a nice win against Yale, the team is pretty confident. Marquette has been playing nationally ranked teams this year, they have played three very good teams and have been competitive in all those matches. We know they are going to be tough. Our guys are going to have to work hard this week in practice but we will be ready for the challenge Friday. "