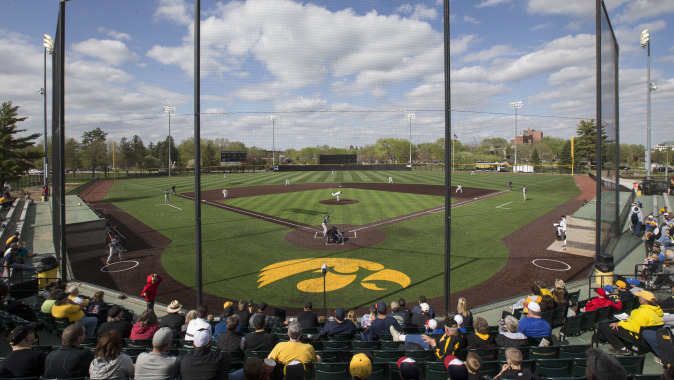 Feb. 6, 2015
IOWA CITY, Iowa — Season tickets for the University of Iowa baseball team's 20-game 2015 home schedule are now available on hawkeyesports.com.
Reserved and general admission adult tickets are priced at $75, while general admission youth tickets are $40. New in 2015 is a "30-block" season ticket, priced at $99, where tickets can be used at any game or combination of games throughout the season.
Single-game tickets will be $7 for adults and $3 for youth, and children ages five and under will be admitted free to all games at Banks Field.
Click HERE to purchase your season tickets.
Banks Field received a facelift in the offseason with AstroTurf being installed in the outfield, new outfield fencing, and a new video scoreboard will be installed, enhancing the game-day experience.
The Hawkeyes home schedule begins March 11, hosting AIB at 3 p.m. Iowa will host Big Ten foes Indiana, Northwestern, Nebraska, and Minnesota for three-game league series, while welcoming Bradley, Grand View, Milwaukee, Cornell College, Northern Illinois, Sacramento State, and Western Illinois for midweek contests.
Iowa returns 17 letterwinners, including seven positional starters, its designated hitter, nine pitchers, and 2/3 of its starting rotation from last season's squad that finished 30-23 overall. The Hawkeyes advanced to and won a game in the 2014 Big Ten Tournament.
The 2015 season gets underway Feb. 13 at the Snowbird Classic in Port Charlotte, Florida, where the Hawkeyes will face Kansas State, Saint Louis, and George Mason.