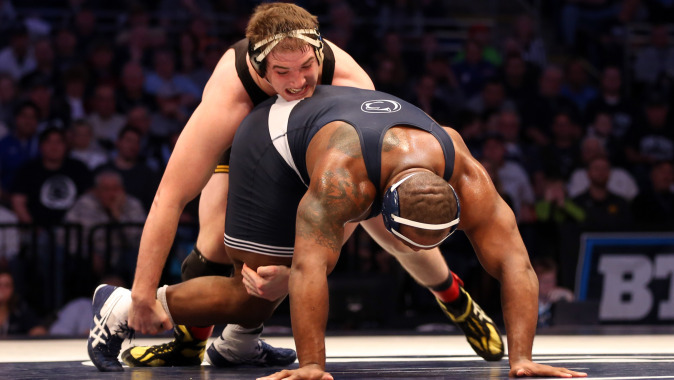 Feb. 10, 2015
IOWA CITY, Iowa — University of Iowa senior Bobby Telford has been named Big Ten Wrestler of the Week for the second time this season, the conference office announced Tuesday.
Telford, a native of Hockessin, Delaware, defeated two ranked opponents on his return to the east coast last weekend. He shutout 13th-ranked Spencer Myers, 4-0, at Maryland on Feb. 6, and blanked sixth-ranked Jimmy Lawson, 3-0, at Penn State on Feb. 8.
His win against Lawson clinched Iowa's 18-12 win and guaranteed the Hawkeyes a share of the Big Ten regular season championship.
Telford is 21-1 overall with nine pins. He is ranked No. 2 in the country at 285 pounds, and owns an 8-1 record against ranked opponents.
The weekly honor is the second of his career and the fourth for Iowa this season. Telford shared the conference honor Dec. 31 after winning the Midlands Championships, and redshirt freshman Brandon Sorensen has twice been recognized, first on Jan. 13 and again on Jan. 27.
Telford and the top-ranked Hawkeyes (13-0, 8-0) return to action Friday hosting Michigan on Senior Night at 7 p.m. (CT). Iowa will honor seven seniors — Josh Dziewa, Mike Evans, Jeremy Fahler, Matt Gurule, Michael Kelly, Nick Moore, and Telford — following the dual.
Tickets are available at the UI Athletics Ticket Office or online at hawkeyesports.com.