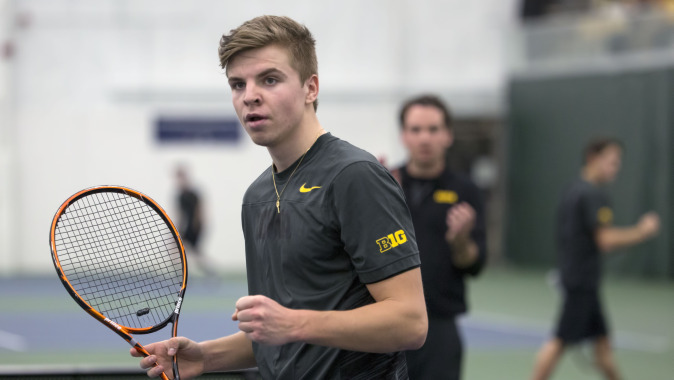 Feb. 11, 2015
Editor's Note: The following first appeared in the University of Iowa's Hawk Talk Daily, an e-newsletter that offers a daily look at the Iowa Hawkeyes, delivered free each morning to thousands of fans of the Hawkeyes worldwide. To receive daily news from the Iowa Hawkeyes, sign up HERE.
IOWA CITY, Iowa — The University of Iowa men's tennis team is off to a 4-1 start to its spring season with four freshmen contributing to the team's early success. One of those freshmen is Stieg Martens.
Martens, who hails from Belgium, says it didn't take much adjustment in transitioning from playing overseas on the junior level to collegiate tennis other than adapting to the atmosphere at practices and matches.
"I used to practice alone with a trainer or coach, but I like the fact that we hit together and pump each other up," said Martens. "In the beginning I wasn't used to it. The coaches focus on that, encourage it, and it has become habit-forming. We make each other stronger by being together. You have to show the other team that you have confidence and you are there to win."
Martens, who began playing tennis as a 6-year old, is the first in his family to play tennis.
"Because of me, my brother and sister casually play tennis now," Martens said. "My entire family supports me and my decision to come to Iowa to study and play tennis."
Through five matches, Martens is 3-2 in singles competition and 3-1 in doubles, playing with classmate Lefteris Theodorou. Martens, who stands 6-foot-2, likes to be aggressive when on the court.
"I want to be in the attacking position because I'm left-handed and tall," Martens said. "I like to use my forehand to spread the ball. I don't like to let the opponent dictate the action; I want to force the action."
As a rookie, Martens wants to be a good teammate and help the Hawkeyes win as many matches as possible.
"I want to win 70 percent of my singles and doubles matches this spring," Martens said. "I want to work to improve every day in practice by working hard."
First-year head coach Ross Wilson likes the way Martens moves on the court and keeps opponents on their toes.
"He has a European flavor to his game," said Wilson. "He has all the shots. He's able to hit heavy on his forehand, has a nice lefty serve, and has the slice when he gets in defense. He glides around on his feet when he's playing well. He's very talented and has a lot of potential."
Martens praises his coaches, Wilson and assistant coach Ty Schaub, for expediting his growth and development as a player.
"They were good players not too long ago so they know how it is to play and be successful at the college level," said Martens. "They can relate to us. They have experience and know each other well, which makes them a strong coaching duo."
Martens likes his teammates and has enjoyed his experience so far at the University of Iowa.
"We have a great group of guys on the team," Martens said. We hit practice together, hit the weights, and go to school together. I expected to come in here joining a good team, but this has exceeded expectations."