Feb. 14, 2015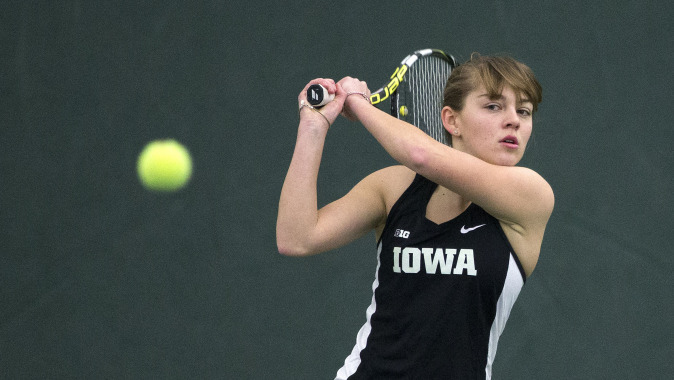 Feb. 14, 2015
EUGENE, Ore. — The University of Iowa women's tennis team started its first road trip of the season on a high note, recording a 6-1 win over the Montana Grizzlies on Saturday. The victory advances the Hawkeyes all-time record over the Griz to 2-0. During their previous meeting during the 2003-04 season Iowa triumphed 7-0.
"It was a great effort today by the team," said UI head coach Katie Dougherty. "We played outdoors and they adapted well and quickly to the elements."
Seniors Shelby Talcott, Morven McCulloch, and Katie Zordani all found success during singles play, battling at the No. 1, No. 3, and No. 4 singles slots, respectively. Talcott defeated Montana's Precious Gbadamosi, 6-2, 6-3, while McCulloch took down Laurence Pelchat (Montana), 6-0, 6-2. Zordani only got stronger as the match wore on against Montana's Hannah Suiz, picking up a 7-6 (2), 6-2 win.
Junior Annette Dohanics and freshman Zoe Douglas added to Iowa's singles victories, putting away cam Kincaid, 6-4, 6-4, and Cat Orfanos, 4-6, 7-5 (10-4), respectively.
Fellow freshman Anastasia Reimchen struggled in singles, falling to Montana's Sasha Carter, 6-2, 6-4. Reimchen regained her footing while teaming up with McCulloch during doubles, as they delivered a 6-3 blow to Montana's No. 2 doubles team Carter/Orfanos.
The No. 1 doubles team for the Hawkeyes, Talcott and Dohanics, fought hard against Precious Gbadamosi and Laurence Pelchat, but ultimately fell, 6-5 (3).
It was yet another dog-fight at the No. 3 doubles position, but after a tough battle, Iowa came up with the victory.
"No. 3 doubles did a great job coming back from 2-4 to clinch the doubles point," noted Dougherty of Zordani and Douglas' battle against Hannah Suiz and Cam Kincaid (Montana), overcoming the pair, 6-4.
Iowa women's tennis returns to action on Feb. 14 at 12 p.m. (CT) to take on the Oregon Ducks.
Singles Results
1. Talcott (UI) def. Precious Gbadamosi (UM) 6-2, 6-3
2. Sasha Carter (UM) def. Reimchen (UI) 6-2, 6-4
3. McCulloch (UI) def. Laurence Pelchat (UM) 6-0, 6-2
4. Zorani (UI) def. Hannah Sulz (UM) 7-6 (2), 6-2
5. Dohanics (UI) def. Cam Kincaid (UM) 6-4, 6-4
6. Douglas (UI) def. Cat Orfanos (UM) 4-6, 7-5 (10-4)
Order of Finish: 3, 1, 2, 5, 4, 6
Doubles Results
1. Gbadamosi/Pelchat (UM) def. Talcott/Dohanics (UI) 6-5 (3)
2. McCulloch/Reimchen (UI) def. Carter/Orfanos (UM) 6-3
3. Zordani/Douglas (UI) def. Sulz/Kincaid (UM) 6-4
Order of Finish: 2, 3, 1