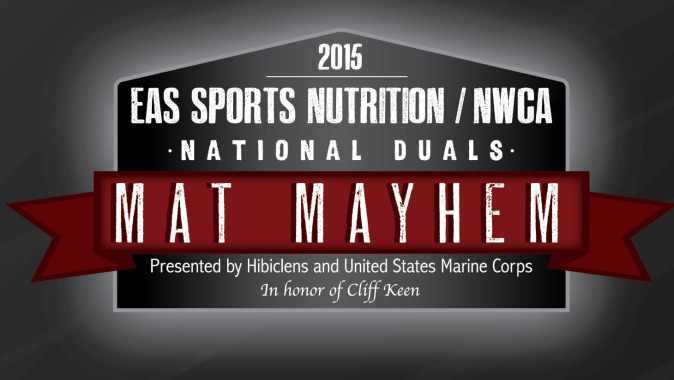 Feb. 17, 2015
IOWA CITY, Iowa — The University of Iowa wrestling program will be the top seed when the EAS/NWCA National Dual Tournament continues this weekend at Carver-Hawkeye Arena. The National Wrestling Coaches Association announced the seeds and quarterfinal matchups Tuesday.
The nation's top five teams – Iowa (15-0), Missouri (21-0), Ohio State (13-3), Minnesota (11-2) and Cornell (15-1) — advanced to the finals site following last weekend's opening round. Top-ranked Iowa (15-0) will face eighth-seeded UT-Chattanooga (12-5) on Saturday at 12 p.m. (CT) in the quarterfinal round.
Minnesota and Cornell will meet in the 4/5 dual and face the winner of Iowa/UT-Chattanooga in the semifinals.
On the other side of the bracket, Missouri earned the No. 2 seed and will face seventh-seeded Illinois (13-4). Ohio State is the three-seed and will face sixth-seeded Lehigh (13-4).
The four quarterfinal matchups will take place on Saturday at 12 p.m., with the semifinals to follow at 3 p.m. The championship and third-place duals are Sunday at 11:30 a.m. BTN will televise the semifinals and the finals.
To purchase tickets visit hawkeyesports.com or contact the UI Athletics Ticket Office at 1-800-IA-HAWKS.