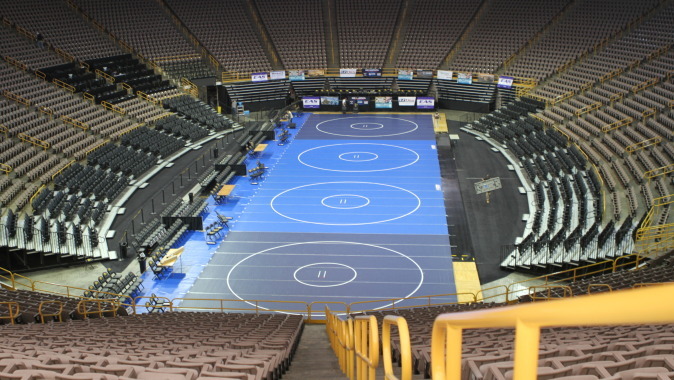 Feb. 21, 2015
IOWA CITY, Iowa — This one is for you, Iowa wrestling fans.
The University of Iowa is hosting the EAS/NWCA National Duals this weekend inside Carver-Hawkeye Arena on Saturday and Sunday, which means Hawkeye fans don't have to wait until the NCAA Championships or make a trip to Columbus, Ohio, to watch their Hawkeyes chase another championship.
Fifty-seven ranked wrestlers from eight participating schools — including the top five teams in the country — are on campus this weekend to compete for the NWCA National Duals tournament title. It is just the third time in tournament history, and the first time since 1999, Iowa City has hosted the event.
UI head coach Tom Brands said a lot of factors played into the decision of bringing the duals back to Carver-Hawkeye Arena, but as much as anything, he had Iowa fans on his mind.
"We were a little bit light with the home schedule," said Brands. "Not that we weren't challenged, but when you look at the historical big rivalries, they were on the road, and we need to reward our fans. That was part of the thinking."
Iowa is 9-0 inside Carver-Hawkeye Arena this season with wins against five ranked teams, including No. 15 Iowa State, No. 11 Illinois, No. 24 Northwestern, No. 16 Michigan, and No. 13 Virginia.
Each of those wins provided marquee matchups and their own unique challenges, but the real heavy lifting was done on the road, where Iowa won at No. 7 Ohio State, No. 8 Oklahoma State, No. 2 Minnesota, and No. 5 Penn State.
Both the Buckeyes and Gophers are in the tournament field this weekend. If the top-seeded Hawkeyes survive Chattanooga in the quarterfinals, they could face fourth-seeded Minnesota in the semifinals, and third-seeded Ohio State in the finals or consolation finals.
Though Iowa slipped past both on their respective home turfs, Brands sees little reason why those results guarantee any sort of advantage this weekend.
"I don't know what an advantage is except for being ready to go and having our guys ready to go," he said. "As a competitor, creating an edge every day and getting better is how you give yourself the best chance to win or get your hand raised."
This time of year you either get your hand raised or you go home. Even in a team-advance tournament, a best-of-10 scenario where your teammates can still pick you up, there is little room for error. That is especially true in a field that features three returning NCAA champions and 25 returning All-Americans.
"There is a lot of excitement for me to go out and wrestle some tough guys and get some accolades for it, and the same goes for the team," said third-ranked Mike Evans, who one of six wrestlers in the tournament ranked at 174 pounds.
"It is important because it is the next competition. It is the next time we're on the mat. It's the last time we're on the mat at Carver-Hawkeye. As far as anything else besides that, it is just an opportunity to flex your muscles."
All eight teams — Iowa, Missouri, Ohio State, Minnesota, Cornell, Lehigh, Illinois, and Chattanooga — compete in the quarterfinals Saturday at 12 p.m. (CT). The semifinals follow at 3 p.m. The finals and consolation finals are Sunday at 11:30 a.m.
Admission is $10 for all ages on Saturday, and $20 for all ages on Sunday. Visit hawkeyesports.com or contact to the UI Athletics Ticket Office at 1-800-IA-HAWKS for more information.