Feb. 24, 2015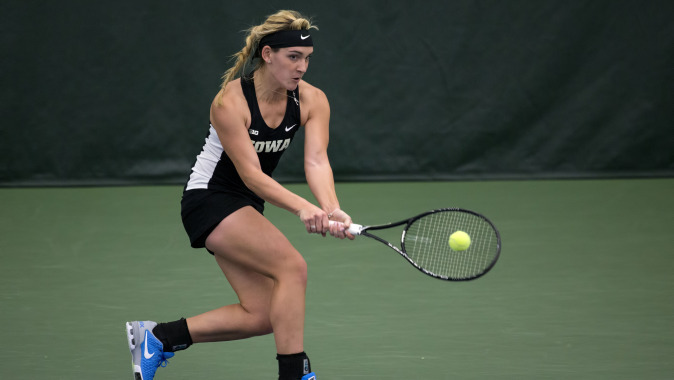 Feb. 24, 2015
Weekly Release

THIS WEEK FOR THE HAWKEYES
The University of Iowa women's tennis team hosts No. 21 Purdue on Saturday in its first Big Ten dual of the season. Competition begins at 11 a.m. (CT) at the Hawkeye Tennis and Recreation Complex. Iowa will then travel to take on the Kansas Jayhawks on Monday, March 2.
QUOTING @COACHKDOUGH
"Purdue is very strong and Kansas has played well against some really tough opponents. There is no shortage of opportunities this weekend. We just need to step up and get a big win under our belt to get us rolling."
GOING AGAINST THE BOILERMAKERS
Iowa leads the all-time series against Purdue with a 25-23 record. Last season the Hawkeyes traveled to West Lafayette, Indiana, to meet No. 37 Purdue in their sixth Big Ten dual of the season. Iowa struggled to overcome the ranked Boilermakers and ultimately fell, 4-2. Purdue has won four straight in the series. Iowa's last win was a 6-1 victory at home during the 2010-11 season.
TAKING ON THE JAYHAWKS
The Hawkeyes lead the Jayhawks in the all-time series, 10-6. The last meeting between programs was during the 2009-10 season, Katie Dougherty's first season as head coach. Iowa blew by Kansas 6-1 on the road to collect their third win of the season. The Hawkeyes have won six straight in the series, with their last loss in 2002 when the Jayhawks edged out a 3-2 win.
UNDEFEATED HAWKEYES
Junior Annette Dohanics and freshman Zoe Douglas hold undefeated singles records this season. Dohanics has won her last 10 matches at the No. 5 singles position. She is 11-3 all-time at No. 5 and her last loss at No. 5 was to Michigan's Amy Zhu (6-3, 2-6, 2-6) at the 2013 Big Ten Tournament. Seniors Shelby Talcott, Morven McCulloch, and Ellen Silver all have one loss in singles play. Their records stand at 5-1, 4-1, and 3-1, respectively.
SENIORS DELIVERING
The Hawkeye roster features four seniors who were tabbed the No. 18 recruiting class in the country four years ago. Shelby Talcott, Katie Zordani, Ellen Silver and Morven McCulloch have a combined 15-6 singles record this season. Silver and Zordani are the only seniors to have paired up for doubles play and currently hold a 1-0 record as a duo.
TAKING DOWN RANKED OPPONENTS
Last season, the Hawkeyes beat three ranked opponents, the most since coach Dougherty's first season when Iowa overcame five ranked competitors. The most recent win was against No. 42 Illinois, 4-3, in Champaign, Ill.
BECOME A FAN
Fans can follow the Iowa women's tennis team at facebook.com and via twitter @Iowa_Tennis. Live results from this weekend are available on the Iowa women's tennis schedule page at hawkeyesports.com.