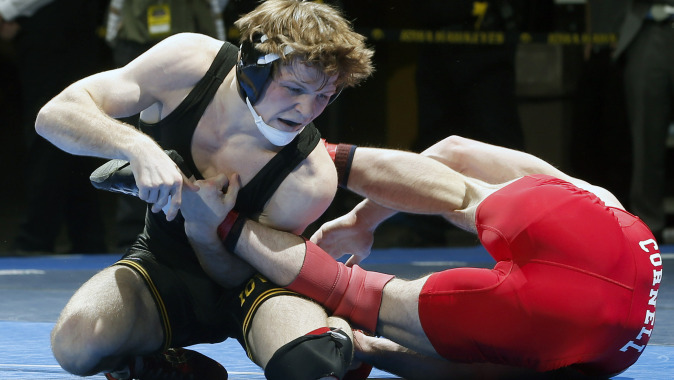 Feb. 27, 2015
IOWA CITY, Iowa — Five Hawkeyes are ranked at the top of their class in the latest NCAA RPI rankings released Thursday by the NCAA.
Cory Clark (133), Brandon Sorensen (149), Sammy Brooks (184), Nathan Burak (197), and Bobby Telford (285) are ranked No. 1 in RPI at their respective weight classes. Three more Hawkeyes are in the top five, including Thomas Gilman (5th/125), Josh Dziewa (4th/141), and Michael Kelly (5th/157).
The RPI is among the criteria the NCAA uses when selecting its at-large participants for the 2015 NCAA Wrestling Championships. The Big Ten hosts its qualifying tournament March 7-8 in Columbus, Ohio. The NCAA has awarded the conference 86 of the 260 automatic qualifying bids for the national championships in St. Louis on March 19-21.
The Big Ten will receive as few as five automatic bids at 125, and as many as 12 at 133 pounds. The top seven finishers at 149, and the top eight at 141, 157, and 165 automatically qualify for nationals. The top nine at 197 and 285 earn automatic bids, as do the top 10 at 174 and 184.
The Big Ten Championships is one of eight qualifying tournaments across the country. After all of the qualifying events have concluded, the NCAA Division I Wrestling Committee will meet in-person to select the remaining 70 at-large qualifiers, which will be announced on March 11. All weight classes will consist of 33 wrestlers.
The at-large selections will be made based on the following criteria: head-to-head competition, qualifying event placement, quality wins, results against common opponents, winning percentage, RPI, coaches ranking and the number of matches contested at that weight class.
Click HERE for a complete list of RPI and coaches rankings, and automatic qualifiers by conference/qualifying tournament.