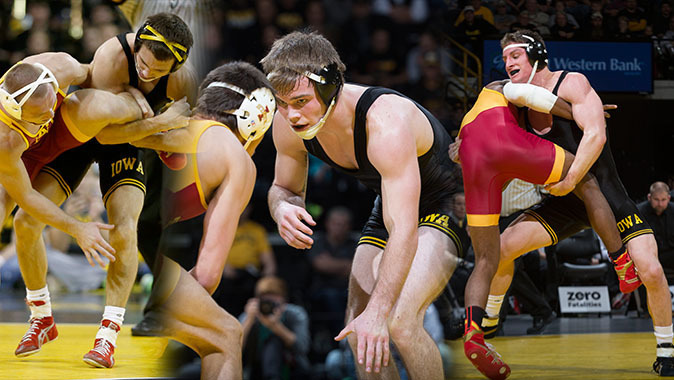 March 2, 2015
2015 Pre-Seeds

IOWA CITY, Iowa — Sophomores Thomas Gilman and Sammy Brooks, and redshirt freshman Brandon Sorensen will make their Big Ten Wrestling Championships debut as the top seeds in their respective weight classes when the conference tournament begins Saturday in Columbus, Ohio.
The Big Ten Conference announced the pre-seeds Monday. Iowa is one of two schools with three top-seeded wrestlers. Tournament host Ohio State is the other.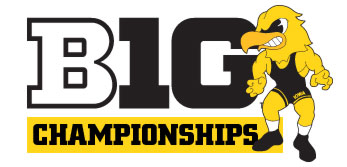 Gilman (125), Sorensen (149), and Brooks (184) are all competing at the Big Ten Championships for the first time.
Gilman and Sorensen both ran through the conference dual season with undefeated records. Gilman was 9-0 in the Big Ten and 24-3 overall. Sorensen was 8-0 in the Big Ten and 31-3 overall. Both wrestlers are ranked fourth nationally at their respective weights.
Brooks is ranked eighth nationally with a 23-4 overall record. He was 8-1 in Big Ten duals.
Senior Mike Evans, a three-time Big Ten runner-up, earned the No. 3 seed at 174. Evans is 24-1 overall and 7-1 in Big Ten duals. His lone loss of the season is to second-seed Matt Brown (Penn State). Defending conference champion Robert Kokesh (Nebraska) earned the top seed.
Junior Nathan Burak and senior Bobby Telford are both seeded fourth. Burak is 17-3 overall with a win against top-seeded Kyle Snyder (Ohio State). Telford is 24-2 overall with a pair of overtime losses to No. 2 Adam Coon (Michigan) and No. 3 Mike McMullan (Northwestern). Telford defeated McMullan and top-seeded Connor Medbery (Wisconsin) en route to the 2014 Midlands title.
Sophomore Cory Clark, who placed fourth at 125 pounds last season, is the No. 5 seed at 133. Clark is 22-4 overall and ranked seventh nationally. He has four wins, including two falls, against the tournament field.
Senior Josh Dziewa is the sixth seed at 141. Dziewa placed fifth last season and enters this year's tournament ranked seventh nationally with a 24-6 overall record.
Seniors Nick Moore and Michael Kelly are seeded seventh at their respective weights. Moore, the conference runner-up at 165 last season enters the 2015 tournament 20-7 overall. He was 6-2 in Big Ten duals. Kelly is making his first tournament appearance at 157 pounds. He did not place as a redshirt freshman in 2012 at 149. He enters this year's tournament 20-8 overall.
The Hawkeyes have no one seeded lower than seventh, and they are the only team with 10 wrestlers seeded eighth or better.
For more information on the 2015 Big Ten Wrestling Championships, visit the Big Ten Championships page at ohiostatebuckeyes.com.