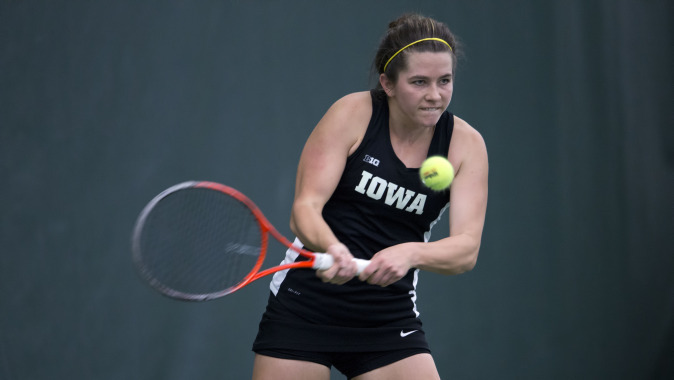 March 2, 2015
Box Score

LAWRENCE, Kansas — The University of Iowa women's tennis team falls to 4-4 overall after a 4-1 loss to Kansas on the road Monday afternoon. This is the Hawkeyes fourth loss in a row since their victory over Montana on Feb. 14.
"Kansas outplayed us tonight," said UI head coach Katie Dougherty. "We need to get better starts all around and play like the team that we are, which is better than what we've shown the past four matches."
Kansas quickly took the 1-0 lead over Iowa as they took the No. 3 and No. 1 doubles matches. Senior Shelby Talcott and freshman Anastasia Reimchen fell to KU's Maria Jose Cardona and Maria Belen Luduena, 6-3. Katie Zordani and Zoe Douglas, another senior and freshman duo, were overcome by Summer Collins and Alexis Czapinski, 6-2.
At No. 2 doubles, Smith Hinton and Madison Harrison of Kansas were leading Annette Dohanics and Morven McCulloch, 5-4 when the match was abandoned.
Talcott came out strong during singles play trying to set a tone for the Hawkeyes with a 6-3, 6-2 win over Maria Jose Cardona at the No. 1 position. However, the early win couldn't hold off the Jayhawks, as they went on to take the No. 3, No. 4, and No. 2 singles matches to lock in the victory.
Reimchen, Dohanics, and McCulloch dropped their singles matches to Smith Hinton (6-1, 6-2), Madison Harrison (7-5, 6-2), and Maria Belen Luduena (6-2, 7-6), respectively.
Kansas' Rachel McNeely Rachel McNeely led Zordani at the No. 5 singles position, 6-4, 5-5 when then match was abandoned. At the No. 6 position, Alexis Czapinski (KU) led Ellen Silver 1-2 when their match was abandoned.
The Hawkeyes return to action on March 7 and 8 when they host Rutgers and Kansas State. Iowa will take on the Scarlet Knights at 10 a.m. (CT) and the Wildcats at 12 p.m. (CT).
Singles Results
1. Shelby Talcott (Iowa) def. Maria Jose Cardona (KU), 6-3, 6-2
2. Maria Belen Luduena (KU) def. Morven McCulloch (Iowa), 6-2, 7-6
3. Smith Hinton (KU) def. Anastasia Reimchen (Iowa), 6-1, 6-2
4. Madison Harrison (KU) def. Annette Dohanics (Iowa), 7-5, 6-2
5. Rachel McNeely (KU) led Katie Zordani (Iowa), 6-4, 5-5 Abd.
6. Alexis Czapinski (KU) led. Ellen Silver (Iowa), 1-2 Abd.
Order of Finish (1, 3, 4, 2)
Doubles Results
1. Cardona/Luduena (KU) def. Talcott/Reimchen (Iowa), 6-3
2. Hinton/Harrison (KU) led Dohanics/McCulloch (Iowa), 5-4 Abd.
3. Collins/Czapinski (KU) def. Zordani/Douglas (Iowa), 6-2
Order of Finish (3, 1)