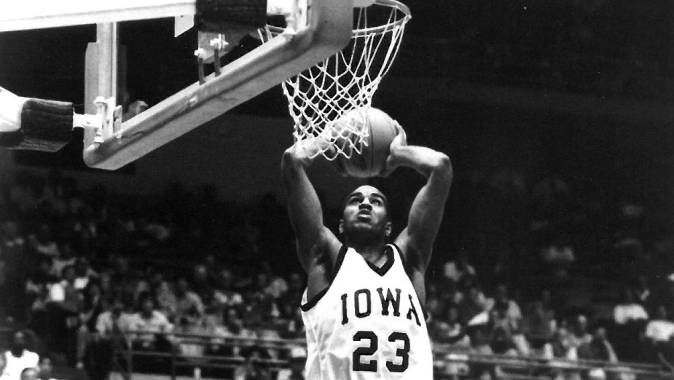 March 3, 2015
IOWA CITY, Iowa – – Roy Marble, Iowa's all-time leading scorer, will be recognized Saturday as the Hawkeyes close the regular season against Northwestern (11:06 a.m., BTN) at Carver-Hawkeye Arena.
A Hawkeye letterman from 1986-89, Marble scored 2,116 points in 134 games to become the only Iowa player to score over 2,000 career points. He also recorded 668 career rebounds and 281 assists as the Hawkeyes posted an 89-37 record during his career. Iowa earned four straight NCAA Tournament appearances, including an Elite Eight appearance in 1987 and a trip to the Sweet 16 in 1988.
"Roy Marble enjoyed an outstanding playing career for the Iowa Hawkeyes and is more than deserving of this recognition," said UI Director of Athletics Gary Barta. "While Roy's number, or jersey, are not being retired today, we want to take this opportunity to express our appreciation for Roy's contributions, and his dedication, to the Iowa basketball program.
"We have a number of former student-athletes, in both men's and women's sports, who are deserving of additional recognition," said Barta. "Similar to our recently established Wall of Honor at Kinnick Stadium, our future plan is to establish a display area on the concourse of Carver-Hawkeye Arena that will recognize former student-athletes in a number of sports. Upon its completion, Roy's name and number will be prominently displayed in his deserved spot in Hawkeye history."
Marble shared team Most Valuable Player honors from 1987-89. He was one of 20 players named to Iowa's All-Century team in 2002 and was one of five players named to the 1980's All-Decade team. Along with being Iowa's career scoring leader, Marble is also the career leader in field goals (787) and field goal attempts (1,459), second in free throws (516) and third in free throw attempts (707), and fourth in career steals (183). Marble led the team in scoring in 1986, 1987 and 1989. He was the 23rd player selected (Atlanta) in the 1989 NBA Draft.
Four Hawkeye seniors, Kyle Denning, Josh Oglesby, Gabriel Olaseni, and Aaron White, will be recognized in pregame ceremonies Saturday.