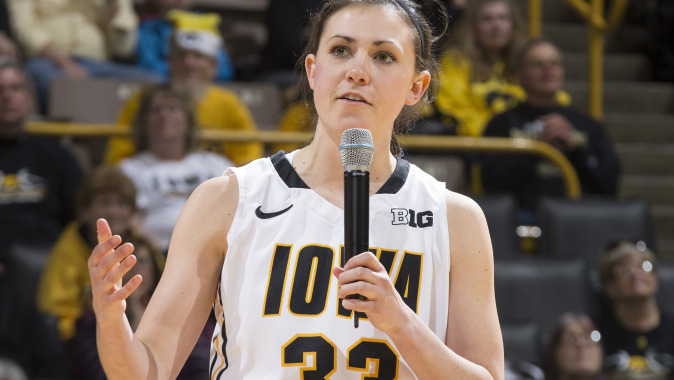 March 4, 2015
Editor's Note: The following first appeared in the University of Iowa's Hawk Talk Daily, an e-newsletter that offers a daily look at the Iowa Hawkeyes, delivered free each morning to thousands of fans of the Hawkeyes worldwide. To receive daily news from the Iowa Hawkeyes, sign up HERE.
By DARREN MILLER
hawkeyesports.com
IOWA CITY, Iowa — In October, before the University of Iowa women's basketball team played a game, head coach Lisa Bluder touted the leadership skills of seldom-used senior Kathryn Reynolds. It wasn't coach-speak.
Reynolds has played 25 minutes this season, and by all accounts, her contribution to the Hawkeyes' 23-6 record is just as noteworthy as All-America candidate Samantha Logic, who has logged a team-high 1,006 minutes.
Two ACL injuries essentially shut down Reynolds' collegiate playing career. But she emphasized other aspects of being a supportive and constructive teammate. Reynolds was voted team captain, an impressive accomplishment for someone who has never started a game. She graduated in three years with a bachelor's degree in business management and is a first-year law student in graduate school.
"Kathryn has brought so much to our team with leadership," Bluder said. "What she says in the locker room is so meaningful. I never want to take for granted what Kathryn has done for our basketball team, even though her name isn't in the record books like the other three."
When the All-Big Ten Conference women's basketball teams were released March 2, they included the other three Hawkeye seniors: Logic (first team), Melissa Dixon (second team) and Bethany Doolittle (second team). Combined, those three average 42.2 points, 16 rebounds, 10.7 assists, 4.4 steals, and three blocked shots a game.
| | |
| --- | --- |
| | "When you're around people who make you feel valued and appreciate anything you're doing, it's easy to want to see them succeed and be able to share in those successes." |
Entering Friday's Big Ten Tournament game, Reynolds has career totals of 54 points in 250 minutes of 50 games played. She scored a career-high nine against USC Upstate on Nov. 14.
A few weeks ago, UI wrestling coach Tom Brands was asked how talented sophomore Alex Meyer accepted being a backup despite his success and potential.
"Meyer knows his role. There is no drama," Brands said. "There isn't a long face because he isn't in the lineup. He knows his time is coming."
In the case of Reynolds, she too knows her role. There is no long face because she isn't in the lineup. But unlike Meyer, Reynolds knows her days are numbered and there will not be an opportunity to shine on Mediacom Court inside Carver-Hawkeye Arena.
She is fine with that.
"It has been easy with these teammates," Reynolds said of her team-first attitude. "You're genuinely happy for the successes they are having on the court and they have made me feel included every step of the way. The coaching staff has as well.
"When you're around people who make you feel valued and appreciate anything you're doing, it's easy to want to see them succeed and be able to share in those successes."
A goal for Reynolds this season was to mentor the freshman class of Christina Buttenham, Chase Coley, Whitney Jennings, and Carly Mohns. Jennings has played 29 games and started 26 times. In the final regular-season game — a 92-76 victory over Minnesota — all four freshmen saw action.
So did all four seniors. The final points were the result of a 3-point field goal from Reynolds, improving her marksmanship from distance this season to an impressive 71.4 percent (5-of-7).
"To see everyone's reaction after getting the chance to make that was special and something I don't think I will ever forget," Reynolds said.
The reaction Reynolds saw Sunday was similar to what her teammates have seen over and over the last four seasons. Except then, it was Reynolds leading cheers from the bench.