March 4, 2015
By JAMES ALLAN
hawkeyesports.com
IOWA CITY, Iowa — The hay is in the barn for eight of the 10 weight classes at this weekend's Big Ten Championships. Now it's time for the University of Iowa wrestling team to go to work.
The championships will be held March 7-8 at St. John Arena in Columbus, Ohio, on the campus of Ohio State. Saturday's sessions begin at 9 a.m. (CT) and 5 p.m., while the third session begins at 12 p.m. Sunday. Finals are set for 2 p.m. Sunday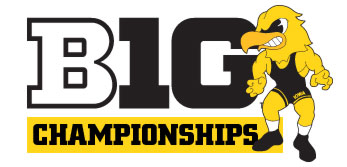 "These are the best two and most important tournaments of the year," said senior Bobby Telford, a No. 4 seed in the heavyweight bracket. "We're ready to rock and roll and are ready as a team. It's time to make a statement."
Barring a last-second change, the Hawkeyes will have seven wrestlers with top five seeds.
Redshirt sophomore Thomas Gilman (125 pounds), redshirt freshman Brandon Sorensen (149), and redshirt sophomore Sammy Brooks (184) are top seeds. Senior Mike Evans is third at 174, junior Nathan Burak and Telford are fourth at 197 and heavyweight, and redshirt sophomore Cory Clark is fifth at 133.
"Eight of (the brackets) are pretty much laid out," UI head coach Tom Brands said Wednesday in the Dan Gable Wrestling Complex. "Now it's one opponent, one match at a time. If I am the two, three, or six seed, that's how the bracket is laid out for me. Now you just have to go to work."
The last time the Hawkeyes took the mat, they were on the losing end of an 18-12 decision to No. 2 Missouri in the finals of the EAS/NWCA National Duals.
"No one liked that," said Sorensen. "That's a sting, getting beat in that last one. We'll be back and get it back."
Brands says there should be a competitive fire burning heading into the Big Ten Championships because as a Hawkeye wrestler, you're never satisfied.
"There is always going to be wanting do better, that never satisfied mentality," said Brands. "We don't preach that, but as a competitor, you always want to do better the next time out.
"If you did the very best you can, you want to duplicate that or keep it going so you're always bettering yourself and the way you go about your business is that way whether it's November or March. That's where we're at right now, the same getting better mentality, but it's the peak of the season."
Seven of Iowa's wrestlers have combined for 14 Big Ten Championship appearances, and three have been previous conference finalists (Nick Moore, 2014; Mike Evans, 2012, 2013, 2014; Bobby Telford, 2012).
"This is what you live and train for," said Brands. "We're at the Big Ten Championships, and that's the most important thing on our schedule to this point and every year, it's the second-most important thing on our schedule when it's all said and done. Eight of the 10 weight classes are laid out… so away we go."
BTN Plus on BTN2Go will stream Saturday's competition, while Sunday's finals will be aired live on BTN. TrackWrestling.com will provide live video of the third and fifth place matches on Sunday.