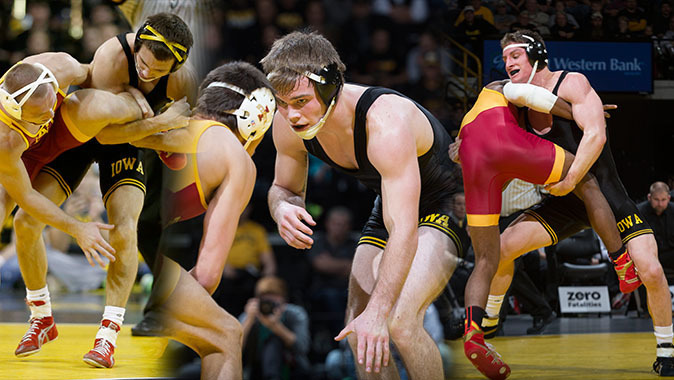 March 6, 2015
Editor's Note: The following first appeared in the University of Iowa's Hawk Talk Daily, an e-newsletter that offers a daily look at the Iowa Hawkeyes, delivered free each morning to thousands of fans of the Hawkeyes worldwide. To receive daily news from the Iowa Hawkeyes, sign up HERE.
By DARREN MILLER
hawkeyesports.com
IOWA CITY, Iowa — Expectations are understandably high when you compete for a wrestling program that has won 34 Big Ten Conference and 23 NCAA titles. And they are high from the opening whistle.
All three top seeds for the University of Iowa at this weekend's Big Ten Championships are competing in their first postseason as collegians: sophomore Thomas Gilman at 125 pounds, freshman Brandon Sorensen at 149, and sophomore Sammy Brooks at 184.
Gilman enters the tournament with a record of 24-3, Sorensen is 31-3, and Brooks is 23-4.
"It doesn't matter if you're a veteran, All-American or Big Ten champion and you have been there before," UI head coach Tom Brands said. "The way the brackets are laid out with the seeds, that's a vote, and now it's just an opponent and it's one at a time. Gilman, Sorensen, and Brooks did their job during the year to get the No. 1 seed."
Although they didn't compete, Gilman, Sorensen, and Brooks made the trip to the Big Ten Championships last season in Madison, Wisconsin, where the Hawkeyes had five finalists, one champion, and finished second in the team standings. Sorensen was sitting out as a redshirt, Gilman had a record of 16-3 (7-2 in duals), and Brooks was 18-7 (7-3). Cory Clark received the nod at 125 and finished fourth; Ethen Lofthouse was runner-up at 184.
| | |
| --- | --- |
| | "I have been wrestling in big tournaments my whole life. This is one I really want and I'm going to go out there every match to do what I can to get to that next round." |
"I was at the Big Tens last year. I wasn't wrestling but I know what it's like," Gilman said. "I have wrestled in big tournaments before — Midlands, the junior world championships. It's another match, another competition. I'm excited, it's a big tournament. There is a lot of hype around it, but it is one match at a time."
Sorensen's first-year resume includes matches against opponents ranked No. 1, 2, 4 (twice) and 5 (twice) during the season. His record in those bouts is 4-2.
"I'm sure it is going to be very similar to other tournaments I have wrestled," Sorensen said. "It's another tournament but it is big, you have to get up for it, and it will be fun and exciting."
In two seasons, Brooks has a record of 11-2 in Big Ten Conference duals. He was 8-1 this season, with his only setback to Michigan's No. 2 seeded Domenic Albounader, 3-2. Brooks defeated Albounader, 9-4, in the 2014 dual.
"I have been wrestling in big tournaments my whole life," Brooks said. "This is one I really want and I'm going to go out there every match to do what I can to get to that next round."
Ten Big Ten teams enter the championships ranked in the USA Today/NWCA/AWN Division I Coaches Poll, with conference squads claiming three of the top five spots. Iowa leads the way at No. 2, followed by No. 4 Minnesota, No. 5 Ohio State, No. 7 Penn State, No. 11 Nebraska, No. 12 Illinois, No. 14 Michigan, No. 15 Wisconsin, No. 21 Rutgers and No. 23 Purdue.
Action begins Saturday at 9 a.m. (CT) from St. John Arena in Columbus, Ohio. The final session will take place Sunday at 2 p.m.
"This is what you live for and train for," Brands said. "We're here and everything leading up to this point was important. We have to do well to put us in position. The hay's in the barn-type atmosphere right now."