Box Score
March 6, 2015
Box Score | Photo Gallery

By JAMES ALLAN
hawkeyesports.com
HOFFMAN ESTATES, Ill. — It's on to the Big Ten Tournament semifinals for a second-straight season for the No. 14 University of Iowa women's basketball team.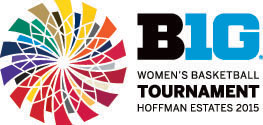 The second-seeded Hawkeyes defeated No. 7 seed Nebraska, 74-65, in the quarterfinals on Friday night at the Sears Centre Arena. The win completes a three-game series sweep of the Cornhuskers and snaps a three-year losing skid to Nebraska in the Big Ten Tournament.
Iowa will face No. 3 seed Ohio State in the semifinals Saturday at 8:30 p.m. (CT).
The Hawkeyes were balanced in their attack with four players reaching double figures. Sophomore Ally Disterhoft paced the team with 16 points and nine rebounds, senior Samantha Logic had 15 points, five rebounds, and six assists, and senior Bethany Doolittle added 15 points on 7-of-10 shooting and grabbed nine rebounds in a foul-plagued 22 minutes.

| | | | |
| --- | --- | --- | --- |
| | 1st | 2nd | Final |
| Nebraska (21-10) | 33 | 32 | 65 |
| No. 14 Iowa (24-6) | 36 | 38 | 74 |
| | | |
| --- | --- | --- |
| Stats at a Glance | NEB | IOWA |
| FG Percentage | 32.4 | 44.8 |
| 3-Point FG Percentage | 33.3 | 33.3 |
| FT Percentage | 66.7 | 80.0 |
| Total Rebounds | 39 | 48 |
| Points in the Paint | 24 | 30 |
| Points off Turnovers | 17 | 12 |
Iowa's reserves stepped up with junior Kali Peschel scoring 13 points, courtesy of three 3-pointers, and junior Claire Till grabbed eight rebounds and was a defensive pest in 15 minutes.
"Kali and Claire came in and played so well when Bethany had foul trouble," said Logic. "We have so much confidence in them every single time they come out on the floor. They played some huge minutes for us."
The Hawkeyes finished with a 44.8 field goal percentage, making 26-of-58 attempts, while limiting Nebraska to 32.4 percent (23-of-71). The Huskers made seven 3-pointers to the Hawkeyes' six, but Iowa won the rebounding battle, 48-39, and made 80 percent of its free throws (16-of-20). It was enough to combat the team's 20 turnovers.
"We talked a lot about defense and rebounding, and we did a good job in both of those categories today," said UI head coach Lisa Bluder. "Out-rebounding them and defensively, we did a nice job.
"The one thing I'm unhappy with is the turnovers. For us, that's a lot of turnovers."
After seeing its 34-26 first-half lead be trimmed to three points (36-33) at the break, Iowa used a Melissa Dixon 3-pointer — her first field goal of the game — and a Doolittle layup coming out of the locker room to open up a 41-33 lead.
Nebraska's Natalie Romeo answered with a 3-pointer at the 17:07 mark to cut the lead to 41-36, but freshman Whitney Jennings followed with her own 3-ball just 10 seconds later to ignite a 12-2 Hawkeye spurt that was capped off by Peschel's third 3-pointer to open a 53-38 Iowa advantage.
"I know my role is go get in there, play defense, get rebounds, and hit that open shot," said Peschel. "It's always going to be late in the shot clock when someone has to put up a shot. I credit my teammates, they do a great job finding me in those situations."
The veteran, battle-tested Huskers wouldn't roll over, as Nebraska followed with 10 of the next 12 points to close the gap to 55-48 with 9:58 to play. The Hawkeyes staved off the rally, using a Logic jumper to push the lead to nine and back-to-back field goals by Logic and Doolittle opened up a 64-50 lead with 4:21 left.
The Huskers played with reckless abandon down the home stretch, using three 3-pointers — two from Romeo and one from Brandi Jeffery — to cut the lead to 68-61 with 1:40 left. Iowa made its free throws when it had to get the Nebraska postseason monkey off its back.
Nebraska's starters accounted for all but four of the team's 65 points with Tear'a Laudermilk leading the way with 16 points — albeit on a 7-of-22 performance from the floor.
The game started at a fever pitch with Iowa scoring on its first four possessions to take a 9-2 lead not even two minutes in and the Huskers making 9-of-11 shots over the first six minutes, taking a 20-17 lead into the first media timeout.
"Both teams came out and shot the ball really well," said Bluder. "Thankfully we were shooting right there with them. When teams come out and shoot crazy, you have to remind your players that it's going to level off."
After Nebraska came back to earth, Peschel's 3-pointer at the 11:57 mark tied the game at 22 and it opened a 15-4 Iowa run. Logic capped off the spurt with a 3-pointer to push the lead to 34-26, but Nebraska followed with five-straight and 7-of-9 point to close the gap to 36-33 at the break.
The victory moves Iowa to 24-6 overall heading into Saturday's semifinal matchup. The Hawkeyes split the season series against Ohio State with both teams winning on their home court.