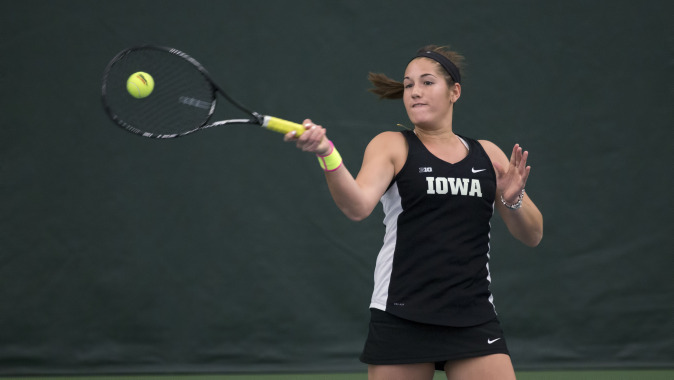 March 7, 2015
IOWA CITY, Iowa — Led by a strong doubles outing, the University of Iowa women's tennis team (5-4) bounced back from its loss to No. 21 Purdue. Taking care of business Saturday at the Hawkeye Tennis and Recreation Complex, the Hawkeyes tallied a 6-1 victory over Big Ten foe Rutgers earning its first conference win in the spring campaign.
"This was a good battle, but I'm not sure the score tells the whole story. Every Big Ten match is tough and emotional," UI head coach Katie Dougherty said. "We competed well today and came out strong. I'm really pleased with how we played."
In a close match at the No. 2 doubles position, senior Morven McCulloch and junior Annette Dohanics jumped out to a 6-1 lead over Rutgers' duo of Lindsay Balsamo and Chloe Lee. Balsamo/Lee stormed back to notch the match at 7-7 pushing it into a tiebreaker. McCulloch/Dohanics eventually weathered the storm registering an 8-7 win. At No. 3 doubles Katie Zordani and Zoe Douglas battled Lindsey Kayati and Lee Levy. The Hawkeye duo was able to earn an 8-4 victory, clinching the doubles point for Iowa.
"We struggled with the doubles point the last couple matches but we managed to get it under our belt. We earned five of the first six sets and cruised from there but both teams did a great job competing," noted Dougherty of the doubles success.
Tied up at 5-5 at No. 1 doubles, the match between Shelby Talcott/Anastasia Reimchen and Gina Li/Mariam Zein was abandoned due to the Hawkeyes already winning the doubles point.
In singles, Dougherty made a small change to the line-up, inserting senior Ellen Silver at the No. 6 position in place of Douglas. That change paid off as Silver defeated Farris Cunningham convincingly in straight sets 6-0, 6-1 pushing the Iowa lead to 2-0. With the Hawkeyes out in front, Talcott made it 3-0 with another straight set victory 6-3, 6-2 at the No. 1 position rolling past Rutgers's Li.
"Ellen was able to dominate and give us a cushion," Dougherty said of the senior. "Anastasia has been struggling but played really well today. Overall, I'm very pleased with everyone's efforts," added Dougherty.
At No. 2 singles McCulloch defeated the Scarlet Knight's Kayati with a match clinching performance 6-3, 6-2. After the match was clinched, Dohanics fell to Balsamo 6-7, 3-6.
Reimchen went on to earn a victory over Lee 7-5, 6-2. While at the No. 5 position Zordani defeated Zein 6-3, 6-3.
Iowa will look to build off the victory as it hosts Kansas State Sunday at 12 p.m. (CT), the Hawkeyes are 5-2 all-time against the Wildcats.
Iowa 6, Rutgers 1
Singles
1. Shelby Talcott (UI) def. Gina Li (RU): 6-3, 6-2
2. Morven McCulloch (UI) def. Lindsey Kayati (RU): 6-3,
3. Anastasia Reimchen (UI) def. Chloe Lee (RU): 7-5, 6-2
4. Linsay Balsamo (RU) def. Annette Dohanics (UI): 7-6 (8-6), 6-3
5. Katie Zordani (UI) def. Mariam Zein (RU): 6-3, 6-3
6. Ellen Silver (UI) def. Farris Cunningham (RU): 6-0, 6-1
Order of Finish:6,1,2,4,5,3
Doubles
1. Talcott/Reimchen (UI) v.s. Li/Zein (RU): 5-5 abandoned
2. McCulloch/Dohanics (UI) def. Balsamo/Lee (RU): 8-7 (7-3)
3. Zordani/Douglas (UI) def. Kayati/Levy (RU): 8-4
Order of Finish: 2,3