Box Score
March 7, 2015
Box Score | USATSI Photo Gallery

| Photo Gallery

By MATTHEW WEITZEL
hawkeyesports.com
HOFFMAN ESTATES, Ill. — After scoring the game-tying basket with two seconds left to force overtime, the University of Iowa women's basketball team, seeded second, ultimately fell, 91-85, to third-seeded Ohio State in the Big Ten Tournament semifinals at Sears Centre Arena. This marked the second consecutive season the Hawkeyes and Buckeyes competed in the conference semifinals.
"I thought our kids maintained composure, played hard, and kept their focus the whole game," said Bluder. "I'm proud of my players' efforts tonight. Ohio State is an excellent basketball team. We gave them everything they could ask for. I'm proud of our players' effort, but obviously we are disappointed in the result."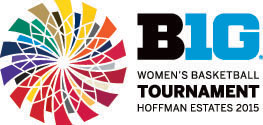 With Iowa trailing 81-79, UI head coach Lisa Bluder called timeout with 3.4 seconds remaining in regulation to draw up a baseline out-of-bounds play. Whitney Jennings and Bethany Doolittle executed the play with perfection as Jennings found Doolittle underneath the basket and scored the game-tying basket with two seconds left to send the game into overtime.
Iowa (24-7) was forced to play its first-ever Big ten Tournament overtime game without its floor general, Samantha Logic, who fouled out of the contest with 17 seconds left in regulation. Logic finished the contest posting her 31st career double-double (12 points and 10 assists), while also grabbing seven boards.
"You never want to go into overtime without your floor general," said Bluder. "We probably should of went for a three instead of the two on the out-of-bounds play (with 3.4 seconds left in regulation)."
After exchanging baskets to begin overtime, Ohio State's Kelsey Mitchell demonstrated why she was named Big Ten Player of the Year. Mitchell scored the final eight points, including two huge 3-pointers in the extra session to propel the Buckeyes (23-9) to the championship game against third-ranked Maryland Sunday evening. Mitchell finished the contest with a game-high 29 points.

| | | | | |
| --- | --- | --- | --- | --- |
| | 1st | 2nd | OT | Final |
| Ohio State (23-9) | 37 | 44 | 10 | 91 |
| No. 14 Iowa (24-7) | 37 | 44 | 4 | 85 |
| | | |
| --- | --- | --- |
| Stats at a Glance | OSU | IOWA |
| FG Percentage | 44.3 | 42.9 |
| 3-Point FG Percentage | 31.8 | 45.5 |
| FT Percentage | 69.6 | 71.4 |
| Total Rebounds | 47 | 41 |
| Points in the Paint | 44 | 34 |
| Points off Turnovers | 18 | 25 |
After misfiring on all 10 3-point attempts the first 20 minutes, Ohio State found their shooting touch the remaining 25 minutes, sinking 7-of-12 (.583) the second half and overtime combined. Mitchell made four of the seven triples.
In addition to Logic's 12 points, four other Hawkeyes reached double figures in scoring. Senior Melissa Dixon had 22 points, bolstered by 6-of-12 shooting from 3-point range. Doolittle contributed 21 points, while Kali Peschel netted 12, and Ally Disterhoft had 11. Peschel scored nine of her 12 points via the long ball, equaling a career high with three 3-pointers.
With Iowa trailing 80-77 with under a minute to play, Doolittle was fouled and sank two clutch free throws with 44 seconds left to close the deficit to 80-79. On Ohio State's next possession, Alexa Hart was fouled and missed a pair of free throws. Disterhoft was then fouled with 17 seconds left with a chance to tie or take the lead for the Black and Gold. However, the sophomore missed her two attempts. Iowa fouled Hart again, who this time made 1-of-2 from the charity stripe, to extend the Buckeyes' lead to 81-79 before Doolittle's game-tying bucket.
"We had 14 first-half turnovers that hurt us; we should have had a lead at halftime," Bluder said. "The second half, we didn't box-out well enough; they had 10 offensive rebounds and those are high percentage (putbacks)."
The first half was a back-and-forth affair that saw six ties and three lead changes before going to the locker room tied 37-37. Iowa closed the first half on a 9-2 scoring surge, forcing Ohio State to miss 7-of-8 field goals the last five minutes of the half.
Six Hawkeyes scored six-or-more points in the first half, with Dixon leading the charge with nine points on three 3-pointers. Hart, who scored 17 points in Ohio State's quarterfinals win over Minnesota the previous night, netted 16 of her 24 points in the first half.
With the game tied 23-23, Logic was whistled for her second foul and went to the bench. After Ohio State scored six consecutive points, Bluder inserted Logic back in the lineup and played the remaining 7:30 of the half foul-free.
Struggling from the perimeter in the opening stanza, the Buckeyes did most of their damage around the rim. Ohio State scored six of its last seven field goals of the half in the post.
Tonight was the 63rd meeting between Iowa and Ohio State, with each team winning 31 times entering tonight's contest. Tonight's loss was the Hawkeyes' first since losing at Columbus to the Buckeyes on Feb. 21.
Iowa will now await word on its seeding and opponent in the first round of the NCAA Tournament.
"I'm confident that we will be a top four seed in the country, which we would get to host," Bluder said. "We're undefeated at home so that's a great advantage for us. Our fans have been marvelous and I know they will come out to Carver-Hawkeye Arena for those NCAA Tournament games. I believe this team can do something really special this year."