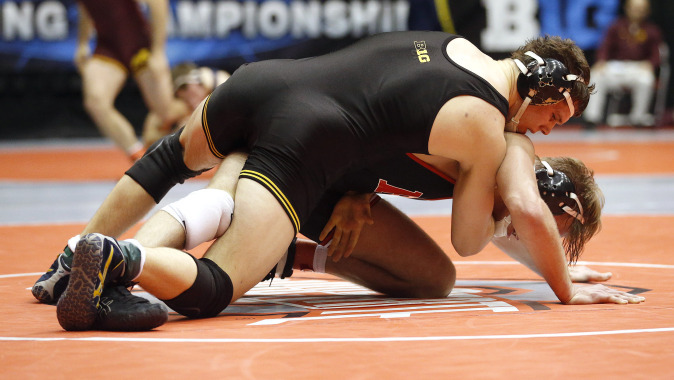 March 8, 2015
COLUMBUS, Ohio — The University of Iowa advanced four wrestlers into the consolation finals of the Big Ten Championships on Sunday inside St. John Arena.
Cory Clark, Mike Evans, Sammy Brooks, and Nathan Burak each won in the consolation semifinals and will wrestle for third place later today at 3 p.m. (CT).
Clark used two takedowns, two nearfall and 1:22 of riding time to defeat Zain Richards, 8-2, at 133.
Evans escaped in the third and totaled 1:33 of riding to defeat Zac Brunson, 2-0.
Sammy Brooks scored takedowns in the first and second and piled up more than four minutes of riding time to defeat Ricky Robertson, 6-1.
Burak took a 3-2 lead with eight seconds left in the first period and held on for a 4-3 win against Max Huntley.
The championship and consolation finals begin at 3 p.m. BTN and BTN Plus will provide television and streaming coverage.
The Hawkeyes head into the final round with 5.5 point lead over Ohio State in the team race. Both teams have four wrestlers in the championship finals.
CONSOLATION SEMIFINAL RESULTS
133 – #5 Cory Clark (Iowa) dec. #6 Zane Richards (ILL), 8-2
174 – #3 Mike Evans (Iowa) dec. #5 Zac Brunson (ILL), 2-0
184 – #1 Sammy Brooks (Iowa) dec. #3 Ricky Robertson (WIS), 6-1
197 – #4 Nathan Burak (Iowa) dec. #6 Max Huntley (MICH), 4-3
THIRD PLACE MATCHUPS
133 – #5 Cory Clark (Iowa) vs. #4 Johnni DiJulius (OSU)
174 – #3 Mike Evans (Iowa) vs. #4 Logan Storley (MINN)
184 – #1 Sammy Brooks (Iowa) vs. #8 Matt McCutcheon (PSU)
197 – #4 Nathan Burak (Iowa) vs. #3 Scott Schiller (MINN)