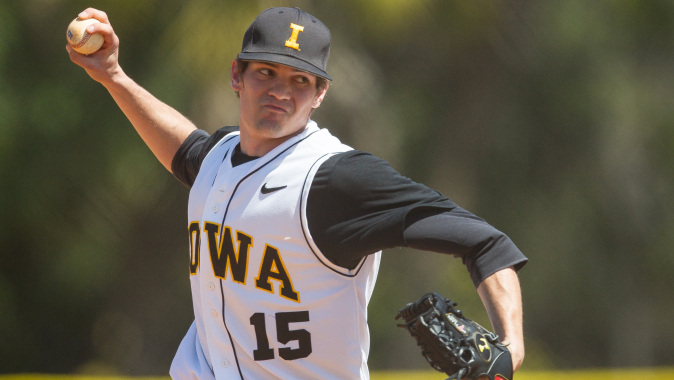 March 10, 2015
AIB (4-6) at Iowa (9-2)
Dates
March 11, 2015
Location
Iowa City, Iowa | Duane Banks Field
Statistics
AIB | IOWA
Game 1
Date | Time
Wednesday, March 11 | 3 p.m. (CT)
Pitching Matchup
IOWA: RS So., RHP, Josh Martsching (0-0, 0.00 ERA) vs.
AIB: Sr., LHP, Cody Mathews (1-1, 2.38 ERA)
IOWA CITY, Iowa — The University of Iowa baseball team takes the field Wednesday for its home opener, hosting AIB at 3 p.m. (CT) at Duane Banks Field.
The Hawkeyes are off to a 9-2 start to the season after taking 2-of-3 games last weekend at Middle Tennessee State. Before falling 9-8 in the series finale, Iowa had won nine-straight games — the longest streak since 2012.
The Eagles, an NAIA school in the Midwest Collegiate Conference, brings a 4-6 record into Iowa City. AIB went 2-4 during a six-game stretch in Florida from March 2-4, splitting a doubleheader against Webber International its last time out.
Wednesday will be a Johnny all-staff game for the Hawkeyes with redshirt sophomore Josh Martsching being listed as the probable starter. The right-hander is 0-0 with a 0.00 ERA in two relief appearances, allowing two hits over five innings with three strikeouts.
The Eagles will counter with sophomore Cody Mathews, who is 1-1 with a 2.38 ERA in two starts. The southpaw has allowed five runs (three earned) on 10 hits over 11 1/3 innings and is limiting opposing hitters to a .233 batting average.
AIB is hitting .286 as a team with four regulars hitting over .350. Senior outfielder Zach Close, the reigning MCC Player of the Week, has a .452 average with nine extra base hits (six doubles, one triple and two home runs), 12 runs, and 14 RBIs.
Infielder Eric Kimmel (.391, 4 runs), catcher Rob Ingram (.360, one home run, 7 RBIs), and utility player Steven Leverett (.353, 10 R, 7 RBIs) are all hitting above .350.
AIB's pitching staff has struggled, posting a 5.32 ERA over 64 1/4 innings, allowing 55 runs (38 earned) and allowing a .335 batting average. Defensively, the Eagles have committed 17 errors in 10 games, and have a .944 fielding percentage.
Conversely, Iowa's pitching and defense has been the team's strong suit through the first month of the season. The Hawkeyes lead the Big Ten in ERA (1.40) and fielding percentage (.984), but Iowa's offense is off to a slow start, hitting .247 and averaging 4.8 runs per game.
Live audio and video will be available on Hawkeye All-Access with Zach Mackey on the call.
After hosting AIB on Wednesday, the Hawkeyes hit the road for spring break, heading to the Lone Star State for a four-game series from March 14-17 at Houston Baptist.