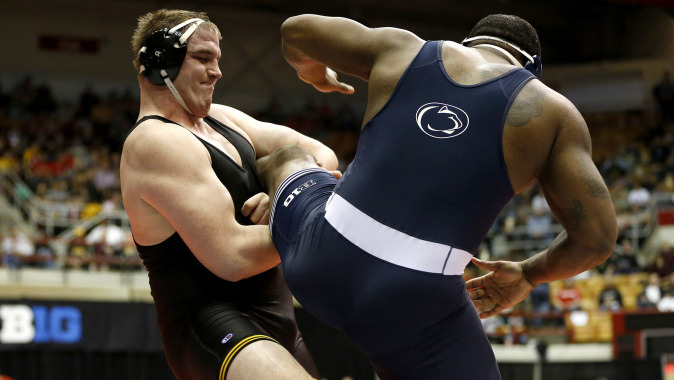 March 11, 2015
NCAA Tournament Brackets

IOWA CITY, Iowa — The University of Iowa wrestling team will send its entire 10-man lineup to St. Louis next week for the 2015 NCAA Wrestling Championships. The event will be held March 19-21 at the Scottrade Center. The official tournament brackets were released Wednesday by the NCAA.
Thomas Gilman(125), Cory Clark(133), Josh Dziewa(141), Brandon Sorensen(149), Mike Evans(174), Sammy Brooks(184), Nathan Burak(197) and Bobby Telford(285) earned automatic bids to the national tournament following their performances at the Big Ten Championships last weekend. Michael Kelly(157) and Nick Moore(165) were awarded at-large berths by the NCAA selection committee.
Eight of Iowa's 10 qualifiers earned seeds for the national tournament, including five in the top five and eight in the top 10.
No Hawkeye earned a one or two seed, but three Hawkeyes were slotted at No. 3, including Clark, Evans, and Telford.
Sorensen is seeded fourth in his first NCAA Championships, and Dziewa is seeded fifth.
Gilman and Burak both earned No. 6 seeds, and Brooks will make his national tournament debut at the No. 9 seed.
Moore and Kelly were unseeded. Both were awarded at-large berths by the committee.
Iowa has sent at least eight athletes to the NCAA Championships in each of head coach Tom Brands' nine seasons. This year marks the 19th time since 1968, and the second year in a row, that Iowa has sent its entire 10-man lineup to the national tournament. Iowa has won the NCAA team crown 14 times when sending its entire 10-man lineup.
The NCAA also announced that the order of the championship round will be announced Saturday afternoon following the completion of Session V.
The NCAA Championships begin at 11 a.m. (CT) on March 19 at the Scottrade Center. Hawkeye fans can follow the action online at Hawkeye All-Access and ESPN3. The semifinals and finals will air live on ESPN. Every other session will be televised on ESPNU.
IOWA'S FIRST ROUND NCAA MATCHUPS (# indicates tournament seed).
125 – #6 Thomas Gilman (Iowa) vs. Evan Silver (Stanford)
133 – #3 Cory Clark (Iowa) vs. Ronald Perry (Lock Haven)
141 – #5 Josh Dziewa (Iowa) vs. Kevin Jack (NCST)
149 – #4 Brandon Sorensen (Iowa) vs. Kyle Langenderfer (Illinois)
157 – Michael Kelly (Iowa) vs. #6 Josh Demas (Ohio State)
165 – Nick Moore (Iowa) vs. #7 Pierce Harger (Northwestern)
174 – #3 Mike Evans (Iowa) vs. Ethan Smith (Utah Valley)/Nathan Jackson (Indiana)
184 – #9 Sammy Brooks (Iowa) vs. Jack McKeever (Binghamton)/Ben Stroh (Wyoming)
197 – #6 Nathan Burak (Iowa) vs. Vincent Pickett (Edinboro)
285 – #3 Bobby Telford (Iowa) vs. Spencer Myers (Maryland)