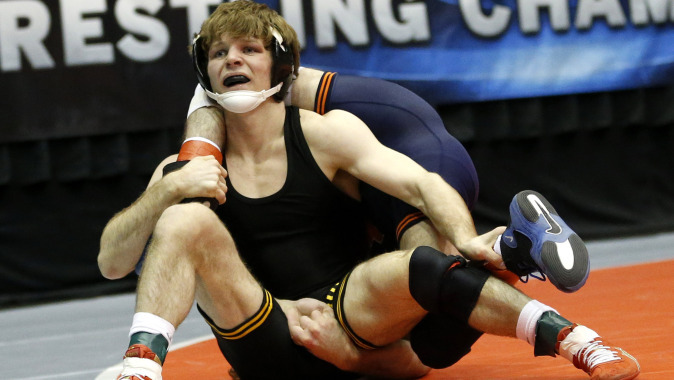 March 19, 2015
Editor's Note: The following first appeared in the University of Iowa's Hawk Talk Daily, an e-newsletter that offers a daily look at the Iowa Hawkeyes, delivered free each morning to thousands of fans of the Hawkeyes worldwide. To receive daily news from the Iowa Hawkeyes, sign up HERE.
By DARREN MILLER
hawkeyesports.com
ST. LOUIS — When it comes to national weight division supremacy, the University of Iowa carries the banner at 133 pounds.
Sophomore Cory Clark brings a 26-5 record and No. 3 seed at 133 pounds into the 2015 NCAA Wrestling Championships that runs from March 19-21 at Scottrade Center in St. Louis.
History is on his side. At some point in their careers, the last three Hawkeye 133 pounders have competed on the Saturday night stage: Joe Slaton was runner-up in 2008, Daniel Dennis was runner-up in 2010, and Tony Ramos was runner-up in 2013 and national champion in 2014.
Clark has made a statement lately. He has won nine of his last 10 matches, including three by major decision and one by fall. During that stretch he is 6-1 against opponents ranked in the top 16. His only loss was in overtime to undefeated and top-ranked Chris Dardanes of Minnesota in the semifinals of the Big Ten Tournament on March 7. In that match, Clark was seven seconds from securing riding time, and quite possibly victory.
"The buzz is that he is wrestling well and we'll keep that going," UI head coach Tom Brands said. "We'll keep him tuned in the way he needs to be tuned in and that's probably the biggest thing with him. He has always been able to pull it together and he has been doing a good job, so let's keep it consistent."
"I feel good, I feel I'm where I need to be, and I feel I have what it takes to win a national title. That's the goal. I feel good about where I'm at and where I'm headed."
Ramos was at 133 for the Hawkeyes the last four seasons. From 2012 to 2014, he compiled an NCAA record of 14-2, placing third in 2012, second in 2013, and first last season. He said Clark is capable of keeping the Hawkeye dominance at 133 alive.
"He is very funky and he is always attacking, he can attack you from anywhere," Ramos said. "He wrestles with a high pace and he wrestles hard in every position. When he keeps his composure he thinks better and that's how he is able to put together seven minutes in matches."
When Ramos won his NCAA title, he did so as a No. 3 seed — the same position Clark finds himself in this season.
This is the second postseason for Clark, who competed at 125 a year ago. At the 2014 NCAA Championships, he went 5-2 and placed fifth to earn his first All-America award.
"It helps knowing the atmosphere and what you're up against," Clark said. "I didn't feel I was unprepared last year. Growing up and wrestling at big events has prepared me for it. Being there once can never hurt."
Clark opened his sophomore season with 14 consecutive wins and seven by fall (including six in a row). During the seven other victories, Clark scored 56 points, an average of eight points a match.
"I need to stay on my offense and work to score from every position," Clark said. "Those are things I have done my whole life and I need to capitalize on all the opportunities I get."
The NCAA Tournament begins Thursday and Clark has a first-round match against Ronnie Perry of Lock Haven. Perry upset Edinboro's A.J. Schopp in the semifinals of the Eastern Wrestling League Championships on March 7.
"I feel good, I feel I'm where I need to be, and I feel I have what it takes to win a national title," Clark said. "That's the goal. I feel good about where I'm at and where I'm headed."