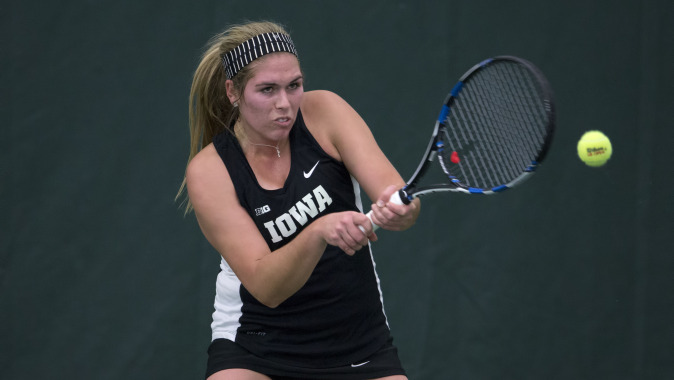 March 20, 2015
IOWA CITY, Iowa — The University of Iowa women's tennis team returns home to host Big Ten opponent Indiana on Sunday at 10:30 a.m. (CT) at the Hawkeye Tennis and Recreation Complex. The Hawkeyes are 7-5 overall and 1-2 in conference play.
The Hoosiers lead the all-time series 31-10 against the Hawkeyes. Indiana has won three straight in the series. Iowa's last win was a 4-3 victory in 2011 in Iowa City.
Indiana has lost three straight to conference opponents, holding a 9-4 record overall and 0-3 in conference play. No. 26 Northwestern, No. 28 Purdue, and No. 54 Illinois defeated the Hoosiers, 4-3, 6-1, and 6-1, respectively.
Senior Shelby Talcott leads off the lineup for the Hawkeyes, holding an 8-3 singles record at the No. 1 position this season. Fellow senior Morven McCulloch follows close behind at the No. 2 position, collecting a 7-4 record overall.
Iowa holds a 5-2 record at home. They're coming off of a 4-1 victory at UNLV on March 17.