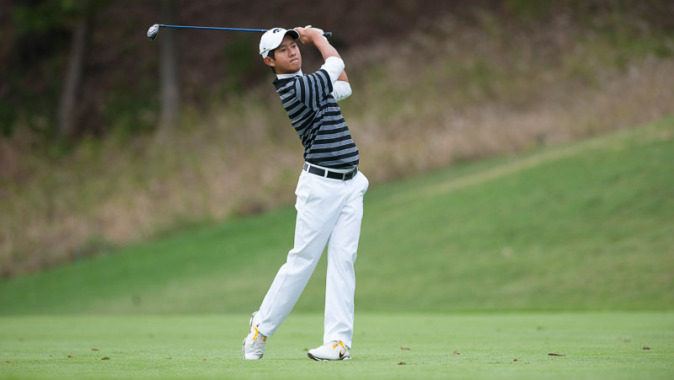 March 21, 2015
Round 2 Results

— Final Results

STATESBORO, Ga. — Playing a total of 36 holes on the second and final day of action, the University of Iowa men's golf team wrapped up competition at the 36th annual Schenkel Invitational on Saturday.
Through two rounds of play at Forest Heights Country Club, the 42nd-ranked Hawkeyes found themselves in a two-way tie for fifth place. But after a final round of 18 on Saturday afternoon, they would finish in ninth place, posting an overall team score of 859 (-5).
"We overcame a slow start and finished our morning round strong," said UI head coach Tyler Stith. "In the afternoon we left quite a few shots on the course. We need to continue to improve on our decision-making and short game execution."
11th-ranked Auburn won the event with an overall team score of 823 (-41). No. 6 Vanderbilt (824, -40) and tournament host Georgia Southern (844, -20) finished second and third.
Junior Voramate Aussarassakorn and senior Ian Vandersee picked up where they left off on Friday. Through two rounds of action, both sat in a tie for sixth place individually before finishing tied for 24th and tied for 33rd, respectively.
Aussarassakorn, a Bangkok, Thailand, native, led the way for the Hawkeyes carding a 69 (-3) in the first and second rounds before following up with a 74 (+2) in the final round of 18, finishing with a 54-hole total of 212 (-4).
"Voramate bounced back after an early double-bogey and posted another great round of 69," said Stith.
After firing a season best two under-par 70 in round one on Friday, Vandersee one-upped his performance in the second round shooting a 68 (-4); Iowa's lowest round of 18 at the event. Vandersee carded a 76 (+2) in Saturday afternoon's final round, finishing at 214 (-2).
"Ian shot an easy 68 with five birdies and a bogey," said Stith. "He is starting to find his rhythm on the course and it's fun to watch."
Senior Brian Bullington and sophomore Raymond Knoll finished in an eight-way tie for 54th place after both finished with a three-round total of 219 (+3). Bullington carded rounds of 76 (+4), 73 (+1), and 70 (-2), while Knoll posted scores of 73 (+1), 74 (+2), and 72 (E).
Sophomore Carson Schaake finished in a tie for 65th place (221 (+5)), respectively. The Omaha, Nebraska, native, posted back-to-back rounds of 73 (+1) before shooting a 75 (+3) in the final round.
Junior Nate Yankovich and freshman Sam Meuret both competed as individuals on Friday and Saturday. Yankovich finished in 71st place, recording 222 (+6; 75, 76, 71). Meuret finished right behind in a tie for 72nd place with a 54-hole total of 223 (+7; 70, 81, 72).
"Looking back, we had an outstanding week of practice and played 54 solid holes of golf," said Stith. "This experience will benefit us at the end of the year."
The Hawkeyes return to action next Saturday, March 28, when they compete in the Big Four Championships in Scottsdale, Arizona. Iowa has won the event three years running and looks to make it four-straight.