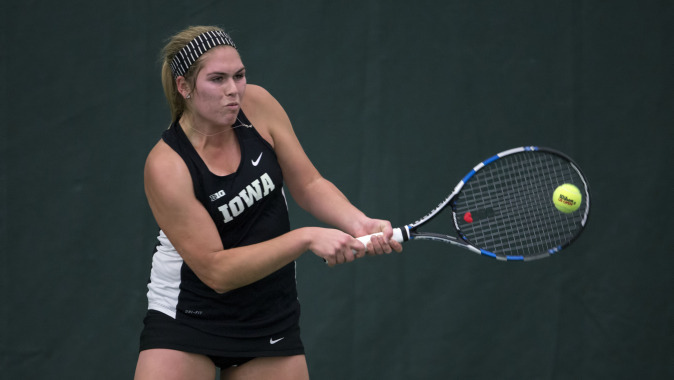 March 22, 2015
IOWA CITY, Iowa — The University of Iowa women's tennis team fell to the 52nd-ranked Hoosiers, 4-3 on Sunday afternoon. The Hawkeyes drop to 1-3 in conference play and 7-6 overall.
"We lost a tough battle today to a good team," said UI head coach Katie Dougherty. "The team came out strong in doubles and put us in a good position going into singles, but we couldn't come up with three singles wins."
Iowa came out of the gate strong, posting two doubles victories to secure a 1-0 lead heading into singles play. Senior Katie Zordani and freshman Zoe Douglas were the first to prove their dominance over the Hoosiers, posting an 8-2 win over Indiana's Shannon Murdy and Stephanie Smith at the No. 3 position.
Annette Dohanics and Morven McCulloch clinched the doubles point for Iowa at the No. 2 slot with an 8-3 victory over Katie Klyczek and Kim Schmider. The duo advances to 3-1 overall as a doubles team.
At the No. 1 position, senior Shelby Talcott and freshman Anastasia Reimchen led Carolyn Chupa and Alecia Kauss, 5-4 when the match was abandoned.
Talcott brought the Hawkeyes a victory at the top of the lineup, defeating Indiana's Klyczek in straight sets, 6-3, 6-4. Talcott improves to 9-3 overall at the No. 1 singles position this season.
The Hoosiers, however, were not going to be easily defeated, collecting wins at the No. 2, No. 3, and No. 6 singles positions. McCulloch fell to Indiana's Kauss, 6-1, 6-2, bringing her overall record to 7-5. Indiana's Murdy took down Reimchen in straight sets, 6-3, 6-1, and senior Ellen Silver was defeated by Chupa, 7-5, 6-3.
Indiana clinched the victory after Paula Gutierrez defeated Dohanics in the third set, 6-0, 6-7, 6-2. Zordani was leading Stephanie Smith at the No. 5 singles position, 6-4, 4-6, 5-2, when the match was abandoned.
"Hats off to Indiana," Dougherty noted. "They competed well and dug their way out of a hole to take the win."
The Hawkeyes return to action on Wednesday, March 25 as they host Drake University. Iowa will take on the Bulldogs at 3:30 p.m. (CT) at the Hawkeye Tennis and Recreation Complex.
Singles Results
1. Shelby Talcott (Iowa) def. Katie Klyczek (Indiana), 6-3, 6-4
2. Alecia Kauss (Indiana) def. Morven McCulloch (Iowa), 6-1, 6-2
3. Shannon Murdy (Indiana) def. Anastasia Reimchen (Iowa), 6-3, 6-1
4. Paula Gutierrez (Indiana) def. Annette Dohanics (Iowa), 6-0, 7-6, 6-2
5. Katie Zordani (Iowa) led Stephanie Smith (Indiana), 6-4, 4-6, 5-2 Abd.
6. Carolyn Chupa (Indiana) def. Ellen Silver (Iowa), 7-5, 6-3
Order of Finish (3, 1, 2, 6, 4)
Doubles Results
1. Talcott/Reimchen (Iowa) led Chupa/Kauss (Indiana), 5-4 Abd.
2. Dohanics/McCulloch (Iowa) def. Klyczek/Schmider (Indiana), 8-3
3. Zordani/Douglas (Iowa) def. Murdy/Smith (Indiana), 8-2
Order of Finish (3, 2)