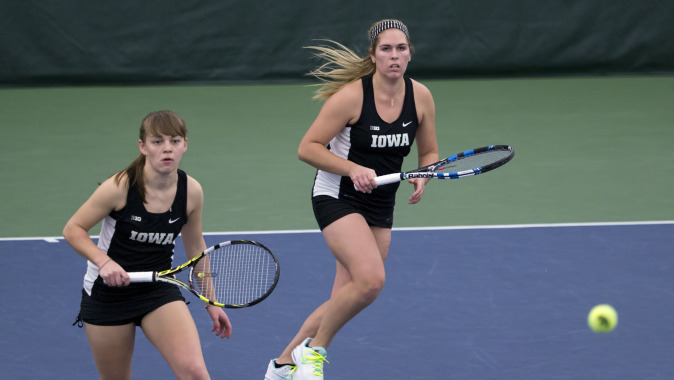 March 24, 2015
Weekly Release

THIS WEEK FOR THE HAWKEYES
The University of Iowa women's tennis team (7-6, 1-3) hosts Drake University (13-4, 0-0) on Wednesday at 3:30 p.m. (CT) inside the Hawkeye Tennis and Recreation Complex. On Sunday, the Hawkeyes maintain home court advantage against Big Ten opponent Nebraska (11-5, 0-4). Action will begin at 3 p.m. (CT) at the HTRC.
QUOTING @COACHKDOUGH
"Drake is a very competitive team having a good season and I expect Wednesday to be a great match. In-state rivalries always add another layer to any match and one of our goals every year is to win the state and with wins over UNI and ISU, this is a big match for us."
GOING AGAINST THE BULLDOGS
Iowa leads the all-time series against Drake, 31-5. The Hawkeyes have won 12 in a row against the Bulldogs, collecting a 4-3 victory over 72nd-ranked Drake in 2014. Iowa's last loss was during the 1992 season, when Drake posted a 5-4 win in Iowa City.
TAKING ON THE HUSKERS
The Hawkeyes hold a 16-7 advantage in the all-time series against Nebraska. During the 2014 season, Iowa took down the Huskers, 6-1, on the road to collect its fifth win in a row.
TALCOTT ON TOP
Shelby Talcott holds a 9-3 record at the No. 1 singles position. She is featured at the top of the lineup for the first time since 2013, when she was 2-0 in limited action at No. 1. Talcott is 11-3 all-time leading off the lineup.
SENIORS DELIVERING
Iowa seniors Shelby Talcott, Katie Zordani, Ellen Silver and Morven McCulloch have a combined 28-16 singles record this season. Talcott and McCulloch are a combined 16-8 at the top of the lineup.
A DOUBLES FORCE TO BE RECKONED WITH
Senior Katie Zordani and freshman Zoe Douglas have won four of their last five doubles matches at the No. 3 position. Overall, the duo holds a 7-2 record as a pair.
BECOME A FAN
Fans can follow the Iowa women's tennis team at facebook.com and via twitter @Iowa_Tennis. Live results from this weekend are available on the Iowa women's tennis schedule page at hawkeyesports.com.