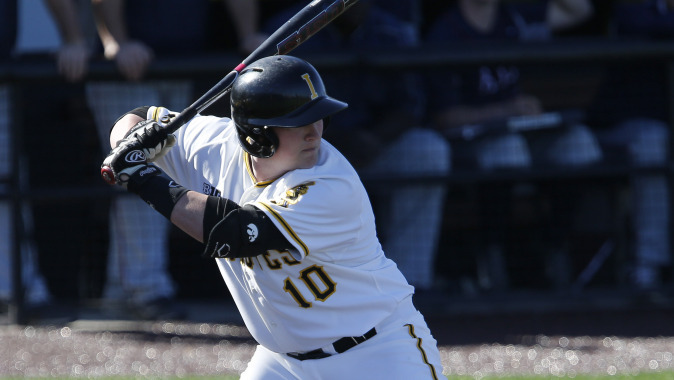 March 24, 2015
Bradley (16-5) at Iowa (14-5)
Dates
March 25, 2015
Location
Iowa City, Iowa | Duane Banks Field
Statistics
Bradley | IOWA
Game 1
Date | Time
Wednesday, March 25 | 3 p.m. (CT)
Pitching Matchup
IOWA:Jr., RHP Connor Grant (1-1, 3.60 ERA) vs.
BU: Fr., RHP Jordan Fedro (1-0, 0.00 ERA)
IOWA CITY, Iowa — The University of Iowa baseball team hosts Bradley on Wednesday at 3 p.m. (CT) at Duane Banks Field in a game where the Hawkeyes will debut the Sharp Family Video Board.
Iowa is off to a 14-5 start — its best start since 1941 when it started 19-5 en route to a 22-6 finish for the season. The Hawkeyes took 2-of-3 games at Kansas last weekend, winning the final two games in the series, 6-2 and 6-4.
Bradley is 16-5 following a 1-2 weekend at North Florida from March 20-21. The Braves started the season 12-2 and are 4-3 in their last seven games.
Wednesday will be a "staff" day for the Hawkeyes with junior Connor Grant getting his first career start. The right-hander is 1-1 with a 3.60 ERA in seven appearances with two saves. He has allowed just six hits over 15 innings, but has 11 strikeouts to 11 walks.
Bradley will also employ "Johnny All-Staff," starting with freshman Jordan Fedro. The right-hander is 1-0 with a 0.00 ERA in two appearances (one start). Fedro has allowed two this in six innings and has four strikeouts against one walk.
The Braves are hitting .269 as a team with three regulars hitting above .300. Bradley has 20 home runs — the 19th-most in the nation — and 11 different players have contributed to the team total. Four different Brave players have 11 or more RBIs for a team that averages 5.9 runs per game.
Outfielder Isaac Smith leads the Braves with a .390 batting average with 17 runs, 15 RBIs, and three home runs. Paul Solka has a .311 batting average with seven doubles and 13 RBIs, and Chris Godinez is hitting .300 with a team-best 23 runs scored.
Collectively, Bradley's pitching staff has posted a 4.22 ERA over 179 innings, allowing 92 runs (84 earned). The Braves have posted 134 strikeouts against 72 walks for the season.
Iowa's pitching and defense continues to be the team's crutch, as the Hawkeyes rank among the top 10 nationally in both categories. Iowa's .983 team fielding percentage is third-best in the country, while the 2.20 team ERA is eighth-best.
Wednesday's game can be heard on 800-AM KXIC and 1360-AM KMJM in Cedar Rapids. Ryan Schlader and Zach Mackey will be on the call. The game can also be seen live on Hawkeye All-Access on hawkeyesports.com.
Following Wednesday's midweek contest, Iowa will continue its four-game home stand, hosting No. 19 Indiana from March 27-29 in its Big Ten opening series.