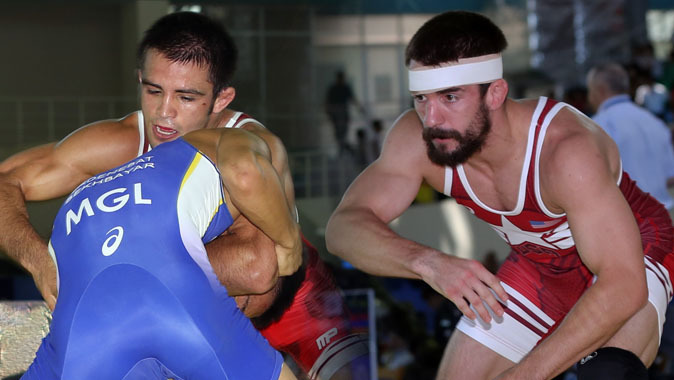 March 25, 2015
IOWA CITY, Iowa — Four University of Iowa national champions return to the corridor Friday, April 3, to compete at Agon V, a professional wrestling card at the U.S. Cellular Center in Cedar Rapids, Iowa.
Brent Metcalf, Tony Ramos, Matt McDonough, and Derek St. John combined to win six NCAA titles and 13 All-America honors competing for the Hawkeyes from 2008-14.
They are joined by three-time All-American Phil Keddy in an event billed as "Iowa vs. the World."
Metcalf, a three-time United States World Team member and the eighth-ranked wrestler in the world at 65 kg, headlines the main event against 18-year-old Aaron Pico, a 2013 Cadet World champion and 2014 Junior World silver medalist.
The co-main event features Ramos and 2008 Olympic champion Henry Cejudo. Ramos was a 2014 World Team member and ranked No. 1 in the U.S. at 57 kg. Cejudo has not wrestled since the 2012 U.S. Olympic Trials in Iowa City. He has since redefined his career in the UFC.
McDonough, a two-time NCAA champion and member of the U.S. freestyle team, faces 2008 national champion Angel Escobedo, a volunteer assistant coach at Iowa State.
St. John faces former Northwestern All-American Jason Welch in a rematch of the 2013 NCAA finals, when St. John defeated Welch, 3-2, for the national championship.
Keddy, an All-American at Iowa from 2008-10, faces Deron Winn, a member of the Cyclone Wrestling Club. Both wrestlers will compete for the 86 kg spot on the United States World and Olympic teams.
Tickets to Agon V start at $16. The event begins at 7:30 p.m. (CT). Contact the U.S Cellular Center for ticket information.
AGON V: Iowa vs. The World
Professional Card
MAIN EVENT: Brent Metcalf vs. Aaron Pico
CO-MAIN EVENT: Tony Ramos vs. Henry Cejudo
Matt McDonough vs. Angel Escobedo
Derek St. John vs. Jason Welch
Phillip Keddy vs. Deron Winn
What: Agon Wrestling: Iowa vs. The World
When: April 3, 2015 @ 7:30 p.m.
Where: U.S. Cellular Center Arena, 370 1st Ave NE, Cedar Rapids, Iowa 52401
Tickets: Adults:$16, $22, $28, $38, $49,$62, $79, $115*
All ages require a paid ticket
Group Discounts for 15+: $4 off $28, $22 and $16 price levels only
U.S. Cellular Center Box Office Hours: Monday- Friday 10 a.m. – 6 p.m.
Box Office Phone: 319-362-1729
To Order Tickets by Phone: 1-800-745-3000