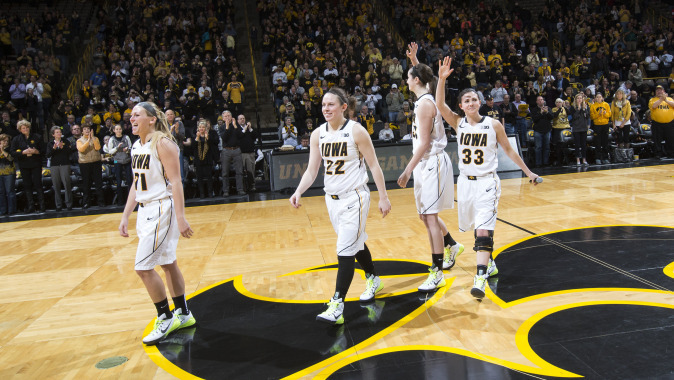 March 29, 2015
Editor's Note: The following first appeared in the University of Iowa's Hawk Talk Daily, an e-newsletter that offers a daily look at the Iowa Hawkeyes, delivered free each morning to thousands of fans of the Hawkeyes worldwide.
By JIL PRICE
IOWA CITY, Iowa — After four years, they made it. The University of Iowa women's basketball team's #Core4 — seniors Melissa Dixon, Bethany Doolittle, Samantha Logic, and Kathryn Reynolds — guided the Hawkeyes back to the Sweet 16 for the first time since 1996 and the first time in the Lisa Bluder era.
It's an accomplishment the senior class and the Hawkeyes won't soon forget.
"It was something we had been working toward for the last four years," said Doolittle. "To finally get there and do it with this group of people and for this program was amazing.
"I'll always remember this experience with these three girls. We've gone through so much every year together, and being able to make it to the Sweet 16 together is awesome."
The winningest senior class in 21 years (93 wins) was the heart of Iowa's 2015 NCAA Tournament run, which ended Friday night with a loss to second-seeded Baylor in Oklahoma City.
But the soul lives on with the program.
While you may not see Logic racking up assists and challenging defenders, Doolittle crashing the boards and hitting jumpers, Dixon draining 3 pointers under pressure, or Reynolds setting the tone in the locker room and on the bench next season, you will see echoes of their influence in the Hawkeyes that remain.
"We've set an example of teamwork and team chemistry," Doolittle said. "I hope that's something people will try to keep up because it has been a special ride."
"Not caring who is successful in a specific game, really wanting the whole team to win and everyone to do well is what I want to see continue on," said Logic. "Not caring who scores or who plays well, as long as the team gets the win. It's so selfless. Our bench has always been the epitome of that, and it's something special that we'll always remember."
"As hard as Friday night in the locker room was, that amount of emotion capped how much we really care about each other," Reynolds said. "It showed everything that went into this year. It was hard, but it was also a great example of how much it meant to this team."
"We've been able to achieve our goal of making it to the Sweet 16," Dixon said. "Now we want nothing more than for future Hawkeyes to keep building on that and make it even further."
As the highest scoring trio from the same class in Big Ten history with 4,379 points combined (Dixon – 1,480, Doolittle – 1,353, Logic – 1,546) makes their exit, other Hawkeyes will emerge, taking on new roles next year.
"It's hard to put in words how special they have been to coach," Bluder said. "It's not just because we've won games, but because of their positive attitude and coachability. We haven't had to come up with gimmicks to motivate this team."
They are the #Core4, and they will be missed.