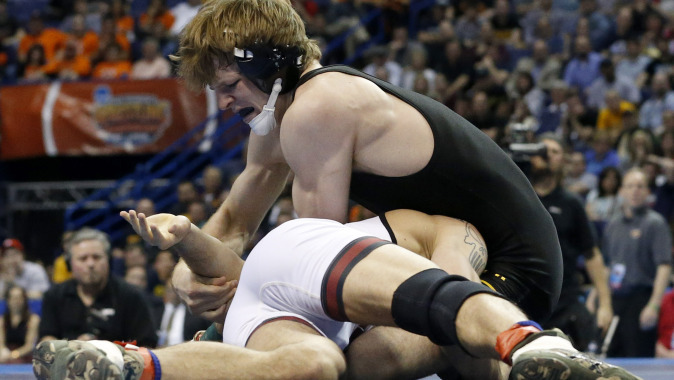 March 30, 2015
IOWA CITY, Iowa — University of Iowa sophomore Cory Clark was named Mike Howard Most Valuable Wrestler at the team's annual awards banquet March 27 at Carver-Hawkeye Arena.
Clark owned a record of 30-6 at 133 pounds, finishing runner-up at the NCAA Championships to earn All-America honors. He won a Midlands championship, placed third at the Big Ten Championships, and finished the season with nine falls, the second most on the team. He won 13 of his final 15 matches, a stretch that included nine wins against ranked opponents.
Clark was one of six Hawkeyes presented an All-America award. He was joined by junior Nathan Burak, senior Mike Evans, sophomore Thomas Gilman, redshirt freshman Brandon Sorensen, and senior Bobby Telford, who was also given the award for most pins in a season (13).
It was the third All-America honor for both Evans and Telford. Evans placed sixth at 174, while Telford placed fifth at 285.
Clark and Burak both earned All-America honors for the second straight year. Clark climbed three spots on the All-America stand from a year ago, and Burak jumped one spot, placing seventh at 197.
Gilman and Sorensen both earned their first career All-America honors. Gilman placed fourth at 125. Sorensen placed fourth at 149.
Senior Josh Dziewa was the recipient of the J. Donald McPike, Sr., Award for highest grade point average by a Hawkeye senior. Dziewa is a four-year letterwinner and four-time academic All-Big Ten honoree. He is just the eighth Hawkeye in program history to earn academic conference honors four times.
Sorensen and sophomore Alex Meyer shared the John and Dorothy Sill Award for most dedicated wrestler award. The Coaches Appreciation Award was presented to senior Matt Gurule. The Mike J. McGivern Award for most courageous wrestler was given to junior Brody Grothus, and the award for most improved wrestler went to Burak.
The Hawkeyes finished the 2014-15 season with a Big Ten regular season title, a Big Ten Tournament title, six All-Americans, and nine academic All-Big Ten honorees. Iowa placed second at the NCAA Championships, taking home a team trophy for the eighth consecutive season, the longest active streak in the country.
2015 University of Iowa Wrestling Team Awards
Mike Howard Award (Most Valuable): Cory Clark
J. Donald McPike Award (Highest GPA): Josh Dziewa
Mike J. McGivern Award (Most Courageous): Brody Grothus
John and Dorothy Sill Award (Most Dedicated): Alex Meyer and Brandon Sorensen
All-American Award: Nathan Burak, Cory Clark, Mike Evans, Thomas Gilman, Brandon Sorensen, and Bobby Telford
Most Pins Award: Bobby Telford (13)
Most Improved Award: Nathan Burak
Coaches Appreciation Award: Matt Gurule