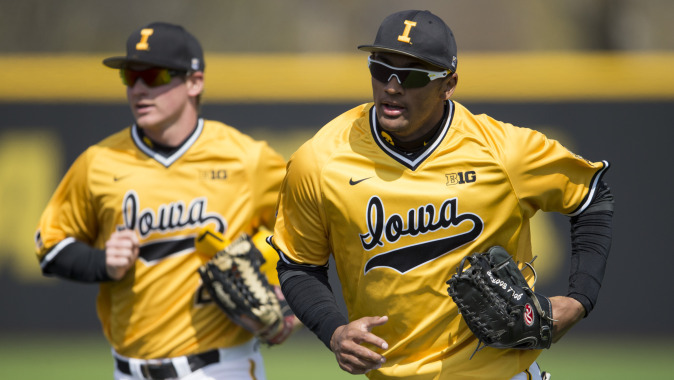 March 30, 2015
Iowa (17-6) vs. Grand View (9-10); at Western Illinois (7-15)
Dates
March 31, 2015 | April 1, 2015
Location
Iowa City, Iowa (Duane Banks Field) | Macomb, Ill. (Alfred D. Boyer Stadium)
Statistics
Grand View | Western Illinois | IOWA
Game 1 vs. Grand View
Date | Time
Tuesday, March 31 | 3 p.m. (CT)
Pitching Matchup
IOWA: Fr., RHP Nick Gallagher (0-0, 0.00 ERA) vs.
GV: Jr., RHP Spencer Lockwood (0-1, 10.80 ERA)
Game 2 at Western Illinois
Date | Time
Wednesday, April 1 | 3 p.m. (CT)
Pitching Matchup
IOWA: Jr., RHP, Connor Grant (1-1, 3.71 ERA) vs.
WIU: Fr., LHP J.T. Baksha (1-2, 2.70 ERA
IOWA CITY, Iowa — The 24th-ranked University of Iowa baseball team will play a pair of midweek games this week, hosting Grand View on Tuesday at 3 p.m. (CT) at Banks Field before facing Western Illinois on Wednesday in Macomb.
The Hawkeyes enter the week having won seven of their last nine games, including a three-game sweep over 19th-ranked Indiana from March 27-29 in Iowa City. Iowa is 17-6 overall — the best start since 1941 — and 3-0 in Big Ten play for the first time since 1994.
Iowa joined the national rankings on March 30, coming in at No. 24 in the Collegiate Baseball poll. It is the program's first ranking since 1990 when the Hawkeyes climbed as high as No. 13.
Grand View is 9-10 overall and 8-2 in Midwest Collegiate Conference play. The Vikings, an NAIA school out of Des Moines, bring a four-game winning streak into Tuesday's matchup after sweeping a four game series (two doubleheaders) over Viterbo University, 12-5, 8-0 and 12-6, 5-0, last weekend.
The Vikings are hitting .322 as a team and is averaging 6.6 runs per game. Six Grand View regulars are hitting above .300 with Ryan Curtis leading the way with a .404 average. Brandon Potts is hitting at a .377 clip with 20 runs and 11 RBIs, while Blake Marchant has a .345 average with 20 RBIs.
Grand View has a 4.95 team ERA, allowing 96 runs (72 earned) over 131 innings. The Vikings' pitching staff has 103 strikeouts against 68 walks, and the team has seven complete games and four shutouts. Tuesday's starting pitcher has yet to be announced.
Western Illinois brings a 7-15 overall record into the week after taking 2-of-3 games from North Dakota State last weekend in Macomb. The Leathernecks are 4-2 in their last six games.
Iowa and Western Illinois have played one common opponent — Middle Tennessee State. The Hawkeyes took 2-of-3 games from the Blue Raiders in early March, while the Leathernecks were swept by MTSU in their season-opening series in February.
Western Illinois has a .231 team batting average in 22 games and is averaging 4.1 runs per game. Senior infielder Jake Moore is leading the team with a .319 average with three home runs and 11 RBIs, while Payton Jeffers has a .300 clip. JJ Reimer has a team-best 13 RBIs and 17 runs scored.
The Leathernecks have a 5.37 team ERA over 191 innings, where they have 170 strikeouts against 127 walks. Opponents are hitting .268 against the WIU pitching staff.
Western Illinois is led by Ryan Brownlee, an Iowa assistant coach from 2004-2012. Leatherneck volunteer assistant Derek Stecklein was a team manager with the Hawkeyes for five seasons.
Iowa will send freshman right-hander Nick Gallagher to the mound for his first career start Tuesday. The Iowa City native is 0-0 with a spotless ERA in three appearances, allowing two hits in three innings.
Junior Connor Grant will make his second start Wednesday at Western Illinois. Grant is 1-1 with a 3.71 ERA in eight appearances. Grant threw two innings, allowing one run on two hits in his March 25 start against Bradley, but he wasn't involved in the decision.
The Hawkeyes hit .300 as a team last weekend against Indiana, finishing the series with the best offensive showing of the season. Iowa finished with season-highs in hits (16), runs (10), and RBIs (10), pushing the team batting average to a season-high .271.
Iowa returns to Big Ten action April 3-5 in West Lafayette, Indiana, for a three-game weekend series at Purdue.