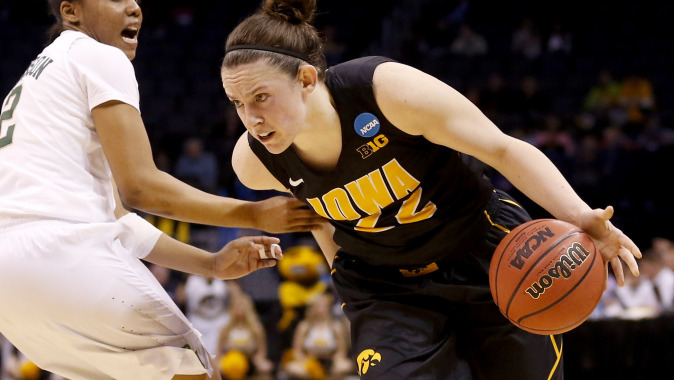 March 31, 2015
Editor's Note: The following first appeared in the University of Iowa's Hawk Talk Daily, an e-newsletter that offers a daily look at the Iowa Hawkeyes, delivered free each morning to thousands of fans of the Hawkeyes worldwide. To receive daily news from the Iowa Hawkeyes, sign up HERE.
By DARREN MILLER
hawkeyesports.com
IOWA CITY, Iowa — When the 2010-11 women's basketball season ended, University of Iowa fans wondered when they would next see an individual Hawkeye as tenacious and talented as All-American Kachine Alexander.
There wasn't a wait.
Alexander became the first Iowa player — and just the fifth in Big Ten history — to record 1,000 career points, 800 career rebounds and 300 career assists. When her career ended, she ranked second in school history in double-doubles (34), second in rebounding (910), eighth in assists (339), and 16th in scoring (1,239).
Alexander was great, but the Hawkeyes found a way to substitute her numbers in the form of guard Samantha Logic from Racine, Wisconsin.
With Alexander on the roster, the Hawkeyes won 84 games and made four NCAA Tournament appearances. Nearly eight months after Alexander's final game, Iowa opened the 2011-12 season with a victory over Harvard. Starting for the first time as a collegian that day was Logic.
Fast forward four seasons and there are 93 wins, four more NCAA Tournament berths, and a Sweet 16 appearance. Logic played 135 games, scored 1,546 points (10th all-time at Iowa), pulled down 922 rebounds (second), handed out 898 assists (first by a whopping 322), and swiped 260 steals (second). She is the first Hawkeye since Alexander to earn multiple first-team All-Big Ten Conference honors, and the ninth in program history.
There isn't much more to be said about Logic, but her story deserves repeating, and repeating, and repeating.
There might be future Hawkeyes that score more points, pull down more rebounds, or collect more steals. It will take some doing for someone to surpass her assist total. Even so, it is the complete package that allows Logic to elevate above others. She is the only player in NCAA history to accumulate at least 1,500 career points, 800 rebounds, 800 assists, and 200 steals.
"They are kind of similar players because they're both do-everything-for-you type of players," UI head coach Lisa Bluder said of Alexander and Logic. "That statistic I have quoted before bears merit again. In my mind, Sam Logic is an all-around basketball player, not just a point guard."
| | |
| --- | --- |
| | "The most important thing is helping your teammates be better and making the team better. When you make your team better, that's more important than any individual thing you can do." |
From her first game in Carver-Hawkeye Arena in 2011, it was obvious Logic didn't show up to play, she came to win. She has the stitches, scars, and chipped teeth to prove it.
"The most important thing is helping your teammates be better and making the team better," said Logic, describing her opinion of a great ball player. "When you make your team better, that's more important than any individual thing you can do."
Which is why you can look at the University of Iowa statistics sheet and be surprised that Logic — an All-American — is Iowa's fourth-leading scorer, but her assist total is nearly three times more than the second-best Hawkeye.
This season Logic has scored four points and 30 points in games the Hawkeyes won. They won because Logic helped her team and teammates become better than the opponent they faced that day.
Logic, an academic All-American, is one of five finalists for the Nancy Lieberman Award presented to the top point guard in women's basketball, and she is among 15 players on the ballot for the John R. Wooden Award presented to the top player in the women's college game.
Baylor head coach Kim Mulkey spent most of the five days preceding the Sweet 16 watching film of Logic and the Hawkeyes.
"Oh, a tremendous player that makes everybody around her better," Mulkey said. "She is a triple-double waiting to happen every game. She's a strong player."
Of the nine triple-doubles in Hawkeye history, Alexander has two and Logic has six. Logic's final triple-double came in her final game as a Hawkeye during an 81-66 loss to Baylor on March 27: 14 assists, 13 points, 10 rebounds.
The final seconds of the Sweet 16 game ended the way Logic played all 4,538 minutes of her Hawkeye career. She brought the ball up court and passed to Melissa Dixon, who missed a field goal attempt. Logic grabbed the offensive rebound and passed to senior Kathryn Reynolds, who also misfired. Logic hustled for another offensive rebound, this time crashing to the floor while calling timeout. After the break, Logic made an in-bound pass to Dixon who swished the final 3-pointer.
Logic was one of five players named to the Oklahoma City Regional All-Tournament Team.
But individual numbers will never tell Logic's whole story, although between her, Dixon, and Bethany Doolittle, they set a Big Ten record for most points by a trio of teammates in the same class with 4,379. A better gauge is the fact Logic and her teammates averaged more than 23 wins a year over the past four seasons.
That's a great total. But then again, when it comes to the history of women's basketball players, Logic is one of the greatest.