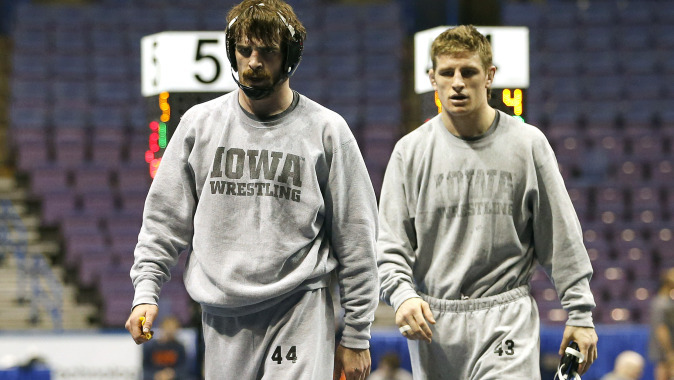 March 31, 2015
Notes in PDF Format

ON THE MAT
The Hawkeyes finished the 2014-15 season with a Big Ten regular season title, a Big Ten Tournament championship, six All-Americans, and nine academic All-Big Ten honors. The Hawkeyes owned an overall record of 17-1, won at least a share of the Big Ten regular season title for the seventh time in the last eight seasons, and took home an NCAA team trophy for the eighth straight season, the longest active streak in the country.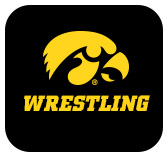 HAWKEYES MAKE IT 8 IN A ROW
Iowa placed second at the NCAA Championships to earn a national team trophy for the eighth consecutive season, the longest active streak in the country. The top four teams in the country earn a trophy at the NCAA Championships, and Iowa has placed no lower than fourth every year since 2008. The runner-up finish is a first for head coach Tom Brands. He led the Hawkeyes to three first place finished (2008-10), two third-place finishes (2011-12), and two four-place finishes (2013-14). The only year Iowa failed to win a team trophy was Brands' first year in 2007 (8th place).
IOWA LEADS WITH 6 ALL-AMERICANS
The Hawkeyes had a tournament-high six All-Americans in 2015. Mike Evans (6th/174) and Bobby Telford (5th/285) won All-America honors for the third time, Nathan Burak (7th/197) and Cory Clark (2nd/133) became two-time All-Americans, and Thomas Gilman (4th/125) and Brandon Sorensen (4th/149) are first-time All-Americans. The Hawkeyes crowned at least one All-American for the 44th consecutive season, a stretch dating back to 1972. Iowa has totaled 267 All-America honors during that stretch.
HAWKEYES WIN 35th B1G TEAM TITLE
Iowa scored 120 points at the Big Ten Championships to tie Ohio State for first place at the conference tournament. It marks the 35th team title in program history, and the first time Iowa has shared the trophy. Only six times in conference history have two teams share the tournament title, and 2015 was the first time it happened in 83 years. Iowa had seven wrestlers place in the top three, more than any other school, and four Hawkeyes placed second. Eight Hawkeyes wrestled their way to an automatic berth at the NCAA Championships.
NCAA QUALIFIERS
Iowa sent 10 competitors to the NCAA Championships for the second year in a row and the 19th time since 1968. The Hawkeyes have sent at least eight athletes to the NCAA Championships in each of head coach Tom Brands' nine seasons. Iowa has won the NCAA team crown 14 times when sending its entire 10-man lineup.
CLARK EXTENDS RUN TO 26
Sophomore Cory Clark advanced to the finals at 133 pound to extend Iowa's streak of NCAA finalists to 26 consecutive years. Iowa has at least one wrestler in the national finals every year since 1990, and in 40 of the last 41 seasons dating back to 1975.
BIG TEN DUAL CHAMPIONS
Iowa won the Big Ten regular season dual title with a 22-9 win over Michigan on Feb. 13. The Hawkeyes finished the Big Ten season 9-0, one dual ahead of Nebraska (8-1) and Ohio State (8-1). The Hawkeyes have won or shared seven of the last eight Big Ten dual championships, and have won or shared the regular season title eight times since the conference started recognizing a dual meet champion in 1999. Iowa won the title outright in 2000, 2008, 2009, 2010, 2011, 2013, and 2015, and shared the title in 2003 and 2014.
B1G WEEKLY HONORS
The Hawkeyes received five Big Ten weekly honors this season, more than any other conference school. Redshirt freshman Brandon Sorensen earned the honor on two occasions, first on Jan. 13 and again on Jan. 27. Senior Bobby Telford was been named Big Ten Wrestler of the Week on Dec. 31 and Feb. 10, and senior Mike Evans won the final award of the season on Feb. 24.
MIDLANDS
Iowa crowned four champions and set a tournament record with 189.0 points at the 52nd annual Midlands Championships The Hawkeyes' 189 team points broke their previous record of 187.5, set in 2013. Illinois was a distant second with 130.5, followed by Northwestern (106), Edinboro (101) and Virginia Tech (99.5). Iowa has won a record 24 Midlands team titles.
Iowa crowned four champions — Cory Clark, Mike Evans, Nathan Burak, Bobby Telford — for the first time since 2007, when Joe Slaton, Dan LeClere, Mark Perry, and Brent Metcalf all earned first place finishes at their respective weights. 3x all-americans
Seniors Mike Evans and Bobby Telford earned All-America honors for the third time in their careers. Evans placed sixth at 174 and Telford placed fifth at 285. Telford and Evans are two of the 34 wrestlers in program history to complete their career as three-time All-Americans.
ALL-AMERICAN SORENSEN HITS 40
Redshirt freshman Brandon Sorensen led the Hawkeyes with 40 wins, one shy of tying Ed Banach's single-season freshman record (41). Sorensen finished the season 40-6 overall. He was the Big Ten runner-up at 149 pounds and earned All-America honors. He is the fifth freshman to earn All-America honors under head coach Tom Brands. The list includes Matt McDonough, Derek St. John, Bobby Telford, Cory Clark, and Sorensen. He is also the first Hawkeye to win 40 matches in a single season since Jody Strittmatter (43) and T.J. Williams (40) did so in 1999.
ACADEMIC ALL-BIG TEN
Nine Hawkeyes earned Academic All-Big Ten honors, including Nathan Burak, Josh Dziewa, Jeremy Fahler, Brody Grothus, Jake Kadel, Michael Kelly, Kris Klapprodt, Phillip Laux, and Alex Meyer. Iowa has had 70 academic All-Big Ten honorees since 2007, head coach Tom Brands' first year.
40 YEARS SINCE NO. 1
Iowa celebrated the 40th anniversary of its first national championship on Jan. 23. Gary Kurdelmeier led Iowa to its first NCAA Championship in 1975, and in the 40 years since, the Hawkeyes have accumulated 23 team titles, more than any other school — Oklahoma State (7), Penn State (4), Minnesota (3), Iowa State (2), Ohio State (1), and Arizona State (1).
HAWKEYE WRESTLING HISTORY
Iowa's overall dual meet record is 958-225-31 (.799) in 104 seasons. The Hawkeyes have won 23 national titles and 35 Big Ten titles. Iowa's 53 NCAA Champions have won a total of 81 NCAA individual titles, crowning six three-time and 16 two-time champions. The Hawkeyes' 109 Big Ten champions have combined for 195 conference titles. There have been seven four-time, 18 three-time, and 29 two-time Iowa winners. Iowa's 152 All-Americans have earned All-America status 313 times, including 18 four-time, 34 three-time and 40 two-time honorees.
100-WIN CLUB
Senior Bobby Telford pinned Indiana's Garrett Goldman in the opening round of the 2015 Big Ten tournament to record his 100th career win. He finished his career with a record of 108-27. His 108 wins ties Mike Mena, Brent Metcalf, and Scott Trizzino for 31st all-time. Senior Mike Evans also collected win No. 100 this season. Evans finished his All-America career with a record of 107-27. His 107 wins tie Lee Fulhart and Brad Smith for 35th in school history. Telford and Evans are among 42 Hawkeyes in program history to amass 100 or more career wins.
THE ATTENDANCE GAME
The University of Iowa wrestling program led the nation in attendance for the ninth consecutive season. Iowa averaged 8,358 fans in six duals and led the country in total attendance with 55,390 fans attending seven home dates (including Iowa CIty Duals). The Hawkeyes averaged at least 8,000 fans for the seventh consecutive season. Iowa was involved in the three highest attended duals this year, including at Penn State (15,967), at Minnesota (13,620) and at home against Iowa State (11,882).
BRANDS PASSES BRANDS
Head Coach Tom Brands moved into second place in all-time dual victories when Iowa defeated Virginia, 30-6, on Feb. 15. Brands has 163 dual wins since taking over the Iowa program in 2006, one more than Dave McCuskey had from 1953-72. He trails Dan Gable on the all-time dual wins list in program history. Gable had a record of 355-21-5 from 1977-97. Brands owns a 163-16-1 (.908) as Iowa's head coach. He now has more victories as coach than he did as student-athlete. Brands was 158-7-2 (.952) from 1989-92. His 158 wins rank second in school history (Barry Davis, 162). He won three NCAA Championships as a wrestler (1990, 1991, 1992) and has won three NCAA Championships as head coach (2008, 2009, 2010).
HAWKEYES RETAIN Dan Gable TROPHY
The Hawkeyes won eight-of-10 matches to top Iowa State, 28-8, on Nov. 28 at Carver-Hawkeye Arena. The win was Iowa's 12th straight in the series, and awarded Iowa possession of the Dan Gable Traveling Trophy for fifth straight year. Iowa has owned the Dan Gable Traveling Trophy every year since its inception in 2010.
2015 TEAM AWARDS
Mike Howard Award (Most Valuable): Cory Clark
J. Donald McPike Award (Highest GPA): Josh Dziewa
Mike J. McGivern Award (Most Courageous): Brody Grothus
John & Dorothy Sill Award (Most Dedicated): Alex Meyer and Brandon Sorensen
Most Pins Award: Bobby Telford (13)
Most Improved Award: Nathan Burak
Coaches Appreciation Award: Matt Gurule