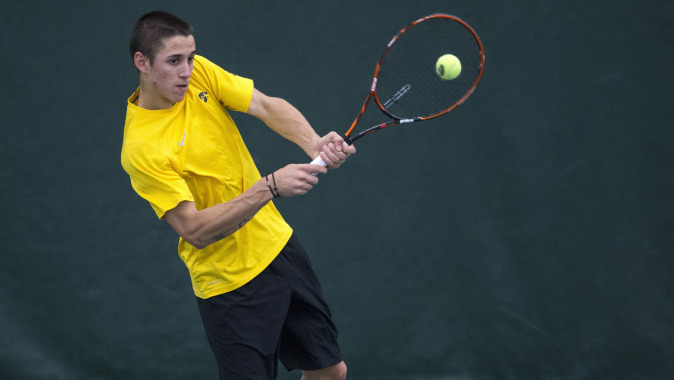 April 1, 2015
Weekly Release

THIS WEEK:
The University of Iowa men's tennis team, ranked 68th nationally, is on the road for back-to-back contests against Big Ten opponents. The Hawkeyes (10-5) will head to West Lafayette, Indiana, for a match with the University of Purdue (4-12) on Friday at 3 p.m. (CT). Iowa will then make a short in-state trip to Bloomington to battle No. 44 Indiana (12-8) at the IU Tennis Center Sunday at noon (CT).
HAWKEYES RANKED:
The March 29 team rankings have Iowa ranked 68th nationally. Matt Hagan is ranked 96th in the country by the Intercollegiate Tennis Association. The senior has posted a 7-6 record in the spring campaign, playing at the No. 1 singles position. Hagan's most recent victory came on March 27 where he posted a win over Michigan's No. 1 Alex Petrone (6-2, 6-2).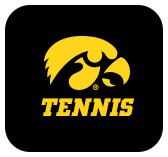 SILVERSTEIN COMES THROUGH IN THE CLUTCH:
In the Hawkeyes' most recent victory, freshman Josh Silverstein produced in a vital moment of the match against Michigan on March 27. With the match deadlocked at 3-3, Silverstein put on a clinching performance at No. 4 singles. Michigan's Alex Knight took the first set 7-5 over Silverstein. Dropping the first set did not phase the freshman, as he delivered a 6-3 victory in the second set and a 6-3 triumph in the third to clinch the match for the Hawkeyes. This is second time in the spring that Silverstein has put on a match-clinching performance. Back on Feb. 16 against Utah, the freshman earned a (6-1, 4-6, 6-4) decision over Freddie McGeehan.
FRESHMAN LEADING THE WAY:
Lefteris Theodorou, Josh Silverstein, and Jake Jacoby have a combined 32-12 singles record this spring, helping lead the Hawkeyes. Theodorou has played a majority of the season at No. 3 singles earning a 12-3 record, the best singles record on the team. Silverstein is 11-4 this spring and Jacoby is 9-5. All three recorded wins against Michigan in the Hawkeyes' last home victory, while Theodorou and Silverstein tallied wins in Iowa's loss against Michigan State on March 29.
INTERIM HEAD COACH Ross Wilson:
Ross Wilson, a former two-time NCAA All-American and three-time ITA national doubles champion at Ohio State, is the interim head men's tennis coach after the announcement of Steve Houghton's retirement on Sept. 8. Wilson served as the team's assistant coach last season. Wilson, the 2012 ITA National Assistant Coach of the Year and ITA Central Region Assistant Coach of the Year, came to Iowa after serving as assistant coach at nationally-ranked San Diego during the 2012-13 season. Wilson was a standout at national power Ohio State from 2002-06. He broke the Buckeyes' overall career wins record, career doubles wins record and single season doubles wins record in 2006.
WILSON ON PURDUE AND INDIANA:
"This is going to be a big weekend for our team sitting at 2-2 in the conference. We have two great opportunities to get a couple of road wins in the Big Ten and that is always tough. Purdue has played a good schedule. They have some guys at the top of their line-up who are good and a good No. 1 doubles team." "Indiana has won a ton of close matches. They have played on the road as well as some good teams at home, they are definitely battle-tested. It will be tough to come out of Bloomington with a win; doubles will be key and I think Matt and Dominic will have to come through for us this weekend for us to be successful," said Wilson.