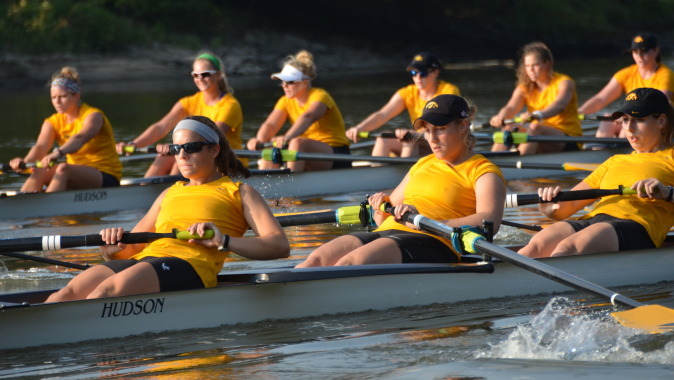 April 3, 2015
Read the April issue of Hawk Talk Monthly
Download your Iowa Hawkeye iPhone/ipad app!
Download your Iowa Hawkeye Android app!
Big Ten Network: Free Hawkeye Video
24 Hawkeyes to Watch Download your Hawk Talk Monthly iOS app
Download your Hawk Talk Monthly android app
ITHACA, New York — The University of Iowa rowing program gained valuable experience against historically strong Cornell and No. 6-ranked Yale crews in season-opening action on Friday night at the Cayuga Inlet in Ithaca, New York.
The Hawkeyes placed second in every event behind No. 6-ranked Yale, but ahead of a storied program in Cornell — an early sign of strength for Iowa rowing against strong Ivy League programs, who finished fourth and fifth, respectively, in their conference championship a season ago.
"I think our racing on Friday entire reasonably well," head coach Andrew Carter said. "The weather wasn't a factor on Friday, with fair conditions on the course and reasonable markings for the coxswains to follow."
Session I began with the 3V8+ event, where the 1N8+ Iowa crew competed. In its first 2000-meter race against varsity competition, the novice crew earned a runner-up result behind Yale and ahead of Cornell. Iowa's 2V4+ also had a strong outing, placing second with a faster time than the team's 1V4+ posted in its runner-up finish.
The 2V8+ boat was the highlight of first session action for the Hawkeyes, as it finished just 2.5 inches shy of a first place result and the upset of No. 6 Yale.
"The 2V8+ had our most stand-out performance of the day, being only 2.5 inches off Yale, who are currently ranked No. 6 in the country," head coach Andrew Carter said.
Session I ended one event early, as darkness and debris pushed the final 1V8+ race to Saturday morning at 7:30 a.m. with Session II to follow.
"It was a shame that the 1V8+ wasn't able to get onto the course tonight," Carter said. "I think they were really ready to go."
REVISED SCHEDULE

Session 2 – Saturday, April 4, 2015
7:30 a.m. – Varsity Eight – Cornell, Yale, Iowa
8:35 a.m. – Second Varsity Eight – Iowa, Syracuse, Boston U
9:20 a.m. – Varsity Four A – Iowa, Syracuse, Boston U
10:05 a.m. – Varsity Eight – Iowa, Syracuse, Boston U
Tentative
10:50 a.m. – Varsity Four B – Iowa, Syracuse, Boston U
11:35 a.m. – Third Varsity Eight – Iowa N8, Syracuse, Boston U
Line Ups
1V8+
1. Nina Hendriks
2. Zoe Ribar
3. Morgan Grastorf
4. Lauren Subler
5. Jessica Streur
6. Cristy Hartman
7. Hannah Hawks
8. Beth Baustian
C. Katie Brown
2V8+
1. Alyssa Armstrong
2. Rebecca Thompson
3. Gabby Watson
4. Kat Tillman
5. Kaelyn Heiberg
6. Gemma Kerr
7. Claire Benschoter
8. Maddie Anglin
C. Destinee Gwee
1V4+
1. Mackenzie Norton
2. Bec Clayton
3. Victoria Bricker
4. Brianna Achs
C. MacKenzie Cowley
2V4+
1. Sarah Powell
2. Kasia Gniatcyzk
3. Sarah Rhoads
4. Erin Czupil
C. Ellen Cranberg