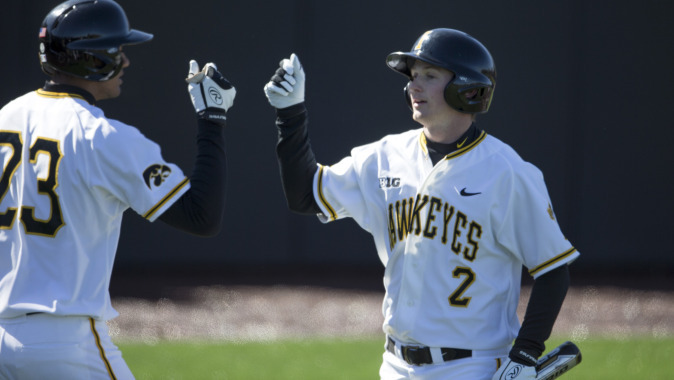 April 3, 2015
Editor's Note: The following first appeared in the University of Iowa's Hawk Talk Daily, an e-newsletter that offers a daily look at the Iowa Hawkeyes, delivered free each morning to thousands of fans of the Hawkeyes worldwide. To receive daily news from the Iowa Hawkeyes, sign up HERE.
By JAMES ALLAN
hawkeyesports.com
IOWA CITY, Iowa — It's a long season and the University of Iowa baseball team knows it can't get caught up in riding the rollercoaster of emotions.
The Hawkeyes opened Big Ten Conference play with a three-game sweep of No. 19 Indiana from March 27-29 at Banks Field for arguably the biggest series win for the program in 25 years.
After earning a No. 24 national ranking by Collegiate Baseball — its first ranking since 1990 — Iowa went 1-1 in two midweek contests, posting a 9-2 victory over Grand View on March 31 before being humbled, losing a 16-5, eight-inning run-rule game at Western Illinois. It was the team's most lop-sided loss of the season.
"We can't get too high or too low," said senior Eric Toole, the reigning Big Ten Player of the Week. "We have to stay even and focused on what we're trying to accomplish.
"We can't let little bumps in the road affect us too badly, and we have to come out with better focus this weekend and get the job done."
This weekend Iowa is back on the road, traveling to West Lafayette, Indiana, for a three-game series against Purdue. The Boilermakers are 10-18 overall and 1-2 in Big Ten play, meaning they need early wins (especially at home) to stay in the postseason hunt.
"I expect to see a team that is going to come in and fight for their lives," said UI head coach Rick Heller. "The situation they're in, playing at home, they need to win some games to get back in the conference race early to have a chance to get into the conference tournament.
"Purdue is a team that has played a tough early-season schedule and has seen good arms all season long. They've beat some good teams, so they're not going to be intimidated by us. We're going to get their best effort, so we need to be ready to go."
With the parity in college baseball, Heller wants his team to learn from its midweek losses, but he also knows the importance of flushing it and moving on. Iowa also lost to Bradley, 5-2, on March 25.
"With the way the two midweeks have gone, it's a vivid reminder that if we don't show up and play we can lose to anyone," said Heller. "We need to learn from our losses and move forward.
"In Division I baseball, there is a fine line to winning or losing every single day. You have to play your best to beat anyone. With the way our team is built, we have to keep games close and win with our pitching and defense. If anything goes awry, you see the results."
Toole knows Iowa can't take Purdue lightly, but he says if the Hawkeyes can play their brand of baseball, the results will take care of themselves.
"We have to be loose and excited to go out and play Friday," said Toole. "We have to have energy, focus, play hard, and our game. If we do that, good things will happen."
Friday's series opener is slated to begin at 4:30 p.m. (CT) from Alexander Field in West Lafayette. The game will be broadcast on AM-800 KXIC and AM-1360 KMJM with Brent Balbinot and Ray Gilmore on the call.